Sources: Rockets exploring Asik trades again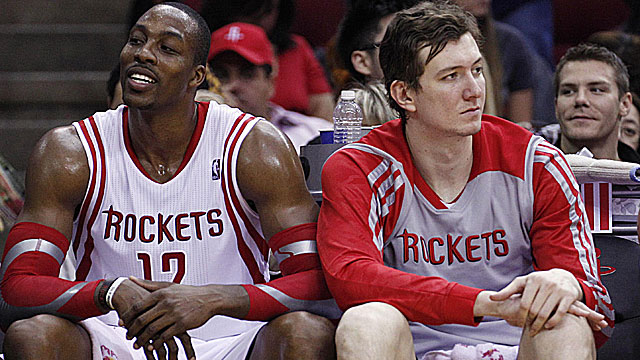 The Rockets have renewed efforts to trade disgruntled center Omer Asik, with the Philadelphia 76ers emerging once again as a potential landing spot, league sources told CBSSports.com on Tuesday.
The two teams engaged in serious discussions on an Asik deal in December, when the Rockets were trying to move the defensive-minded center so they could aggregate any players acquired for use in future deals. With that possibility long gone, Houston GM Daryl Morey has re-opened trade talks, and the Sixers have more payroll flexibility than any team in the league to make a deal work.
The Sixers are $11 million under the salary cap, meaning they can absorb Asik's $8.4 million salary without sending back any players. They also have to add $5.1 million to their payroll to meet the league's salary floor of $52.8 million.
According to executives who've engaged in conversations with Houston about Asik, Morey is still setting the price high for the Turkish 7-footer, who was lured away from the Bulls as a restricted free agent in 2012. The structure of the offer sheet Asik signed, which calls for him to be paid $15 million next season, has been problematic. Though his cap hit would be only $8.4 million in 2014-15, any team acquiring Asik before Thursday's deadline would face an expenditure of $17 million for him to play a little more than 100 games -- a tough sell for any owner under the restrictive CBA.
Due to that expense, teams like the Raptors and Nets have no interest in acquiring Asik, sources say. The Hawks like him, but not at the Rockets' current asking price. The problem in assembling a deal with the Sixers is the same problem the teams experienced in December, only worse because more of Asik's total compensation over the next two years is in the rear-view mirror.
The Rockets want a first-round pick for Asik, sources say. The Sixers have New Orleans' 2014 pick (1-5 protected), but are looking to use their cap space to acquire first-round picks -- not divest them. Philadelphia's floor-spacing Spencer Hawes interests the Rockets, but the Sixers have been asking teams for a first-round pick in return.
\