Sources: Lakers, Mavs maneuvering for Kevin Love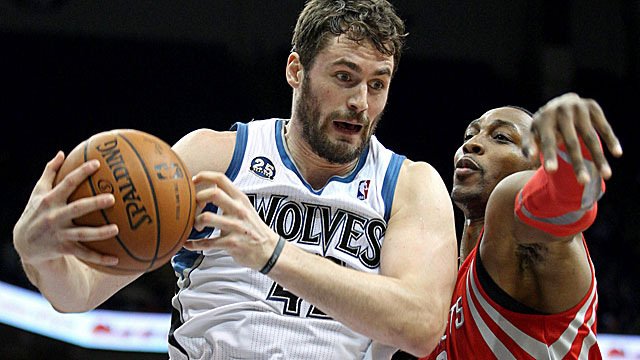 The Lakers and Mavericks are trying to assemble trade offers for prospective free agent Kevin Love, but thus far the Timberwolves have given no indication they'll consider moving the All-Star forward by Thursday's deadline, league sources told CBSSports.com.
Love will be a free agent in 2015, and it is widely known around the league that he and his agent, New York-based Jeff Schwartz, are determined to get him to a major market. The Lakers, Love's first choice, "have the best shot" of landing the Southern California native, one person familiar with the player's thinking said. There is no incentive in the CBA for Love to sign an extension with Minnesota before he has a chance to decline his player option and hit the open market in July 2015.
Giving up significant assets for Love would be problematic for any team that isn't confident it will be able to sign him when he becomes a free agent. That is obviously not an issue for the Lakers.
Still, other teams are said to be feverishly pursuing a premium first-round pick that could be included in a package for Love, a three-time All-Star who is fourth in the league in scoring (25.8 points per game) and second in rebounding (13.2).
In the end, it will fall on Timberwolves president Flip Saunders to pull the trigger on a Love deal or wait him out and hope he's able to turn the franchise's fortunes around in time to persuade him to stay. Minnesota has yet to make the playoffs in Love's five seasons and is likely headed to the lottery again this year.
According to a person familiar with Saunders' strategy, he has indicated there is "no way" he will trade Love by Thursday's 3 p.m. ET deadline.
Any Lakers offer would have to include Pau Gasol, whose $19.3 million contract comes off the books this summer. Rival executives believe the Lakers' best chance of moving Gasol is to a team that views him as worthy re-signing to a more reasonable deal this summer -- not as a rental. With Kobe Bryant out indefinitely and the Lakers tied for the fourth-worst record in the league, their 2014 first-round pick will have value -- but can only be traded if LA can acquire another first-round pick first. Their 2015 first-round pick has been conditionally traded to Phoenix.
During All-Star weekend, Bryant said the Lakers having cap space this summer is "right in their wheelhouse" and said he's confident GM Mitch Kupchak would make the moves necessary for a "quick turnaround." LA currently has room to sign a max free agent this summer, but could opt to acquire one via trade and then make more moves in 2015-16, Bryant's final season under contract.