Handicapping the Manning field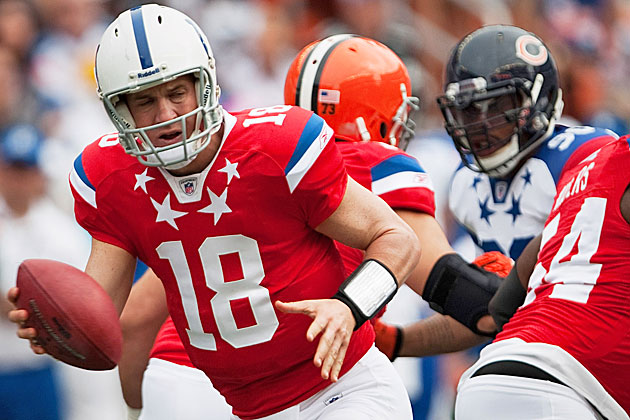 Where will Peyton Manning take his talents? Well, we're down to three. (Getty Images)
So we're down to three teams for Peyton Manning -- San Francisco. Denver and Tennessee -- with no indication when Manning makes up his mind, how he makes up his mind or whom he chooses.
That's OK because we'll make the decision for him. We set the odds based on what we know, what we think and what we imagine ... and not necessarily in that order. And this is what we get:
TENNESSEEWhat's to like:
The Titans reportedly made Manning a "lifetime offer," that includes a future in the team's front office. Sweet. It's one thing to get paid millions while you're young and active; it's another to keep getting paid millions after your career is over. Owner Bud Adams has promised he'll do whatever it takes to land Manning. In Tennessee, Manning would be going to a team that could jump up in a weak division, has a franchise running back, justed added free-agent guard Steve Hutchinson and plays Indianapolis twice a year. I don't know if seeing the Colts again is a factor, but it can't hurt. Neither can returning to Tennessee, where he was a college star and where his wife, Ashley, grew up. "Since he went to school in Tennessee," said Adams, "I think Tennessee is where he should be."
What's not:
The Titans don't have a franchise receiver like a Reggie Wayne or Marvin Harrison, and, yeah, I know, Kenny Britt is promising. He's not Wayne. He also can be a problem off the field. Their offensive line, one of the league's best for years, could lose guard Jake Scott to free agency. Plus, there hasn't been a report of the Titans working Manning out. Not yet, at least. You'd think they'd have to see him throw before making a gazillion-dollar commitment to him.
Bottom line:
When it comes to making deals, a coach told me, follow the money. Sounds simple, but it's always good to remember. And there is ... or should be ... plenty here. Tennessee is willing to give Manning virtually anything he wants, and Adams is right to play on Manning's loyalty to the state where he played his college ball. In the end, I think he goes where the money and his heart is ... and both seem to be here.
Odds
: Even
DENVERWhat's to like:
Like Tennessee, Denver is in the AFC, and that's good. A person who should know told me the whole AFC/NFC thing isn't much of a factor with Manning, though it was at one point. But that changed as time went on, and he's OK with either conference. Anyway, the Broncos have good young receivers in Demaryius Thomas and Eric Decker but just subtracted Eddie Royal, who had his worst year as a Bronco. The running game was the league's best, but that had a lot to do with Tim Tebow at quarterback. The guy was the team's second-leading rusher, averaging over five yards per carry. Manning is not a rushing threat, but he wouldn't have to be. The question is: Where are those receivers? Playing in the AFC West is a bonus, with the Broncos the defending champion and nobody established as a clear-cut favorite. Getting Manning would put the Broncos in that position. Spending time with Manning is a bonus, too. The Broncos had a long visit with the guy in Denver, then flew to North Carolina Friday to work him out -- so the two sides know each other well by now.
What's not:
First of all, there's a lack of talented playmakers at wide receiver and running back. Willis McGahee had a career year, but he's 30 and he started getting hurt as the season wore on. Thomas is the most promising receiver, but he hasn't played a complete season in two years. Then there's the quarterback he replaces. Team executive John Elway isn't sold on Tebow but Broncos' fans are ... and it's easy to see why. He put them in the playoffs. But Elway wants someone who can throw accurately, effectively and consistently, and that's not Tebow. Junking him would cause a fissure in the fan base. There's also an issue of weather, and I know it's no big deal because of the 300-plus days of sunshine Denver gets. But there's snow in there, and there can be cold afternoons and evernings. That's not to say Manning can't endure that. But he spent his career in a dome, for crying out loud, so it could be a factor.
Bottom line:
It doesn't hurt that Elway is running the show here. Manning must have grown up admiring the guy. Just because there's one Hall of Fame quarterback in the building doesn't mean there's not room for another. Elway made it clear he believes the team is limited with Tebow, a guy he did not draft. So he covets Manning, with the Broncos prepared to go to the mat for him -- offering a $90 million contract that rivals Tennessee's proposal.
Odds:
3-2
SAN FRANCISCOWhat's to like:
The 49ers were this close to the Super Bowl, falling in overtime in the conference championship game. The perception is that a premier quarterback would put them over the top, and that quarterback is Manning. He would join a team with a top-tier defense, a decent offensive line, an elite running back and competent receivers -- with tight end Vernon Davis at the head of the class. He would also join a team with a former quarterback as its head coach, so there could be an easy transition with Manning assuming control of an offense that Jim Harbaugh runs. All I know is that of the three teams interested in Manning, this is the most legitimate Super Bowl contender -- and that has to appeal to someone as competitive as Peyton.
What's not:
Well, there's that NFC thing again and playing in the same conference as his little brother, but that's not that a big deal. This, however, could be: The team is short of quality wide receivers, with divas Michael Crabtree and Randy Moss the best known. In the conference championship game the 49ers had one catch by a wide receiver, and that was four three yards. Then there's this: Manning has little familiarity with the 49ers' organization. He did not visit the team's headquarters; the team's coaches visited him in North Carolina. For someone as meticulous in his preparation as Manning, that doesn't bode well for the two getting together. I know it's important he goes somewhere he's comfortable because those around him say it is. My question: How can you be comfortable somewhere you haven't been?
Bottom line:
It's never, ever, ever wise to underestimate Jim Harbaugh, but this looks like one game he can't win. He has the team to sell Manning, but he looks to be late in the game. With Manning not having gone to San Francisco, I don't see how this happens. of course, I didn't see the 49ers in the conference championship game, either.
Odds:
10-1.