Vilma's complaints aimed in wrong direction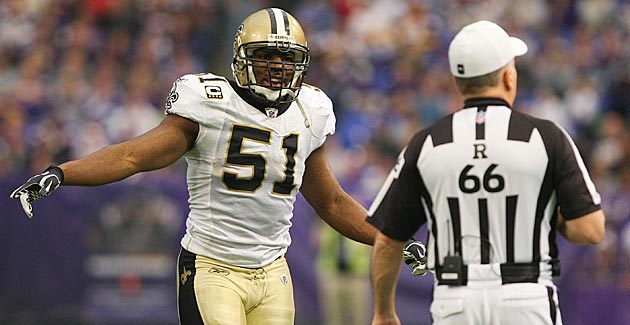 Instead of blaming the league, Jonathan Vilma should vent some frustration at his union. (US Presswire)
When New Orleans linebacker Jonathan Vilma walked out of Monday's meeting with NFL commissioner Roger Goodell, he said he wasn't interested in perpetuating an appeals process he called "a sham." So he cut short the session and headed home.
"I don't know how you get a fair process when you get [Goodell] as judge, jury and executioner," Vilma said.
It's a good question. Only it's one that shouldn't be posed to Goodell, the NFL office or the media. It's one meant for NFL Players Association executive director DeMaurice Smith, the players' union and Vilma's peers.
Heck, it's one Vilma should be asking himself, and here's why: BECAUSE THE NFLPA AGREED TO THAT PROCESS WHEN IT SIGNED THE NEW CBA, AND NFL PLAYERS RATIFIED IT.
More on Bountygate
Related links
I don't care if he doesn't like it. He signed off on it. So did his union. If Vilma has a complaint it's with the people who thought this was a good idea, and somebody must have. The players didn't oppose it. In fact, I don't remember anyone bringing this up last year when negotiations were underway.
"It's a little bit disingenious when you're calling the process unfair and wondering what happened to due process," said one league insider. "The CBA answers that question."
The NFL wasn't going to agree to a new CBA without Goodell gaining broad authority when it came to "integrity of the game" issues, but all the NFLPA had to do was say, "No." It could have negotiated a middle ground. It could have simply declined to go along with it. But it didn't, and now it's Vilma calling out the commissioner because the process is, in his words, "a sham."
I don't know, there's a something called a CBA that says it's not. And there are a couple of arbitrators out there who said it's not, too. In decisions made this month they ruled in favor of the NFL and Goodell, who execrcised the authority he was given ... yep, by players like Vilma, Will Smith, Scott Fujita and Anthony Hargrove. In fact, Fujita was part of the union's executive committee, so don't tell me he doesn't know what's going on here.
Afterward, he, Hargrove and Smith issued a statement where they said, "Words are cheap, power is fleeting" ... except they're not. The penalties the league imposed on all these guys will cost them substantially -- both in money and reputation -- and the power Goodell has is anything but fleeting. The last time I checked he has this authority for another nine seasons, with the NFLPA unable to exercise an "opt" clause because they never got one.
They agreed to a document that players now say is penalizing them, but their complaints are misplaced. They shouldn't be aimed at the commissioner or owners; they should be aimed at their leadership for agreeing to a deal that gives Goodell authority they say he shouldn't have.
Too bad they didn't think of this a year ago.