Browns jumped way too high to take Gordon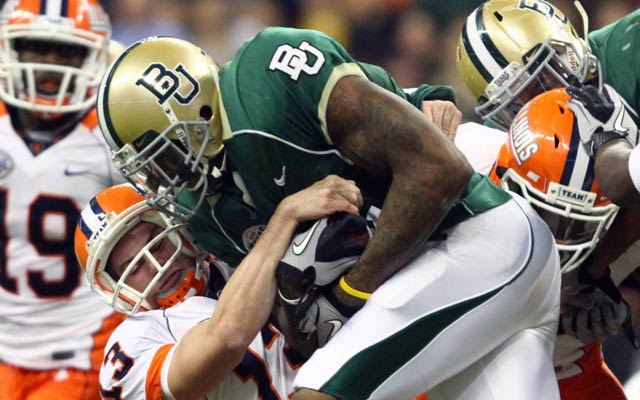 The Browns hope Gordon can improve their woeful receiving unit.
(US Presswire)
I didn't realize how much the loss of Baylor wideout Kendall Wright to Tennessee in this year's draft flummoxed the Cleveland Browns, but now I do. It was a setback from which they still haven't recovered.
The proof? Their choice Thursday of Baylor receiver Josh Gordon in the supplemental draft. It's not that choosing Gordon is a bad idea, and it's not that choosing a wide receiver is a bad idea. But choosing this wide receiver with a second-round pick is a bad idea. It's a panic move that makes no sense.
OK, OK, I understand the Browns need another pair of hands like Barnes needs Noble, but a second-round draft pick for Josh Gordon? Puh-leeze. These are the Cleveland Browns, people, and they're not only the fourth-best team in the AFC North; they could be one of the worst teams in the NFL, period.
That means they should be in line for a high choice in next year's draft, which means ... uh-huh, that second-round pick they just sacrified? It should be a high second-rounder. In fact, it wouldn't shock me if the Browns finish with one of the worst three records in the league.
OK, so that's a doom-and-gloom scenario, but tell me they're better than Baltimore, Pittsburgh and Cincinnati in they're division ... because they're not. And tell me they beat Philadelphia or the Giants or Dallas or Denver and San Diego with the league's third most difficult schedule ... because they won't. I'm sorry, but I don't see much hope this season, and after what just happened, I don't know if I see much hope in the forseeable future.
As I said, I understand the Browns' position at wide receiver. They can't have enough. But the draft is all about getting value for your pick, and the Browns just flunked the exam. Josh Gordon is not second-round value, especially where Cleveland is liable to choose next April.
I don't know, but it sure looks as if not getting Wright made the Browns go wrong. They had a golden opportunity to inject life into a struggling offense with two first-round picks in this year's draft and made the wise choice with running back Trent Richardson at the fourth spot. But then they waited on Wright with the 22nd pick, and that was a mistake. The guy went to Tennessee at the 20th spot, which threw the Browns into such a funk they chose Brandon Weeden -- a quarterback who turns 29 this season -- two spots later.
The Browns didn't need another quarterback. They needed a playmaker like Wright, and if they had a conviction about him -- which, president Mike Holmgren admitted later, they did -- they should have acted on it. They should have maneuvered to take him in front of potential suitors like Tennessee.
But they didn't and suffered the consequences.
So they wait three months and take another Baylor receiver -- only one who's not as good and who didn't play last season. When the Browns got stiffed on Wright, they should have found another piece to plug into an offense that needs help everywhere -- maybe an offensive lineman like a David DeCastro or Riley Reiff or Kevin Zeitler. But, instead, they opted for a quarterback to replace Colt McCoy, whom they took in the third round two years ago.
I don't care what you think of McCoy, but no quarterback in Cleveland stands a chance without a supporting cast that wasn't there last season. I don't know how good McCoy is or isn't because he didn't have guys around him to make him better. He deserved a chance that he won't get. Weeden will and good luck.
Choosing Richardson to improve an awful rushing attack was a start, but the Browns are desperate for playmakers -- so desperate that they wasted what is sure to be a high draft pick on a receiver who, when he did play two years ago, had his moments but wasn't what I'd call extraordinary.
Which is another way of saying he wasn't Kendall Wright one season later.
I'm sorry, but I don't get it. This is how fourth-place clubs stay in fourth place. Which is another way of saying, ladies and gentlemen, your Cleveland Browns.