Blame Mark Sanchez? Point the finger at the Jets organization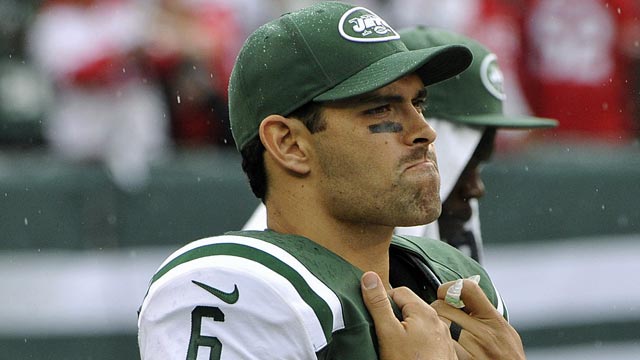 How much blame does Mark Sanchez deserve for this Jets' mess? (AP)
Disgruntled Jets fans are beginning to call for Mark Sanchez's benching, but the problem with the New York Jets isn't Mark Sanchez. The problem with the New York Jets is the New York Jets.

Plain and simple, the organization didn't provide Sanchez the playmakers he needs to make the offense work -- and that's apparent now more than ever.

With Santonio Holmes sidelined for the rest of the season, look what Sanchez is left with for wide receivers: Rookie Stephen Hill, Chaz Schilens, Jeremy Kerley and Clyde Gates. Now, tell me: Which one of those guys is going to back down a defense?

Someone? Anyone?

I'd probably name tight end Dustin Keller as the receiver I trust most, only he missed the last three games with a hamstring injury. Keller may be ready to return, but big deal. He's a decent tight end, but he's a tight end.

Nope, with Holmes down, the Jets have no playmakers on offense, and I don't call that a problem. I call it a crisis.

They went into this season hoping to return to the glory days of "Ground and Pound," and the idea made sense. Not only was there a shortage of threats at wide receiver, but Sanchez was most effective throwing play-action passes ... and to sell play-action you must be able to run.

So the team hired Tony Sparano as offensive coordinator and told him to fix a fractured running game. The intention was right, but the reality is the rushing attack that languished last year is languishing again ... only it's worse. Where the Jets ranked 22nd in running last season, they're 23rd now, averaging 3.2 yards per carry. Shonn Greene doesn't scare anyone, and backup Joe McKnight was so ineffective the Jets made him a cornerback ... for a week.

That doesn't leave the Jets much choice but to turn to Sanchez, but they forgot this isn't Tom Brady they're dealing with. He's not designed to carry a team. Sure, he can make plays, just as he did in the 2010 playoff upset of New England. But when the Jets went to consecutive AFC championship games in 2009-10, Sanchez had help -- specifically help from a running game that ranked first one season, fourth the next, and from one of the league's best and most opportune defenses.

In fact, when the Jets reached the conference championship game in Sanchez's rookie year, the team's defense was first overall and first vs. the pass. But that pass defense just subtracted its best player, who also happens to be the team's best player, period. Couple the loss of cornerback Darrelle Revis with an ineffective running game and the loss of your best (only?) threat at wide receiver, and it doesn't take a genius to figure out what's next.

Not much, that's what. The Jets will give up more points and won't produce as many, with last week's hammering by San Francisco a possible glimpse into the future.

All I know is that with Holmes gone, the difference makers on this offense are on the offensive line, and last time I checked no one there caught a pass. So angry and impatient fans boo Sanchez and wait for Tim Tebow to come to the rescue, when the fact is: There is nobody who can rescue the Jets.

Yeah, I know, Denver jettisoned Kyle Orton last year when it was 1-4, and Tebow worked wonders with the club -- somehow turning what should have been a 5-11 season into a division title. Better yet, he beat the defending conference champions in the playoffs.

But the two situations are not analogous. First of all, the Broncos could run. The Jets can't. The Broncos had Willis McGahee and Knowshon Moreno (later hurt), while the Jets have Greene. Second, the Broncos were willing to blow up their offense to accommodate Tebow, figuring there was no going back. The Jets aren't because it would mean flushing Sanchez once and for all, and listen to what Rex Ryan said this week: "He's definitely our guy."

He should be. The Jets are invested in Sanchez, this year giving him a three-year contract extension, so someone believes in him. Heck, he hasn't had a losing year and took the team to conference championship games in two of his three pro seasons.

But maybe the biggest difference in what happened with Tebow in Denver and what's going on now in New York is that the Broncos had no delusions of grandeur. They knew they stunk, and they figured they had nothing to lose by playing Tebow. Even then, he still had McGahee and Demaryius Thomas and Eric Decker, and while that's not an all-star cast it's better than what the Jets have now.

At 2-2, the Jets still envision themselves as a playoff team when the sad truth is they're closer to Miami than they are New England. In fact, after losing Revis and Holmes, the race is on for last in the division, and I'd make the Jets the early favorite.

If that happens, people will blame Mark Sanchez, but don't. Blame an organization that gave him its support but didn't give him the playmakers he needed to succeed.

Hey, Detroit drafted Matt Stafford the same year the Jets chose Sanchez, and he has Calvin Johnson, Brandon Pettigrew, Nate Burleson and Titus Young as weapons. Cincinnati drafted Andy Dalton two years later and surrounded him with A.J. Green, Jermaine Gresham, Armon Binns and Andrew Hawkins. It also added free-agent running back BenJarvus Green-Ellis.

The Jets' biggest offseason move was trading for Tebow, a guy who plays the same position as Sanchez, and tell me: How does that make Mark Sanchez better? It doesn't.

Even with Holmes in the lineup, the Jets were alarmingly short of playmakers. Now, they have next to no one. That's not Mark Sanchez's fault, but it is the fault of the New York Jets.