TO wants to be a Jet? Now, more than ever, just say 'No,' Rex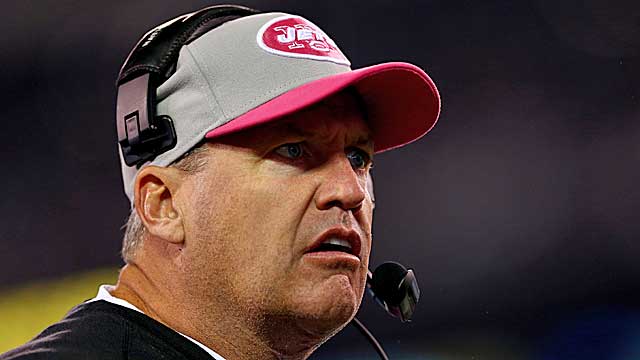 The season is quickly getting away from Rex Ryan's Jets. (Getty Images)
One day after their latest loss, the New York Jets are a team perilously close to going from a struggling franchise in search of a victory to a struggling franchise in search of a clue.
But that's where we are, folks, with coach Rex Ryan on Tuesday refusing to shut the door on ... I can't believe I'm saying this ... the addition of Terrell Frickin' Owens. When asked about taking on the free-agent wide receiver, Ryan told reporters that, "You never say never" ... except in this case you do.
Because you must.
Terrell Owens is trouble. And if you don't believe me, maybe you should check the guy's resume. At the peak of his career, three teams couldn't wait to get rid of him. That includes Philadelphia, where he played courageously and marvelously in Super Bowl XXIX. But he couldn't make it through the following season without torching the club, with the Eagles suspending him during the year, then showing him the door when it was over.
Philadelphia had a string of four straight conference championship games that ended that season, and it's no coincidence that it all blew up when Owens was on the scene.
But that was 2005. This is seven years later. Owens not only turns 39 in December, he hasn't played in the league since 2010. That was Cincinnati, and I think you know what happened there: Nothing. In fact, the Bengals were better off without him and Chad Johnson and proved it last year when a rookie quarterback and rookie wide receiver accomplished what Owens, Johnson and Carson Palmer could not.
No question, Owens was a talent. But I use the past tense for a reason: Because he's not anymore. More important, he was a load, with an assistant who worked with him calling him "the most divisive" player that he ever coached.
Yeah, uh-huh, I think that's just what the New York Jets need at this point: Someone to dynamite their locker room. Santonio Holmes tried that last year, and the Jets later insisted they learned a valuable lesson from the experience.
Or maybe not.
Look, Ryan didn't say he or the organization was interested in adding Owens, but he didn't say he wasn't ... and he should have. Because bringing a miscreant like Owens into the huddle assumes a risk not worth the trouble it invites.
I know the Jets have issues. I know they have no playmakers on offense. I know the quarterback is under siege. I know they can't find the end zone with a divining rod, with the offense producing just two touchdowns in its last 45 possessions. But that's no reason to panic.
The New York Jets and their coach are desperate, and desperate times demand desperate measures. I get that. But this wouldn't be an act of desperation. This would be an act of sheer and utter stupidity, guaranteed to bring Ryan and his team down, down, down.
After Monday's loss to Houston, Ryan said the Jets would try almost anything to pull themselves out of their funk. A faked punt. Cornerback Antonio Cromartie at wide receiver. Tim Tebow and Mark Sanchez riding the shuttle to quarterback. Something, anything, to wake up a crippled and weak offense.
But not this, guys.
Terrell Owens has nothing to offer but another migraine. If you think it was a circus with the incessant questions about Tebow vs. Sanchez and Sanchez vs. Tebow, wait until you add T.O. to the cauldron and let him stir the pot.
That's why Rex Ryan and the Jets can't.
Ryan is no dummy. He knows what it takes to win. And he knows what it doesn't take ... and what it doesn't take is Terrell Owens and the distractions and disturbances he creates. So put a stop to this nonsense now, once and for all.
Yeah, OK, so you made another headline. Great. Now make one more and tell everyone that while you're hurt and desperate and willing to consider all options you won't consider this one. Because while you're hurt and desperate and will to consider all options, you're not also stupid. Tell them that, yes, as a matter of fact you can never say never to Terrell Owens.
Because you must.