Every day is Father's Day for Vikings' Greenway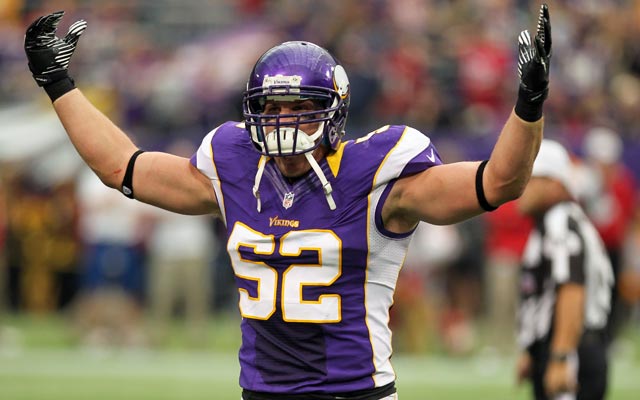 Chad Greenway had a huge game against the Niners with his dad in attendance.
(US Presswire)
Before there was Chuck Pagano, there was Alan Greenway, and if you didn't hear of him then you're going to hear of him now. Because, like Pagano, he suffers from leukemia and, like Pagano, he's a back story to one of the biggest upsets of this season.
Only it's a story you may not know.
I'm talking about Minnesota's Sept. 23 defeat of San Francisco, a game where Greenway's son, Pro Bowl linebacker Chad Greenway, produced a team-high 13 tackles and two sacks as the Vikings pulled the 24-13 shocker. It was a victory that woke up the country to the Minnesota Vikings, and it was a victory Chad Greenway cherishes -- and not just because of what happened on the field.
But because of what happened off of it.
Greenway's father was in the stands, making the four-hour drive from the family's farm in Mount Vernon, S.D., to see his son play. There was a time when neither father nor son thought that could happen. But it did, and it happened on the Vikings' biggest afternoon of the year.
"That game obviously was great for me," said Chad, "because my Dad and I talked a lot in the offseason -- about football and what it meant -- and he wanted to see me play again. We're hoping he can see a lot more of them, but it depends on his health. I try to talk to him as much as possible, I think about him all the time, and, God willing, he'll be able to make it back up here."
If and when he does, there are a couple of surprises waiting for him: 1) A Vikings team that keeps making headlines, winning more games -- 4 -- the first five weeks than it did last season, and 2) a signed game ball from that defeat of San Francisco.
"I want to be able to give it to him in person," said Chad. "So I'm just waiting to see him. I don't think he even knows yet that it's coming."
He might now.
What he certainly knows is that his son and his son's team are must-see viewing. The Minnesota Vikings are on top of the NFC North, tied with Chicago, because they discovered a quarterback, because they have Percy Harvin, because they have Adrian Peterson and because their defense hasn't sprung the leaks that capsized the club a year ago.
That's when the Vikings blew first-half leads of 10 or more points in their first three games and plummeted to their worst finish since 1984. Preseason forecasts predicted more of the same, except they've been wrong. Minnesota has found ways to win where it didn't a year ago, and, suddenly, inexplicably, the Vikings are where they haven't been since Brett Favre quarterbacked the club in 2009.
That team won its first six starts, including a last-second defeat of San Francisco the third week of the season. It knew how good it was and proved it by going to the conference championship game -- losing to New Orleans in overtime. This team doesn't think about such things, and Greenway -- who started on the 2009 Vikings -- is quick to explain why.
"When you're coming off a 3-13 season," he said, "you realize how fast things can change, and not necessarily in a positive way. So we're just trying to keep things simple, play within ourselves and play within our scheme. If we can do that, we should have some decent success."
So far so good, and there are plenty of deserving persons to assume responsibility. You can talk about coach Leslie Frazier and the job he's doing. You can talk about coordinator Alan Williams and the league's seventh-ranked defense. Or offensive coordinator Bill Musgrave and what he's done with quarterback Christian Ponder, who still doesn't have an interception. Or you can talk about Ponder himself ... or Harvin ... or the offensive line ... the defensive line ... Jared Allen ... you name it.
Me? I'd prefer to talk about Greenway, not only because he's a valuable asset to an improved defense but because he must play each weekend not knowing what's next for a father who was diagnosed in May and who spent much of the summer at the Mayo Clinic, undergoing treatment after a fungal infection spread to his brain.
I can't imagine what that's like, but Chad Greenway can. He has no choice.
"I think my Dad makes it easier," he said. "His mentality after those first really, really tough weeks was: Your life has to go on, and you have to get back to doing what you have to do, whether it be from a football standpoint or a family standpoint.
"For me and my sisters, we had to get back to work. He understands that, and he tells us to do it and wishes we would do it. So when he's saying those things it makes it a lot easier for us ... even though we're thinking about him. Getting back with my teammates makes it a lot easier for me to say 'Hey, you know, what? I'm back at work, and while I'm here I'm going to do my job.' "
It's that attitude that was behind Indianapolis' upset of Green Bay a week ago, a game the club dedicated to their coach, Chuck Pagano, hospitalized with treatable leukemia. Greenway knows what the Colts went through because he lives it every day with his father. More important, he knows what Pagano goes through.
"It's a big deal, and it's obviously news when it's an NFL head coach," he said. "I feel for his family, and knowing what we've gone through these last five or six months, it's clear it's just not easy on a family in general ... the kids ... the wife.
"Coach Pagano is obviously in my thoughts, and I would love to reach out to him at some point and just kind of talk to him and see how things are going -- just to let him know that he's not the only one that's had to go through stuff like this ... as he knows ... and certainly to let him know I'm thinking about their team, him and his family."
Naturally, he's thinking more about his own team and family, and, all things considered, life isn't all that bad. His father is back home and, according to Chad, "doing quite well now." The team is on a three-game roll and favored to beat Washington on Sunday. And Chad Greenway is the Vikings' leading tackler, doing what he can on the field to keep his mind off what's happening off of it.
"We're hoping [my Dad] gets back up here in a couple of weeks," said Greenway. "That's the plan, but things change. Right now we're just day-to-day."
And that's OK.