What has happened with Philip Rivers?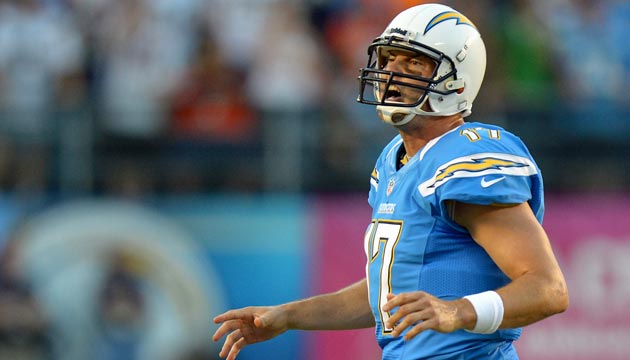 Philip Rivers has been on a puzzling decline the past two seasons. (US Presswire)
SAN DIEGO -- After San Diego's demoralizing collapse on Monday night, Chargers coach Norv Turner told reporters that it would be wrong to single out one of his players for what just happened because, well, you win as a team and you lose as a team, and that's that.
"Someone who's looking around and wants to make this about somebody," said Turner, "can make it about me."
That's a noble gesture, but the Chargers' latest loss was not about Norv Turner. It was about quarterback Philip Rivers and what is going on with the guy.
It's not just that he produced the worst performance of his career; it's that, for the past two seasons, he hasn't escaped a downward spiral of atypical mistakes, turnovers and mystifying losses -- with Monday's meltdown the latest ... and most notable ... example.
The Chargers committed a whopping six turnovers, all of them by Rivers. Four were interceptions; two were fumbles. Two were returned for touchdowns. One led to a score. Another ended the Chargers' last series.
Think about that for a moment. In four quarters, Rivers had more turnovers than Pittsburgh (four) and Washington (five) have this season and as many as the Oakland Raiders ... the Oakland Frickin' Raiders ... and four others each produced the last six weeks.
And they came in rapid succession, with Rivers punctuating five of the Chargers' six second-half drives with giveaways. On the sixth, the team punted.
"Every loss hurts," Rivers said later. "Regardless of what negative or bad plays [were made] or how you lose a game. When you lose a game, it's rough -- especially a game when you had such a big lead. So much was at stake for an early, in-the-division game. It's not the way we want to go into the bye week. Certainly, it's not the way I ... and we ... wanted to perform."
But it's exactly the way they've been performing the last two years, and the natives are restless -- with disgruntled fans beginning to question what's happening with a quarterback who once was one of the most accurate and reliable passers in the league.
Two years ago, Rivers carried the Chargers, throwing to 17 receivers, some of whom were nobodies that they were forced to sign because of a spate of injuries that crippled the club. But Rivers was undaunted, finishing with a career-best 4,710 yards and somehow leading the team to a 9-7 finish in one of the most underappreciated performances in recent history.
But that was two years ago.
Since then, the poor guy has unraveled. It started last season when he committed a career-worst 20 interceptions and seven fumbles, including one at the end of the Kansas City game when he botched a snap as he tried to kill the clock for a game-winning field goal.
The field goal never happened, and neither did the victory.
Until last year, Rivers had never thrown three interceptions in one game. Then he did it against Green Bay. Until Monday night, he had never thrown four in one game. Then he did it against Denver. So what's going on?
"I don't think there's anything wrong with Philip," said tight end Dante Rosario. "It just wasn't his night. He knows that, and we all know that. That's one thing about him; he's going to correct it. I really think everybody is going to overblow this thing about him physically, but he's fine."
But he's not, and I'm not talking about a possible injury. I'm just talking about what he does with the football. He looked shaky on the Chargers' opening series on Monday, and he looked worse in the fourth quarter. Yes, there was a period in which he and the offense settled down and began to play with penache. But let's be honest, people: Without three Denver turnovers in the first half, the Chargers were reduced to ... what?
Yep, one lousy touchdown.
Rivers never seemed comfortable, sometimes throwing as he was bailing out in the face of Denver's pass rush. That can happen when Von Miller and Elvis Dumervil are in your face, but it's happening far too often, with predictable consequences: In Rivers' first five years as a starter, he threw at least two interceptions 15 times ... or once every six starts. In his last 22 games, he has done it 10 times ... or almost once every two.
The Chargers are 11-11 in their last 22 games, and people who wonder why are beginning to look at Rivers. He has 37 touchdown passes and 29 interceptions in that time, where he had 135 TDs and 57 pickoffs in the five seasons before.
San Diego was 55-25 then.
That's not only disturbing for a club built on and around its quarterback; it's fatal because the San Diego Chargers are only as good as their quarterback ... and right now, he's not very good.
I don't know what the problem is -- whether Rivers' play is a byproduct of uncertain pass protection; whether he somehow lost the confidence that is so critical to his game or whether he's just caught in a funk from which he can't escape -- but I do know if he can't correct himself, the Chargers are doomed. Philip Rivers is San Diego's best player ... only not now he's not.
"It only takes one play to turn it around," said safety Eric Weddle.
Or one player.