Here's one change Eagles' Reid shouldn't make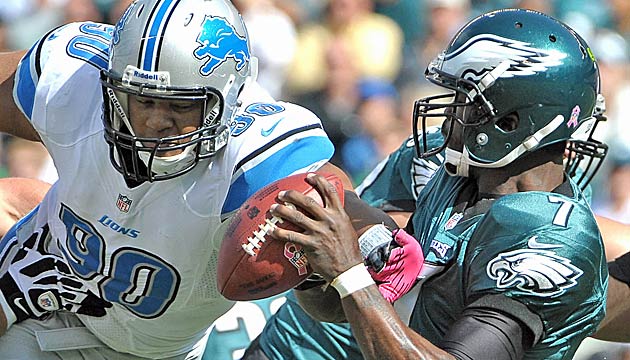 Erratic or not, Michael Vick remains Philly's best option for now. (US Presswire)
The Philadelphia Eagles have a new defensive coordinator, with coach Andy Reid warning that more changes are possible before the team resumes play Oct. 28 against Atlanta. The assumption is that quarterback Michael Vick could be next, with Reid on Tuesday offering lukewarm support for the embattled quarterback.
That means he's thinking about it, but I don't see it happening ... and here's why: Because it can't.
To sit down Vick, Reid would have to turn to rookie backup Nick Foles, and, sorry, that's a risk not worth taking. Not now, it's not. Yeah, I know, Vick continues to commit a raft of turnovers at an alarming rate -- his 13 are more than all but four teams -- but Reid can't bench him now because he has no idea what he has behind him.
Granted, Foles was terrific in preseason, and the Eagles seemed to operate more effectively under his direction than they did with Vick. I get that. But I also get that there's no margin for error for Reid or the Eagles. They must win, and they must win now.
So they're 3-3. The season is not even halfway over. Still, you want to tell me you'll take your chances by sitting a veteran you entrusted with the position in favor of an unknown you think might be better? I don't think so.
In 2008, an exasperated Reid benched starter Donovan McNabb at the half of a game that he would lose to Baltimore, replacing him with the inexperienced Kevin Kolb. Critics called for Kolb to stay in the lineup, but they didn't know Reid. He knew what he had in McNabb, and he knew he offered him his only chance to win.
So he started him the rest of the season.
The Eagles were 5-5-1 then and seemingly headed for the discard pile. Only McNabb rallied the club to a 9-6-1 finish and took it to its fifth conference championship game in eight years.
There are a few things worth noting there. First, Kolb was not a rookie but a second-year backup with a slim record of nine passes. Nevertheless, there was a resume. Second, the season was far more advanced. Third, Reid was not under a win-or-else ultimatum. Fourth, and most importantly, Reid stood by his veteran.
Maybe this would be different if Reid knew what he had in Foles, if he saw him operate during the regular season. But he hasn't, and to hand him the ball now would be more of a gamble than turning an offensive line coach into a defensive coordinator. Reid tried that, and it didn't work. A similar mistake at quarterback almost certainly would signal the end of Reid's tenure in Philadelphia.
OK, I know what you're saying: Look what's going on with other rookie quarterbacks in the league. They're successful. They're not making the mistakes that Vick is. They're not taking the beating that Vick is. So how much of a risk can this really be?
A huge one, that's what, and with no safety net if it fails.
Look, the teams that start rookie quarterbacks are doing it for a reason: They weren't very good last season. They had to do something, anything, to improve themselves, so they changed people at the most important position and hoped it would make a difference.
With the exception of Seattle, expectations for those teams were low, with owners and fans allowing them a wide margin of error. They knew what you and I do -- namely, that it takes time to develop rookie quarterbacks -- and that's precisely the problem here.
Because time is what Andy Reid does not have.
If he were going to make a change, I'd suggest it might be safer to turn to third-stringer Trent Edwards. I mean, at least the guy has started and won before -- going 5-1 through the first five games of 2008 in Buffalo before the roof collapsed.
But here's my question: If you're a head coach with little job security, do you really want to put your future in the hands of Trent Edwards? I don't, and I can't imagine Reid does, either. So it's Nick Foles or nothing, and I vote for nothing.
Look, for all his mistakes, Vick still is the guy behind three fourth-quarter drives that won games. He's also the guy who had his team ahead in the final two minutes of its last two losses. And he's someone who took Atlanta to a conference championship game in 2004, the Eagles to the division title two years ago and Philadelphia to four straight victories at the end of 2011.
Bottom line: He's someone Reid knows can win.
But Foles? We know nothing about him other than what happened last summer, and, I understand, his record was terrific. In fact, it was better than Vick's. So was Edwards'. But those are games that didn't count, and that's important to remember. I watched Ryan Leaf in the summer of his rookie season, when he completed 60.5 percent of his passes and produced a passer rating of 80.3, and I was impressed.
Then the regular season began, and Leaf self-destructed.
I'm not trying to compare Nick Foles to Ryan Leaf. Hardly. What I am trying to say is preseason results don't necessarily translate to regular-season success. It would take a giant leap of faith for Reid to put Foles on the field, and I just don't see that happening unless you are A) out of options, B) desperate or C) playing for next year.
The Eagles are not desperate. They're one game out of first place in the NFC East, trailing a team that they already defeated. They're not out of options, either. Last time I checked, Vick was still standing. And they're not playing for next year. What they are doing is playing the unbeaten Atlanta Falcons in 12 days, and that's another reason this can't happen.
What? You want to start a rookie against an unbeaten opponent that has the NFL's 11th-best pass defense, leads the league in takeaways, is third in interception percentage and ranks seventh in sacks per pass and sixth in points allowed? Not me. I'll take my chances with Vick until I'm sure I can't win with him.
I'm not there yet, and my guess is that Reid isn't, either -- though, clearly, he's weighing his choices. When he said on Tuesday that Vick was his quarterback "as I sit here today," it sounded a lot like his pronouncement the day before regarding Juan Castillo, the defensive coordinator whom he later fired.
But there's a big difference: With Castillo, Reid knew what he had behind him, and that's an experienced assistant in Todd Bowles. With Vick, he doesn't.
And that's why this shouldn't happen. Because it can't. Not now, it can't.