No problems for unbeaten Atlanta in NFC, right? Not so fast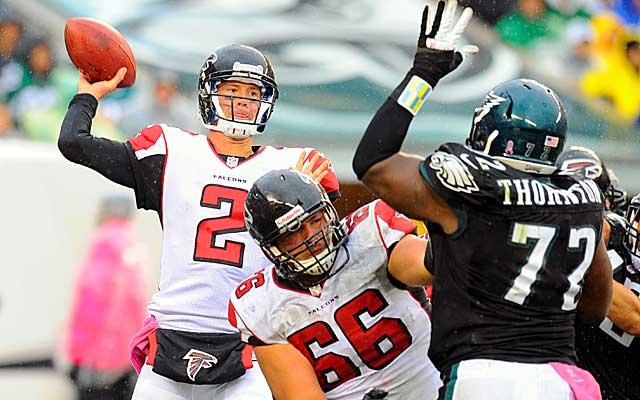 The Falcons and Matt Ryan are riding high, but a quartet of NFC rivals are within hailing distance. (US Presswire)
There is nobody better in the NFC ... heck, the NFL ... than Atlanta, and somebody cue Bill Parcells. "You are what your record says you are," he once told us, and the Falcons are the only undefeated team out there.
But we're not even halfway through the season, which means there's time for someone to catch Atlanta -- and I have more than one club in mind. I have several, and, yes, I'm talking about the NFC where, frankly, most of the best teams are these days.
Granted, the Falcons are off to the best start in franchise history, but there are four clubs within the conference capable of beating them to Super Bowl XLVII -- and that includes the defending NFL champions.
More on Falcons
Analysis

---

Related content
Here, then, is the list of who they are and why they could become speed bumps for the Falcons. Teams are ranked not according to overall record or strength but according to how difficult they might be for Atlanta to overcome ... and, trust me, all will be tough outs.
1. New York Giants
What you like: Balance. You name it, the Giants have it. They have a Super Bowl quarterback, the league's 12th-ranked run game, an offense that's third in scoring and a defense that boasts an NFL-high 24 takeaways and the highest percentage of interceptions per pass plays. This is a team that is superior to the Super Bowl XLVI winner, and it's a team remarkably adept at overcoming losses of key players -- including running back Ahmad Bradshaw, tackle David Diehl, wide receiver Hakeem Nicks and safety Kenny Phillips. Once I thought the NFL's toughest schedule would break these guys. Not anymore; not as long as Eli Manning is around. Which reminds me: Maybe what I like most about the Giants is how they protect their star quarterback. Manning has been sacked only seven times this season, with as many the last seven games (3) as in the opener.
What you don't: It's hard to be find warts here, but health is always an issue, and consistency to the run game can be -- though the Giants are making strides there. They average 140 yards a game their last four starts, but that includes a 243-yard effort vs. Cleveland. Take that away, and the average drops to 105.3 per. I know, picky, picky, picky. Plus, the Falcons aren't that good vs. the run, anyway. But there's room for improvement here. Three weeks ago I would've included a disappointing pass rush, but not anymore. The Giants have 13 sacks their past three games and just returned Chris Canty to the lineup.
Why Atlanta should be worried: First of all, the Giants are the defending Super Bowl champion. Second, they have a quarterback who's 8-3 in the playoffs, including two Super Bowl victories. Third, the last time these two met, the Falcons' offense failed to produce a point. Last, and most importantly, there is almost nobody better on the road. Including the Super Bowl, the Giants won their past seven playoff games away from home.
Why it shouldn't: The Giants' defense has a league-high 16 interceptions but is still vulnerable to the pass -- especially at cornerback where you'd like to see Corey Webster's play improve. With Atlanta launching deep threats Julio Jones and Roddy White on the outside, that could be an issue.
Key Stat: Manning is at his best when games count most. He has 24 fourth-quarter comebacks and 28 game-winning drives, and he's only getting better -- with 11 the past two years, including the playoffs.
Bottom line: The Giants are toughest when games count most, winning their last six in 2011 to a) qualify for the playoffs and b) win another Lombardi Trophy. Nevertheless, the odds are against them. Super Bowl champions usually don't get opportunities to defend their titles, and you can look it up. Only one club has repeated in the past 13 seasons (New England). Still, the Giants are playing football now as they did down the stretch a year ago, and they've already proven they can win playoff games anywhere.
2. Green Bay Packers
What you like: After weeks of uneven play, the offense -- OK, quarterback Aaron Rodgers -- finally seems to have reached 2011 form. In case you missed it, Rodgers has 11 touchdowns and no interceptions the past three games. Green Bay won them all -- and that's without top receiver Greg Jennings. Plus, the Packers don't make mistakes. Their seven giveaways are second-fewest. Houston has six. The more Green Bay's offense heats up, the less we see of its defense ... and that's important for a unit playing without Charles Woodson.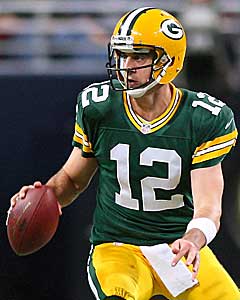 Rodgers has it figured out. (US Presswire)
What you don't: The Packers can't run the ball, and their defense is still suspect -- with only 10 takeaways, including a league-low one fumble recovery. That makes them vulnerable, and it was defense that made them vulnerable in the 2011 playoffs. People tell me you don't have to run the ball to be successful, but the Packers know better. They remember what James Starks did for them down the stretch in 2010. Then there's the pass protection. Rodgers was sacked eight times in the first half vs. Seattle, and that will get your attention. It must have gotten Green Bay's, too. He wasn't sacked by the Seahawks in the second half and has suffered only seven the last three games.
Why Atlanta should be worried: Because the last time the Falcons were in this position it was Green Bay that torched them in the playoffs. The Packers know they can win at the Georgia Dome, and they know they rattled Matt Ryan there. Plus, they have a quarterback who completed 31 of 36 passes on Atlanta in the playoffs and a quarterback who has five touchdowns, no interceptions and two victories the last two times the clubs met.
Why it shouldn't: Because the Packers still have issues on defense, particularly pass defense. Woodson is out for another month, and while the Packers' pass rush is formidable its secondary is not -- not yet, anyway, allowing 12 touchdown passes. Remember, it was that pass defense that was a critical element to the team's Super Bowl run in 2010.
Key Stat: Virtually no one is better inside the 20 than Green Bay. The Packers produce touchdowns a league-best 72 percent of the time inside the Red Zone, including 14 of their last 18 possessions. Only New Orleans is better (72.7 percent).
Bottom line: I'll tell you why Atlanta should want to avoid these guys in January: Because the Packers have been to the Georgia Dome in the playoffs and won. Moreover, they won big. Never undersell the value of experience.
3. San Francisco 49ers
What you like: Nobody runs the ball better, and nobody is better playing defense. That's a formula that will carry you far, and San Francisco offered a demonstration last season when it came this close to reaching Super Bowl XLVI. ... losing only when Kyle Williams flubbed two punt returns. But it's the 49ers' defense that gets your attention, and here's why: It ranks first in yards allowed, first in points allowed, first in first downs allowed and second vs. the pass. It is tough, physical and relentless, and it's why the 49ers are a dead-bolt cinch to repeat in the NFC West. Of course, having Frank Gore to carry your offense doesn't hurt, either, and, trust me, he'll be a problem for an Atlanta defense that ranks 26th vs. the run.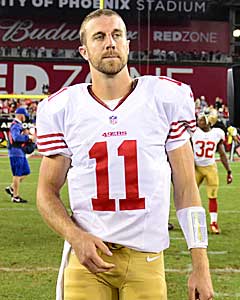 Is Smith the man for 49ers? (US Presswire)
What you don't: Their pass protection can spring leaks, and Alex Smith always will be a question mark until he breaks through to a Super Bowl. Smith's strength is that he doesn't commit fatal mistakes, only he did in a lopsided loss to the Giants. OK, so that can happen. But that game told me something, and it told me that the 49ers better hope they don't face Big Blue in the playoffs again. I know, there was that thumb injury that seemed to be an issue, but Smith never looked better than he did vs. Arizona -- missing only 1 of 19 passes. Nevertheless, until or unless he develops a downfield passing game, critics won't be satisfied.
Why Atlanta should be worried: The 49ers are another good road team. Under Jim Harbaugh, they're 9-3 there, including 5-1 in the Eastern Time Zone. Their only loss was last Thanksgiving when they had to make a cross-country trip on a short week, a competitive disadvantage that is not only unfair but that convinced the NFL to rethink future schedules to prevent it from happening again.
Why it shouldn't: San Francisco is 2-2 in closed roofs under Harbaugh. The 49ers played one dome game this season, and they lost to Minnesota. But the Vikings don't have the record at home Atlanta does, nor do they have Matt Ryan.
Key Stat: Under Harbaugh, the 49ers are plus-31 in the takeaway/turnover ratio.
Bottom line: The 49ers looked like the league's most complete team until they were destroyed by New York. Now, they look like one of its most dangerous clubs, capable of beating you with Frank Gore, defense, David Akers and, yes, Smith. The Giants and Packers have won Super Bowls the past two seasons, so that gives them an advantage, and Chicago is scoring with offense and defense this season. But do not underestimate San Francisco. The 49ers proved a year ago they will not wilt down the stretch, and they'll have to prove it again. They'll have their chance, meeting Chicago at home Nov. 19, then going to New England on Dec. 16.
4. Chicago Bears
What you like: Defense. Defense. Defense. Nobody is more opportune than the Bears, who have turned six of their 16 interceptions into touchdowns. The Bears are second in the league with 23 takeaways, first against the run, second in points allowed and second in point differential. I think you get the point. The Monsters of the Midway are back. The Bears play old-school football, winning with defense, the run and special teams, and it's going to make them tough for Green Bay to catch in the NFC North. I have no doubt both make the playoffs, and both should. They're talented, they're deep and they're damned good. Where Chicago can beat you with its defense, Green Bay can take you with its quarterback -- and he's already beaten Atlanta in the playoffs.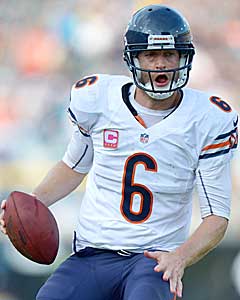 The 'ifs' are circling Cutler. (US Presswire)
What you don't: The pass protection and the quarterback. I don't trust either. The Bears last weekend surrendered six sacks in the first half vs. Carolina, and that's a problem. The Bears rank 31st in sacks per pass, with only Arizona worse, and if you don't think that's a concern you didn't see Cutler's meltdown with tackle J'Marcus Webb during that loss to Green Bay. When the Bears protect Cutler, he's as good as it gets -- with his second-half vs. Dallas the evidence. But when they don't? The videotape doesn't lie.
Why Atlanta should be worried: Because the Bears are only one game behind Atlanta and could gain homefield advantage. If that happens, Atlanta's in trouble. Tell me the last dome team that won an outdoor conference championship game. There isn't one. But forget about where they might play, and let's concentrate on this: Defense. Great defenses trump great quarterbacks, and Matt Ryan is not a great quarterback. Not yet he's not. But that Bears' defense? The numbers speak for themselves.
Why it shouldn't: Because Chicago can't get by Green Bay. Look at Cutler's numbers vs. Green Bay since he joined the Bears: He's 1-6, with seven touchdowns, 16 interceptions and a completion rate of 52.3 percent. Not good.
Key stat: When Cutler produces passer ratings of 100 or better in his career, his teams are 24-0.
Bottom Line: Cutler is the "X factor" here, basically because I'm never sure which guy is going to show up. Having Brandon Marshall in the lineup is a huge addition because he gives Cutler a receiver he can trust -- and maybe that's why Cutler is the league's top-rated passer in the fourth quarter. But I'll admit it: Cutler makes me nervous. He's capable of making the big-time mistake that could sink these guys. The Bears have the running game, defense and special teams to go the distance, and Cutler is capable of making big throws and game-winning drives. But I just don't trust him as I do, say, Chicago's defense. Basically, I don't know what you're going to get if and when he's forced to carry the offense ... and, I agree, last week's last-gasp drive vs. Carolina was impressive. But that was Carolina.