Vick to stay? It's the only move Reid, Eagles can make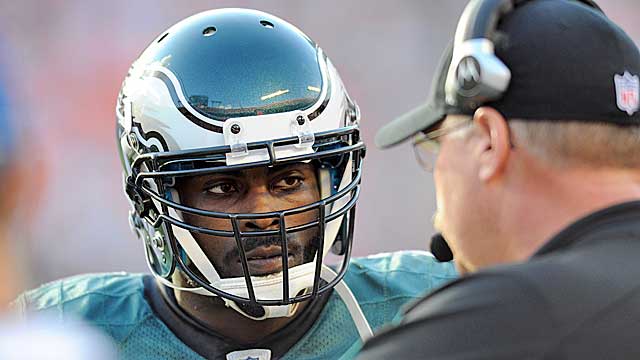 Vick's turnover woes have led to his tenuous grip on the starter's job. (US Presswire)
The announcement that Philadelphia won't change quarterbacks isn't news. It's common sense.
To change quarterbacks now would be to give up the season, and we're not there yet, folks. Andy Reid not only is coaching for the NFC East; he's coaching for his job, and you don't turn your team over to a rookie who hasn't taken a snap seven games into the season -- especially when your next game is in New Orleans.
That's a tough place for anyone to win, but Michael Vick has been there. He has the experience of winning in hostile environments, and he's supposed to be one of the leaders of this ballclub -- which is one reason you stick with him. The other, of course, is that to switch now for a rookie with no resume would be to surrender the season -- and there's no way Reid is going to do that.
Nor should he.
Maybe if you're auditioning him for next season or maybe if you've given up on this year, but the Eagles aren't even halfway through their schedule, for crying out loud. It's not time to push the panic button, and switching to Nick Foles would be the surest sign yet that Reid is so desperate that he's willing to try anything to shake up his club -- even if it means assuming a risk not worth taking.
I know disgruntled fans are disappointed with Vick and the offense. I know the Eagles are underachievers on both sides of the ball, with last week's defensive disasters masking the shortcomings of the club's offense. I know there must be a way these guys score more than 16 points a game ... which is what they're averaging.
But you don't gamble on Foles now. You don't know what you're getting, and, yeah, I understand, that's part of the attraction. But there's a reason Vick is the starter, and I don't care what you think of the guy as a player or quarterback; he beat out Foles for the job for a reason.
Because he's better.
Sure, Foles had a great preseason. So what? It's preseason, where little counts. It takes time for rookie quarterbacks to achieve success, and time is something that Reid and the Eagles don't have. To throw Foles into the cauldron now -- in New Orleans, no less -- not only isn't smart; it wouldn't be fair to the guy. And to give up on Vick would be a clear signal to players that you've given up on the season.
Sure, the Eagles are floundering and suddenly look like a club on the verge of collapse. But that's where Reid comes in. It's his job not to cave to public opinion or whims or gambles; it's his job to steer his club out of this mess by making wise and dispassionate choices.
And, for the moment, Michael Vick is his only choice at quarterback.