More than ever, backup QBs better be ready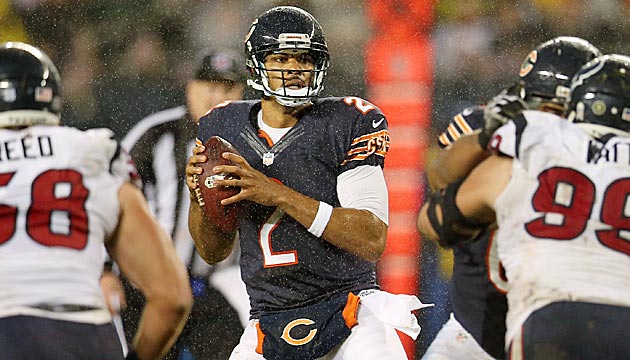 Jason Campbell gives the Bears a solid plan B at QB.
(Getty Images)
Few weekends have been tougher on quarterbacks than the most recent, with Ben Roethlisberger's shoulder injury the latest setback. When he bowed out of Monday's game with Kansas City, Roethlisberger joined Michael Vick, Jay Cutler and Alex Smith on the sidelines, although he is considered questionable to play this weekend.
As for the others, there's no indication when any of them return.
Roethlisberger is questionable with a shoulder sprain, according to Mike Tomlin, and Vick appears doubtful for Sunday's games, and that's probably optimistic. Cutler and Smith we're not so sure about. Anyway, with all the uncertainty involving the starters, I'd prefer to know a little more about the quarterbacks behind them. So let's begin.
Positives: He's experienced, and he's proven he can win. In fact, he was 11-7 with Oakland, and tell me the last guy not named Rich Gannon who can say that. He's also athletic, with an ability to flush the pocket if necessary, and he can make first downs with his legs. That doesn't mean he's RG3. He's not. But he is athletic, and that's a big deal considering the problems Chicago has protecting Cutler. "I think he'll be OK," said one scout, "because this offense is like Oakland's. They use the run to set up the pass, and that's key with this guy. If they can run he can settle in." And when he settles in, he's accurate. He once went eight consecutive games in Washington without an interception, winning six of them.
Negatives: He's not instinctive, with little sense of anticipation. Plus, he can be robotic, not doing much more than he's told. "He's not the kind of guy who will improvise," said a scout. "He also holds the ball too long, and look at his history. He was sacked 81 times in 2008-09 in Washington and has been dumped 147 times in 75 career games. "He can make the plays and the throws you ask him to make, but not much more," said a general manager.
Bottom line: Campbell is one of the best security blankets out there. Not only has he proven he can win, but he has the experience of playing meaningful games. Plus, he's only 30 and not far removed from starting -- and winning. "He's not the kind of guy who's going to throw for 300 yards," said one GM, "but he can help you win. There's going to be some talking about 'managing the game' with him, but he's better than that. Chicago will be OK with him."
COLIN KAEPERNICK, San Francisco
Positives: He has little experience and none as a starter. Nevertheless, the 49ers had enough conviction in the guy to trade up to choose him in the second round of the 2011 draft, and it's easy to see why. He won a lot of games and produced a lot of touchdowns -- throwing and running. But that was at the University of Nevada. He hasn't done much with the 49ers except relieve Smith in blowouts or step into the Wildcat or Pistol. Kaepernick is a superior runner with a strong arm, a reputation as a charismatic leader and a history of working hard to excel. Plus, he's had nearly two seasons to pick up the 49ers' offense. "He's a great athlete," said one general manager, "but so is Jake Locker. The difference is that Kaepernick is a better passer, and that may surprise some people. The 49ers will make adjustments in their offense with him, but he's not going to make throws that get you beaten."
Negatives: He hasn't played much, and when he has it's usually to run the ball. His accuracy coming out of college was a question mark -- particularly his accuracy on deep passes -- and he always had an elongated delivery, typical of someone with experience as a star pitcher. His strength was his ability to move in the pocket, but one assistant I trust told me he thought Kaepernick had more straight-ahead movement than evadability. "I don't see him as a pure pocket guy," a coach told me once. I don't, either, but that's not all that bad. Like Campbell, he has a solid running game to rely on, and now he could be part of it.
Bottom line: When he emerged from college, Kaepernick was considered a project by some coaches. Jim Harbaugh wasn't one of them. He liked the guy so much he envisioned him taking over as the 49ers' starter. That never happened, but it could now. The 49ers believe he's ready if Smith can't go, benefiting from a year-and-a-half of sitting behind the starter. "He's a much better passer than people give him credit for," said an AFC scout. "The biggest thing he's got going for him is Jim Harbaugh. Every quarterback he works with excels. That's why I think that if they have to play with Kaepernick for a period of time they'll be fine."
Positives: Well, he's finally gotten his experience ... and he did OK. Foles had to play three quarters last weekend in relief of Vick, and he proved that this stage isn't too big for him. He has a decent arm and an adequate release, and he stands tall in the pocket. He has the big body to withstand hits and appears to be accurate, though he struggled with a few of the slants -- with one resulting in a Brandon Carr interception return for a touchdown. He also appears to be confident, and he should. He produced a 110.5 passer rating in the preseason, with six touchdowns and two interceptions, far better than numbers posted by Vick. "If Tom Petty were playing quarterback, this is who he'd be," said an AFC coordinator. "He looks like him, and he seems to be having a ball. He doesn't have a care in the world. The guy just loves to play, and he has a great feel for the game."
Negatives: While he has a game of experience, that's all he has. He hadn't taken a snap before last weekend. Unlike Vick, he's not mobile -- and that can be a strength or a weakness. Normally, it's good because it keeps him in the pocket, and normally that is good. But not in this offense it's not. The Eagles' offensive line has three new starters from the season opener, and that's not counting left tackle Jason Peters, who bowed out in the spring. So he can be a sack waiting to happen.
Bottom line: No matter what happened with Vick, Foles was going to be the starter in 2013. So the Eagles might as well find out about him now. Philadelphia's coaching staff works well with young quarterbacks, and I wouldn't expect anything different with Foles. But this isn't Kevin Kolb waiting for a year-and-a-half to get the call. He must respond now, and young quarterbacks will make rookie mistakes. "Whatever happens," said a scout, "he's not going to make bad decisions -- and that's been a problem all year with this team. Vick simply made too many mistakes."
Positives: He's smart, he's experienced and he's been in the Steelers' offense. Leftwich is a former first-round draft pick with a big arm and a reputation for deep-ball accuracy. Granted, he can't move, but if he's given the time he can make the down-the-field throw. Teammates and coaches love him, and he was successful in Jacksonville before the Jaguars let him walk. I know, that was a long time ago, but Leftwich knows how to win at this level. In fact, he was 8-3 for Jacksonville in 2005 and 24-20 with the franchise before his release -- and he just won an important game Monday night.
Negatives: He's strictly a pocket quarterback who's immobile and, as one scout put it, "very deliberate with his throws." That's another way of saying he has an elongated delivery which, of course, makes him vulnerable to big hits and injuries. "Durability has got to be a concern," said an NFC general manager. "IF they have to play a long time with him they better get someone else quick." Though Leftwich has a strong arm for deep strikes, that's not the Pittsburgh game now. It's moved in another direction.
Bottom line: Leftwich has the intangibles you like, but there are too many holes in his resume to think Pittsburgh can win with him for long. "He's a great guy," said one scout, "but he's great as a backup. You really don't want him to play." The Steelers might have no choice.
CHARLIE BATCH, Pittsburgh
Positives: He's been in the Steelers' system for years, and he's won as a starter. Yeah, I know, he hasn't had to play that much, but that's not the point. This is: When he was called he responded, winning five of seven starts. Like Leftwich, Batch is smart, with outstanding leadership capabilities. Plus, he has great instincts. At 37, he can't run as he once did but he can still run. In fact, one scout mentioned that immediately, saying "he can move around a lot better than the other guy (Leftwich), and he can make plays with his legs if he has to." The key here is that Batch has been here before. When the Steelers needed someone in the past, he's the guy they leaned on -- and he came through.
Negatives: Well, he's 37, so he's not the athlete he was, say, when he was with Detroit. He's not a particularly good down-the-field passer, either. "He never really was all that accurate, at any age," said one coach. But that's OK because Pittsburgh's offense has moved away from the deep strikes, with Roethlisberger once describing it as "dink-and-dunk." That's not exactly the case, but the club uses more hitches and screens for its outside offense, and Batch will be OK there.
Bottom line: If I were the Steelers, this is the guy I'd start; not Leftwich. The Steelers won with him before, and they can win with him again -- especially with the offense evolving into more of a short-to-middle yardage passing attack. His experience is critical. So is his pocket awareness and ability to move. And he might have to ... into the starting position. That's OK. He's been there before.