NFL's Defensive MVP? Don't forget about Broncos LB Miller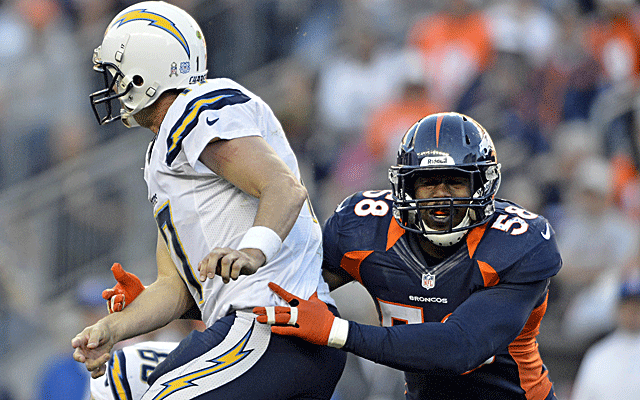 Linebacker Von Miller of the Broncos leads the NFL in tackles for losses and is second in sacks.
(US Presswire)
DENVER -- I came. I saw. I believe.
Denver linebacker Von Miller is not only the best defensive player in the AFC West. He may be the best defensive player anywhere. He leads the league in tackles for losses. He's second in sacks. And he was so disruptive against San Diego last weekend that nobody ... and I mean nobody ... could block the guy.
Basically, Miller is so good at what he does that he's become J.J. Watt's competition for the NFL's Defensive Player of the Year. Once upon a time, I thought it was a Watt-Charles Tillman race, but the more I see Denver's second-year outside linebacker the more I think it's Miller, San Francisco's Aldon Smith and Watt in a photo finish, with Miller closing fast.
"The sky's the limit for this guy," cornerback Champ Bailey said after the Broncos' latest win, a 30-23 defeat of San Diego. "He has so much upside, he hasn't even scratched the surface yet. And yet as athletic and as great a pass rusher as he is right now, he can be so much better."
You gotta be kidding. Please don't tell opposing linemen.
Miller is a recurring nightmare for them, a rare combination of speed and power to overpower anything or anyone in his way, and I offer his latest performance as evidence: He had a career-best three sacks, six solo tackles and two forced fumbles. In only 10 games this year he has more sacks (13) than he did in 2011 (11 1/2) when he was the league's Defensive Rookie of the Year, and he has more tackles for losses (23), too.
In short, Miller is a load, and no need to remind his head coach. It was John Fox who stood up for Miller when he had the second pick of last year's draft just as it was Fox who stood up for defensive end Julius Peppers when he had the second pick of the 2002 draft. Fox was in his first year with Carolina then, and he had no doubt how he wanted to build his team -- around a defense anchored by a premier pass rusher.
In his first draft with Denver, Fox didn't deviate from the script, and he wound up with another elite performer who made an immediate impact. But why stop there? With Peppers' help, Carolina wound up in the Super Bowl in Fox's second season there; with Miller's help, the Broncos could do the same.
"We got a lot of criticism for not taking (Marcell) Dareus," said Fox, "but this guy's going to play all four downs. And that's what you look for: The guy to impact the game."
Well, then, they scored a bull's eye. Miller is a relentless pass rusher and improved vs. the run. Of course, that could describe a lot of guys throughout the league, but Miller has an added dimension: He's disruptive, much as, say, Smith is for San Francisco or Tillman for Chicago. You know about the sacks. Denver has him down for an astounding 23 tackles for losses (13 sacks, 10 run stops). He has four forced fumbles. And he leads the Broncos in quarterback hits.
"He's definitely a dynamic guy," said Fox. "He's got a great gift to rush the passer. With speed, he's very flexible, so he's agile. He can make the big moves around people. But then he's got the burst to get there. And he can stake speed to strength pretty good for a guy his size. He plays much stronger than 240."
What helps Miller is that he's teamed with another elite pass rusher in defensive end Elvis Dumervil, who has eight sacks, is second on the club in quarterback hits and leads the team with six forced fumbles. Together, they're the league's top tandem of pass rushers and a primary reason why Denver is the league's sixth-ranked defense and numero uno at sacking the quarterback.
"To me," said former San Diego Chargers' standout Hank Bauer, now an analyst for the team's broadcasts, "he's the best I've seen since (former San Diego pass rusher) Leslie O'Neal. "He can handle the tackles, get to the quarterback and throw 320-pound offensive linemen around like they're rag dolls."
The question, of course, is: Can he rush J.J. Watt?
The Houston defensive end was the runaway choice as the first-half Defensive Player of the Year, but awards aren't passed out after eight games. No question, Watt has been extraordinary, with 11.5 sacks and 11 deflected passes for one of the league's best defenses. But Miller has been extraordinary, too, and the more Denver wins the more people will wake up to the only defense to shut down Drew Brees and the New Orleans Saints the past six weeks.
Maybe then they'll discover Miller. Guaranteed that when they do they'll like what they see.
"When you can rush the passer like (he can) and be disruptive," said Bailey, "quarterbacks take notice."
So does everyone else. They should. And they will.
"Von Miller," said San Diego quarterback Philip Rivers, "is a great player."
Amen.