Harbaugh picks Kaepernick as 49ers starting QB over Smith; is it a gamble?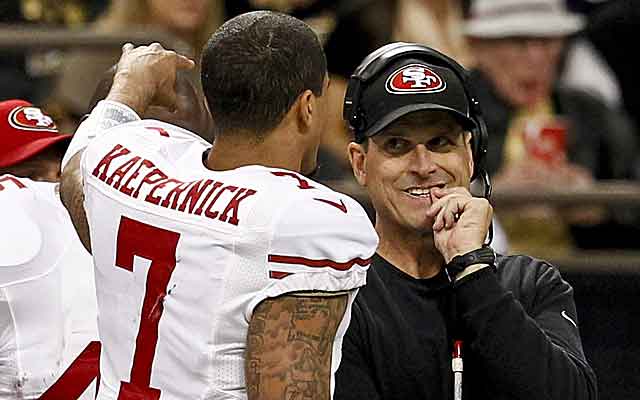 Harbaugh drafted Kaepernick. So it wasn't a matter if, but when he would be the starter. (US Presswire)
San Francisco coach Jim Harbaugh has said he has two starting quarterbacks, Alex Smith and Colin Kaepernick, but not now he doesn't. He has two that are capable of starting, but only one who will ... and that one is Kaepernick. Harbaugh on Wednesday named him his starter, then declined to make a long-term commitment, saying "I wouldn't assume anything."
"The rationale is that we have two quarterbacks that we feel great about as the starting quarterback, both have earned it, both deserve it," Harbaugh said. "Alex over of a long period of time, Colin by virtue of the last few games. We believe Colin has the hot hand and we'll go with Colin."

The 49ers turned in a pair of impressive performances the last two weeks with Kaepernick in the starting role. First came a 32-7 shellacking of Chicago on Monday Night Football in which Kaepernick completed 16 of 23 passes for 243 yards and two TDs.
The question, of course, is: Why did he do it like this? Why not just make a decision and stick with it, rather than telling reporters he had two starters when he knew he only could have one?
Granted, Kaepernick has been terrific in two games since Smith bowed out with a concussion. But it's two games. Smith was 20-6-1 in his year and a half under Harbaugh and led the 49ers to their first division title since 2002 and first conference championship game since 1997. Moreover, he's the NFL's fifth-ranked quarterback this season, with a passer rating of 104.1 and the league's highest completion percentage at 70.0. Plus, he had the 49ers on top of the NFC West again.
In short, he has done little wrong, other than suffering a concussion on Nov. 11. But now he's nailed to the bench, with the 49ers in the hands of Kaepernick ... not Alex Smith ... and the question is: If it ain't broke ...? I think you get the idea.
"Because it's not a risk," said former coach Brian Billick, who once worked with the 49ers and is now an analyst with Fox and the NFL Network. "There's something truly special about Kaepernick. His physical skills shocked me. His throwing action, the fluidity with the way the ball comes out of his hands and, obviously, the athleticisim ... Not since Warren Moon, who I had in Minnesota [Billick was the offensive coordinator there], have I seen a guy throw so effortlessly, with the tightness of the spiral and the accuracy in any position.
"Look, we've all had that hesitation about Alex Smith. When we talk about the 49ers ... as good as they are defensively, the way they run the ball with that offensive line and them being a potential Super Bowl champion ... everybody seems to have that 'well, but ...' feeling, even within that building. When you visit with people privately, they're just not sure. But with what Kaepernick gives them, you remove that hesitancy because he's playing beyond his years."
OK, there's that. But then there's this: Harbaugh drafted Colin Kaepernick; he did not draft Alex Smith -- and, yes, that counts for something. In fact, Harbaugh felt so strongly about Kaepernick that he moved up in the second round of the 2011 draft to get the guy, which meant someone with the 49ers had a conviction about him, and that someone was Harbaugh.
The idea was to groom Kaepernick to start, perhaps as early as last season, with Smith holding down the position until his understudy was ready. Only, Smith had the best season of his career, and the 49ers produced their first winning year since 2002. So the club stayed with him until he was forced to sit down.
"It was a marriage of convenience more than anything else," said Billick, "so that makes it very compelling. They recognize that this guy [Kaepernick] is as good as we thought he was. Whether they state it or not, it's your own vs. the stepchild, and at the end of the day you love them both, but ..."
He didn't have to complete the sentence. The 49ers invested a high draft pick in Colin Kapernick for a reason, and you're finding out why.
"Kaepernick is a playmaker," said former San Francisco director of player personnel Vinny Cerrato, now a broadcaster on 105.7 The Fan in Baltimore, "where Alex Smith is more of an assist guy. Kaepernick is the future, and he might be the present."
Might? No, is.
I get all that. What I don't get is why you make the move now when you could have done it in training camp. I mean, if Kaepernick is as good as people say and as good as he's been the past two games, why didn't he win the job in training camp? I know: The 49ers knew what they had in Smith, and what they had was a quarterback who was one win from the Super Bowl. So why is it OK to make the move now when it wasn't then?
"It is a gamble," said one head coach who asked not to be identified. "It's an experiment, and if the 49ers don't make it to the NFC Championship Game it's an experiment that's unsuccessful. It's really that simple. Alex Smith got them that far a year ago, so it's Super Bowl or bust."
What San Francisco is doing now, he said, reminds him of what Billick and the Baltimore Ravens went through after winning Super Bowl XXXV with Trent Dilfer. The following season, the club wanted an upgrade at quarterback and exchanged Dilfer for free-agent Elvis Grbac. Grbac was a more accurate and more proficient passer, but he wasn't as successful as Dilfer. He took the Ravens to one playoff win before bowing out.
Then he walked away from football.
"Sometimes," said our coach, "it's best to leave well enough alone, especially at that position. I guess what I'm saying is that if you make a move at quarterback, you better be right."
What the 49ers are doing with their quarterbacks is unique only in the timing, with the club in the middle of a stretch drive for the playoffs. New England's Drew Bledsoe lost his job to backup Tom Brady in 2001 after Bledsoe suffered a life-threatening injury. That was three games into the season, with the Patriots coming off a 5-11 finish the year before. Then there was Kurt Warner, who stepped in for Trent Green for St. Louis in 1999 after Green suffered torn knee ligaments vs. San Diego. That was a preseason game, with the Rams a 4-12 mess in 1998.
"Until you put the guy in a game, you don't know," said Billick. "As good as they thought Kaepernick was and were anxious to get him playing time, they didn't ... or couldn't ...until their hand was forced. Then it just reinforced everything they already knew, only they couldn't pull the trigger ... and didn't need to because of the way Alex was playing."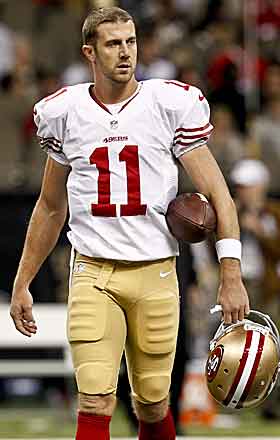 Smith's passer rating is 104.1. He's completed 70 percent of his throws. (US Presswire)
In two starts, Kaepernick completed 66.7 percent of his passes with three touchdowns, one interception, a passer rating of 110.9 and one rushing TD. More important, he's 2-0. In nine starts this year, Smith was 6-2-1 with 13 touchdowns and five interceptions. Both demonstrated they can win, which is why Harbaugh says he has two starters. But until he announces his decision, people wonder what in the name of Steve Young and Joe Montana is going on.
I'll tell you what: Harbaugh has chosen the quarterback he believes gives him the best chance to win. And while you might not agree with him, he gets the benefit of the doubt. Not only did he play the position in college and the pros, he has a history of finding the right quarterback as a head coach. It happened with Josh Johnson at the University of San Diego. It happened with Andrew Luck at Stanford. It happened with Alex Smith with the 49ers.
And now it's happening with Kaepernick.
"I mean, it's Jim Harbaugh," said one GM. "He's been through it. He's played it. So he knows about quarterbacks and how to handle them."
He proved that with Smith, and Smith responded not only by demonstrating he can win but demonstrating he can win big games. By demoting him, Harbaugh risks losing him emotionally -- though coaches, scouts and analysts tell me that has probably happened already. In fact, they suggested it happened when Harbaugh tried to court Peyton Manning earlier this year, flying to North Carolina to work out the free-agent quarterback.
Manning chose Denver, and the 49ers then re-signed Smith -- with Smith later insisting no damage had been done. I'd like to hear what he says now.
"They lost Alex Smith a long time ago," said Billick. "When they chased Peyton Manning it's like going to tell your wife that you love her to death and that you're totally devout but that she has to understand that if you have a chance to go after Catherine Zeta-Jones, 'You can't hold that over me can you?' Yeah, right. See how that one goes over."
We just have. Smith wants to start. Kaepernick wants to start. Harbaugh hedges on his decision. And speculation is rampant. Billick is right when he says this isn't a high-risk operation, but there's always the danger that Kaepernick fails to accomplish what Smith already has -- and, trust me, that won't hold Harbaugh back.
First, the 49ers have seen Kaepernick for a year and a half of practices and games, so coaches know what they have. Second, they had a conviction about him that was reinforced the past two weeks. Third, they might have lost Alex Smith, but they really haven't. I mean, what happens if, say, Kaepernick is hurt? He does what Bledsoe did in 2001 and steps in the huddle and plays as well as he can.
"I mean, what's he going to do?" said one GM. "Not play well because he doesn't like Jim Harbaugh? No. He's going to play as well as he can because he's a professional and because he's a classy guy. Alex Smith is a great teammate, and he's going to play hard for those guys around him ... because that's what you do."
In the end, most persons I consulted believed the decision is the right one for this reason: Kaepernick can be something Alex Smith was not, which is a weapon. But tell that to the New Orleans Saints. They lost their only playoff game last season because Smith beat them with two touchdowns in the last two-and-a-half minutes of an unforgettable 36-32 victory.
"But you don't sit up Saturday nights game-planning for Alex Smith," said one personnel director. "You will with Colin Kaepernick. The 49ers' receivers aren't much more than ordinary, but the offense that Jim and Greg Roman run is tremendous -- and Kaepernick makes those receivers a lot better than they were with Alex Smith."
OK, then, what's the hangup? Why not just make the decision and move forward instead of playing out this week's charade ... just as Harbaugh played out last week's charade? Why not just concede what most believe in the first place and make Kaepernick the starter once and for all?
"Yeah, I know," said Billick. "It's not like it's a competitive deal. You're not going to prepare for the 49ers differently with one or the other. They both can get outside the pocket. It's not like they're dramatically different styles. So I think it's out of respect to Alex because it's a tough deal.
"If I were to do it, I'd bring both in so they know that I want you to hear what I have to say together so you don't have to worry about, 'What did he tell the other guy while he was in there by himself?' Then I would tell the team. But the players know. He's insulated it beautifully, even though in [players'] minds they have to know Kaepernick's their guy. But [by saying what Harbaugh did] they also know they have the perfect backup."