Arians should be on somebody's short list of coaching candidates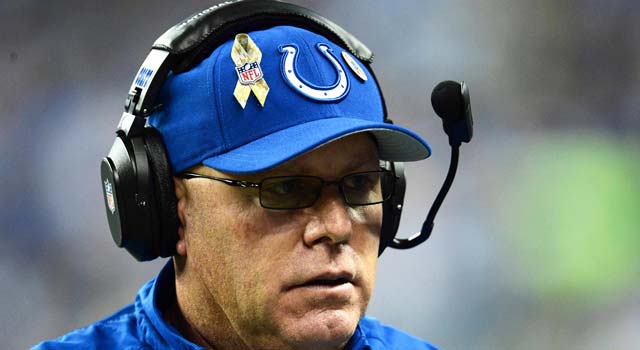 Bruce Arians' guidance of the Colts this season should make him a prime head coaching candidate.
(US Presswire)
When people talk about leading candidates for the next head coaching vacancy they start with familiar names like Jon Gruden, Mike Holmgren, Bill Cowher and the University of Oregon's Chip Kelly ... and it's easy to see why.
They're marketable, and they're successful.
But there's someone missing from the roll call that I don't get. I don't know how marketable he was, but I know how marketable he is, and I know how successful he is, too.
I'm talking about Bruce Arians, the interim head coach of the Indianapolis Colts and a guy not on anybody's radar -- at least not now.
But he should be.
Because Bruce Arians not only has demonstrated he can turn a rookie quarterback into an overnight sensation; he demonstrated he can take a football team that was one notch above an expansion franchise and put it on track for an unlikely spot in the playoffs.
That wasn't supposed to happen in Indianapolis, but it did ... and it happened on Bruce Arians' watch.
In case you missed it, the Colts are 9-4 and a virtual lock to return to the playoffs. Under Arians, however, they're 8-2, the best record the past 10 games outside of everyone but Denver and New England. You'd think that would get someone's attention, but you don't hear Arians' name as anything more than a possible Coach of the Year candidate.
And it's time you should.
What he's done in Indianapolis is nothing short of astounding, with the Colts winning with a rookie quarterback, an interim head coach, a rookie GM and a cast composed largely of first-year players and nobodies to become the NFL's feel-good story of the season.
A lot of that has to do with Offensive Rookie of the Year candidate Andrew Luck. But a lot of it has do with his coach, too.
Look, we knew Arians was a decent offensive coordinator, with quarterback Ben Roethlisberger standing up for the guy in Pittsburgh where the Steelers went to two Super Bowls with him, and we know he was a decent quarterbacks coach. In fact, he was Peyton Manning's first when Manning was with the Colts.
What we didn't know is that Arians might be head-coaching material, too. Only we do now.
Because now he has the Colts on a tear, with the club winning eight of nine games decided by one possession or fewer. That should count for something, and it will. Indianapolis could ... no, should ... return to the playoffs for the first time in 16 years without a quarterback named Manning.
"What he's done in Indianapolis exemplifies or expands on the idea that he can win, and he's proven it under extreme circumstances," said former coach Brian Billick, now an analyst for Fox and the NFL Network. "I would think if you're putting a list together his name would be high on it -- especially if you're looking for an offensive-minded guy."
So would I. Yet you don't hear his name among NFL assistants who might be targets for the next head coaching hires. Instead, it's assistants like Atlanta's Mike Nolan and Dirk Koetter, Denver's Jack Del Rio and Mike McCoy, Cincinnati's Jay Gruden, Arizona's Ray Horton and the New York Giants' Perry Fewell who get the play.
Arians doesn't, and he should.
With coach Chuck Pagano expected back -- perhaps as early as the Colts' Dec. 30 season finale with Houston -- the question becomes: What's next for Bruce Arians? And what's next is that he returns as the team's offensive coordinator. Only you'd think it might be more than that ... that maybe, just maybe, someone might be interested in talking to him about running his club.
So I posed that question to a league GM and asked what he thought, and what he thought is that he'd be interested in talking to Arians but probably wouldn't hire him.
He mentioned his age. Arians is 60. He mentioned his history, pointing out that Arians never was a "hot" candidate for head-coaching vacancies before. He mentioned that he sees him more as a capable assistant instead of a head coach. And he mentioned the situation Arians finds himself in now.
"That's Chuck Pagano's team," he said. "Everything was in place when Bruce took over, and he's steering it. Don't get me wrong. He's done a great job. But he's done a great job as a pinch-hitter, not as a full-time head coach. That said, he definitely deserves a chance to be interviewed."
Amen. Look, I don't care how old he is. I don't care that he hasn't had previous offers, either. What I care about is if he can win ... period ... and he's proving he can.
There have been plenty of interim coaches before who had limited success, but Arians is circling the bases with a club that was supposed to finish last in its division. Instead, the Colts are tied for the sixth-best record in the NFL, and tell me he doesn't have anything to do with that.
Because he does.
I don't know that Bruce Arians parlays this season into a more lucrative position, but I know he deserves the chance. Against all odds, he's helping to raise the Titanic, and if I'm an NFL owner looking for a head coach, that makes him an attractive candidate. I don't guess what he can do; I know because he's done it.
OK, so Gruden won a Super Bowl, but that was 10 years ago. Cowher won one, too, but he hasn't coached in six years, and people close to him tell me he's not interested in returning. Holmgren apparently is, but he hasn't coached since 2008.
Then there's Arians, and all he keeps doing is winning games he's not supposed to win. Somebody please pass that along to the next owner looking for a coach.