Five things you might want to know about this weekend's playoffs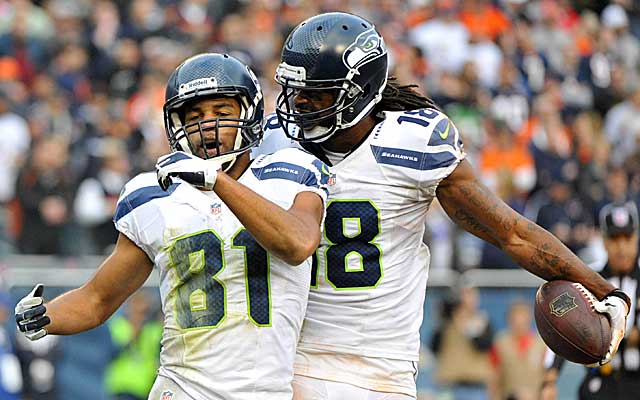 The Seahawks have looked like a different team on the road. (US Presswire)
I don't know who win this weekend's wild-card games, but I know there's a raft of Ray Lewis, Chuck Pagano, Russell Wilson, RG3 and Adrian Peterson stories waiting to be told ... and there should be. All are major players in important games. But all are major players in games that have back stories worth telling, and that's why we're here -- to tell them. So let's get started.
1. Seattle on the road
The Seahawks are a 3-1/2 point favorite vs. Washington, and I get it. They're hot, Robert Griffin III is hurt and cornerback Brandon Browner rejoins a suffocating defense that allowed an average of 10.1 points per game while he was away. But Seattle historically isn't good on the road, and that's an understatement. It's lost its last eight playoff road playoff games and hasn't won there since beating Miami on Dec. 31, 1983 ... or before all but nine of the players on their current roster were even born.
I know, that has next to nothing to do with these Seahawks and this coaching staff, except all the Seahawks' losses this year were on the road. Seattle just isn't the same on the road, where it bowed to Arizona, Detroit and Miami, and the numbers reflect it. In eight games in Seattle the Seahawks outscored opponents 243-95; in their eight on the road they outscored them 169-150 ... and that includes a 50-17 defeat of Buffalo in Toronto. Consider yourself warned.
2. Marvin Lewis in the playoffs
Let's get this out of the way up top: Cincinnati coach Marvin Lewis does a terrific job in less-than-ideal circumstances. He not only has these guys in the playoffs a second straight season; he has them there them for the third time in the past four years, and that's more than an achievement. It's a freakin' miracle.
Anyway, the Bengals' franchise had a history of losing until Lewis showed up, and now Lewis has a chance to avenge last year's wild-card playoff loss in Houston. The Texans are floundering, but they're favored -- and there are a couple of reasons why: 1) They're home, and 2) they're the better ballclub. But they're also a descending ballclub, losing three of their last four, so there must be another reason.
And there is: Marvin Lewis hasn't won a playoff game. Period. We talk all the time about Atlanta getting blanked in the playoffs under Mike Smith, but the same goes here. Lewis is 0-3 with Carson Palmer and Andy Dalton. Mike Zimmer's defense gives him a shot to break through. So does Houston's unexpected free-fall. But keep this in mind: Lewis hasn't come closer than 10 points in any of his playoff losses.
3. Baltimore's playoff consistency
There are two things I know about the Baltimore Ravens: 1) They're in a late-season funk that threatens to short-circuit their playoffs, but 2) there is no one more reliable when January rolls around. You know they're good for at least one playoff victory because they're always good for at least one playoff victory, and you can look it up: Under John Harbaugh they're as predictable in January as snow in Buffalo.
In four years under Harbaugh, they're 5-4, reaching the conference championship game twice, and in four years under Harbaugh they win no matter where they play -- with all but one of those victories on the road. Granted, they're in a slump, losing four of their last five, but they're home where they won 17 of their last 19 starts, including last year's playoffs.
With linebacker Ray Lewis going public with news of his impending retirement and the Colts returning to Baltimore, the incentive to keep alive Harbaugh's playoff streak is stronger now more than ever.
4. Adrian Peterson vs. Aaron Rodgers: You make the call
It doesn't matter where Peterson sees the Packers; he always seems to run away from them. He did it earlier this season in Green Bay when he ran for 210 yards and averaged 10 yards per carry, and he did it last week when he shredded them for another 199, averaging 5.8 per attempt. Peterson is money vs. the Packers, with seven 100-yard performances in 12 games, a touchdown in nine of his last 10 starts vs. Green Bay and a rushing average of 5.61 yards per carry.
But here's the best part for Minnesota fans: His two best performances? They were his last two against the Pack.
Now let's move on to Rodgers. He not only has the best passer rating in NFL playoff history (105.5), but he's as sharp vs. the Vikings as Peterson is against the Packers -- with Rodgers throwing for 300 or more yards in three of his last five starts against Minnesota, producing 24 touchdowns and 4 interceptions in 10 starts, completing 70.6 percent of his passes and compiling a passer rating of 116.39. Nice, huh?
It gets better. In four of his last five starts against the Vikings he has passer ratings of 146.5, 141.3, 140.3 and 131.8.
5. Green Bay at home
I don't need to tell you the Packers are very, very tough to beat at Lambeau Field. But they're vulnerable there in the playoffs. That doesn't mean I think they lose this weekend because I don't think they do. I can't see anyone beating them twice in one week, especially when the second game is in Green Bay where temperatures Saturday are expected to range between 15 and 26 degrees.
The Packers have won 26 of their last 29 at home, including the playoffs, and that's good. But they're 2-4 at Lambeau in their last six playoff games, and that's not. I mention that in the name of full disclosure because there's really no reason for Cheeseheads to panic. First of all, the Giants are out of the playoffs. Second, the Packers have a history of success at home vs. the Vikings. They won six of their last seven there, including a 23-14 victory last month.