Got something to prove this month? So do these four quarterbacks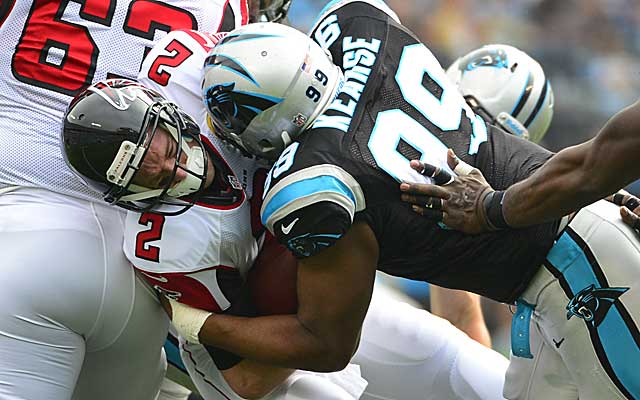 Matt Ryan guided the Falcons to the No. 1 seed in the NFC, but the pressure is on to produce a postseason win. (US Presswire)
The quarterbacks with the most to prove this month don't include the three rookies in this weekend's playoff openers. Nope, they're guys who've been around awhile, though one of them -- the 49ers' Colin Kaepernick -- is a virtual rookie, with a resume of seven starts in his second year as a pro.
Kaepernick isn't under the same microscope that, say, a Matt Ryan or Matt Schaub is, but make no mistake: The heat is on. And it won't go away until he and the rest of this field prove they're as valuable now as they're expected to be.
More on NFL
Columns

Related links
More NFL coverage
MATT RYAN, Atlanta Falcons

He's 0-3 in the playoffs, which means it's about time he starts to work on moving to the next level of his career. People talk all the time about elite quarterbacks, but you don't qualify unless you win significant playoff games, and Ryan is perfect in that department.
I know, he's not to blame for the losses, but he's certainly a factor. For all the gaudy numbers Ryan puts up in the regular season, this is what I know about him once the playoffs roll around: He disappears, and the envelope, please. He has 3 touchdowns, 4 interceptions, a 71.2 passer rating and zero victories.
So he has a glittering regular-season record of 33-5 at home. All I know is the only time he made a playoff start at the Georgia Dome -- in fact, the last time the Falcons held homefield advantage -- he gagged, with two horrible interceptions that sent Atlanta to a resounding loss. Furthermore, the last time he appeared in the playoffs, period, he was outscored by the Falcons' defense 2-0. Change is more than good here; it's downright imperative.
MATT SCHAUB, Houston Texans

The Texans not only went to the playoffs a year ago with a third-string rookie at quarterback, they advanced to the divisional round where they pushed Baltimore to the mat. Now they return with the experienced Schaub, and they're supposed to be, better, stronger and more dangerous ... only they're not, and Schaub is one reason why.
Schaub is just not reliable, especially in big games. He had a chance to make a name for himself when the Texans went to New England last month, and he did ... unfortunately. He stunk, and so did his teammates.
Schaub hasn't won a playoff game because he hasn't started one, and if he beats Cincinnati he only does what T.J. Yates did a year ago. Nope, Schaub must go further. He must prove he's an upper-echelon quarterback by beating quality opponents, but first things first: He must demonstrate he's better than the quarterback of the past month. Because when you're looking for why Houston collapsed you can start there. In his last four games Schaub has one TD pass, three interceptions, a 78.6 passer rating and a 1-3 record. That better change ... and fast.
COLIN KAEPERNICK, San Francisco 49ers

When Jim Harbaugh switched quarterbacks in midseason, most NFL observers rejoiced, saying that Kaepernick was an upgrade from Alex Smith. OK, I'll give you that in terms of ability. There's more of a downfield passing game, and he's more elusive outside the pocket.
But that doesn't mean he's a better fit for San Francisco. Because there are more turnovers, too, and less Frank Gore, and neither is good.
Smith took the 49ers to the 2011 conference championship and is 20-6-1 as a starter, bowing out only when he suffered a concussion in November. At the time he led the league in completion percentage and was one of its top-ranked quarterbacks -- which, as a matter of fact, he still is. Last time I checked no one was more accurate, and only Aaron Rodgers and Peyton Manning had higher passer ratings.
Nevertheless, Harbaugh made the move and stuck with it, and now it's up to Kaepernick to prove him right. I don't doubt that Kaepernick is the quarterback of the future; what I doubt is that he's the better choice now. Smith was perfectly suited to a club that beat opponents with chemistry, defense, Gore and a minimum of mistakes. Kaepernick has a higher upside, but unless the 49ers make it to the conference championship game -- and they caught a break when Minnesota upset Green Bay -- Harbaugh chose the wrong quarterback.
JOE FLACCO, Baltimore Ravens

Joe Flacco doesn't need to prove himself in the playoffs. The guy is the anti-Ryan, winning at least one playoff game in each of his first four pro seasons and reaching the conference championship game twice. Yet he's under siege in Baltimore, where Ravens fans complain about Flacco's inconsistent play and wonder what the Ravens do with him when his contract expires in March.
I'll tell you what: They re-sign him because No. 1, he wins; and No. 2, he solved a position that was as stable as the Greek economy before his arrival.
The question is not what the Ravens do with Flacco but how they do it ... and that's where these playoffs come in. Flacco not only is auditioning for another Super Bowl run, he's playing for his future. And the better he performs ... the deeper the Ravens go in January ... the more valuable he becomes and the more lucrative his next contract is.
The Ravens know he's important to their success; they just don't know how important. It's Flacco's job to make a case for himself, and he can get started Sunday.