Trade Percy Harvin? Maybe it's not such a bad idea after all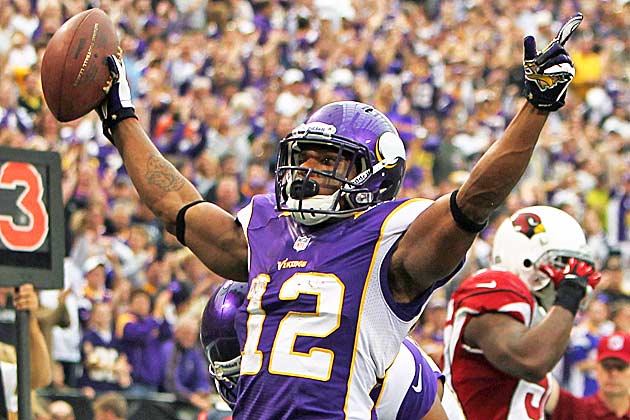 Can the Vikings afford to send Harvin elsewhere? (US Presswire)
There's a report out there that Minnesota is considering whether to trade wide receiver Percy Harvin, and when you wonder why the Vikings might cast off a dynamic young playmaker who can run, catch and return kicks, consider this: Because it makes sense.
He might be a headache not worth assuming.
OK, so he's versatile and productive. He's hardly indispensable. When he bowed out last season the Vikings were third in the NFC North. When the regular season ended they were 10-6 and one of six teams in the NFC playoffs.
Do the math, people. They were better without him.
Harvin can do a lot of things and a lot of things well, but so could Terrell Owens -- and five clubs couldn't wait to get rid of him. Talent doesn't necessarily win championships or determine playoff teams, and look no farther than this year's Baltimore Ravens. They weren't the most talented club in the NFL. Far from it. But they pulled together down the stretch and won games they weren't supposed to win because they had a chemistry critical to success.
And that's where I'd start with Harvin. Reports allege he was put on injured reserve after a run-in with coach Leslie Frazier in front of teammates, and while people close to the team tell me those stories were overblown it's still a confrontation with the head coach -- and that's not exactly how you build team character.
Harvin put up prodigious numbers while he was in the lineup, and his absence was supposed to cripple the Vikings ... only it didn't, with Minnesota winning five of its last seven starts and Frazier gaining Coach of the Year votes. Bottom line: The Vikings were better off without him, and that tells me all I need to know about how invaluable Harvin is to the franchise or how much grief Frazier or the organization should tolerate.
"We have no issues with Percy Harvin," general manager Rick Spielman said after the season.
Maybe, but they could. Let's start with Harvin's contract. Harvin wasn't happy last summer and made some rumblings about wanting to be traded, with the Vikings rejecting the request. But his contract expires after the 2013 season, and Pro Football Talk on Monday reported that Harvin is prepared to "stay away" from offseason workouts and training camp if he doesn't gain an extension. Just a hunch, but he demands a megabuck deal in the DeSean Jackson neighborhood -- and I understand listening if you believe you can't survive without the guy.
But the Vikings just did.
Second, there's that productivity I was talking about. While Harvin's average number of catches per game increased with each year since his rookie season, his average number of yards-per-catch did not. In fact, they declined with each season, reaching a career low of 10.9 in 2012. His touchdowns declined last year, too, from a career-best nine in 2011 to five.
I know, he missed the last seven games, and, next to Adrian Peterson, he was their most important playmaker. I get that. But I also get that Minnesota was never better than it was in those last five victories -- particularly the last two when it defeated division champions Houston and Green Bay.
People close to the Vikings tell me Harvin's not a bad guy; that he's ultra-competitive and wants the football -- which, basically, makes him like most wide receivers. What makes him different is that, according to those same people, he doesn't believe that in Christian Ponder he has the quarterback to make him a premier player.
But while Ponder isn't a franchise quarterback, he did lead the Vikings to the playoffs for the first time in three years. As important, two of his three best performances were without Harvin in the lineup.
I don't know if Ponder amounts to anything more than an adequate quarterback, but I'd cut him some slack. He's been playing two years, and the Vikings will give him every chance to prove himself. They're not interested in anyone or anything that gets in the way ... nor should they be ... and Harvin might qualify on both accounts.
The Vikings know they can win with the guy. It happened his rookie year when Brett Favre came this close to leading the Vikings to a Super Bowl, and Harvin had 60 catches. But they also know they can win without him.
Better yet, they know they can win as a team, which might be the bigger issue here. If Harvin complains every time a Ponder pass goes awry or wants to challenge the head coach in front of teammates or is eager to launch a public campaign for a new contract then he needs to find another area code.
Which is another way of saying hasta la vista, baby.
Percy Harvin is good player. A very good player. But he is not a great player. Good players are in abundance in the NFL. Great players are not. You cherish great players because they are reliable and dependable. You keep the good ones until or unless they become a distraction.
Then you get rid of them.