Don't read too much into the Philly return of Michael Vick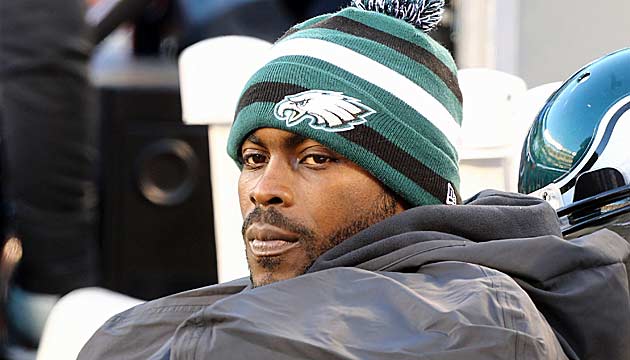 Michael Vick might just be returning as a bridge to Philly's future. (Getty Images)
Re-signing Michael Vick to a restructured deal makes sense for Philadelphia because A) the Eagles have no experience at quarterback; B) his athletic abilities suit Chip Kelly's wide-open offense; C) he can hold the position while the Eagles groom a young understudy and D) it makes him more attractive to a potential suitor if the Eagles are interested in dealing him.
But there's a fundamental question here, and it's this: If Vick winds up as Philadelphia's starter again, what are reasonable expectations for the team? Not much, I'm afraid.
He turns 33 this summer. He's an injury waiting to happen, missing nine games the past two years and failing to complete an entire season in all but one of his 10 years in the league. He barely wins more than he loses, with a 33-32 starting record since 2004. And he's a turnover waiting to happen, with 33 in his last 23 games.
It's that last item that would frighten me if I were Kelly. Bad enough that Vick can't stay in the lineup; worse that, when he does, he can't hold on to the football.
Look at the Eagles' season opener last year. It was against Cleveland, and it was supposed to be a slam dunk. Only it wasn't because they committed six giveaways, four by Vick. He also fumbled twice, both of which the Eagles recovered.
That set the tone for a year where the Eagles lost 12 games as well as their head coach. They stunk because their quarterback wasn't dependable, and stop if you've heard this before. Over their last 32 games, the Eagles committed 75 giveaways, and that's more than a disturbing trend; it's a short-cut to disaster, one reason Vick's future with the team was in doubt.
Well, now it's not, with Vick back at a reduced salary, and that makes sense. He's the only legitimate option at quarterback other than Nick Foles, and it wasn't this coaching staff that drafted and played Foles; it was Andy Reid's. People on that staff thought he had a future, but it no longer matters what they think. They're gone.
I have no idea what Kelly has in mind for Foles, but I'd suggest the re-signing of Vick isn't exactly a ringing endorsement of someone once considered the club's quarterback of the future.
My guess is that Kelly keeps Vick and makes him the warm-up act to his next quarterback, presumably someone he drafts or acquires through a trade or free agency. This isn't a good year to find a quarterback high in the draft, but there will be plenty taken in the second and third rounds -- and I can't imagine we get that far without Philadelphia acquiring one of them.
The Eagles need someone to run Kelly's high-risk, high-reward offense, and Vick would be the perfect choice if this were eight years ago. But he looks more like a safe choice now, someone to keep the position warm until Kelly settles on his next quarterback -- someone younger, more durable and more reliable than Vick.
Until that guy arrives, it makes sense to prop up Vick, position him as the incumbent, then invite him to take on all comers at training camp and see what happens -- provided, of course, the price is right.
The Eagles just made sure it is.