Police say Charles Rogers threatened his mother over $100K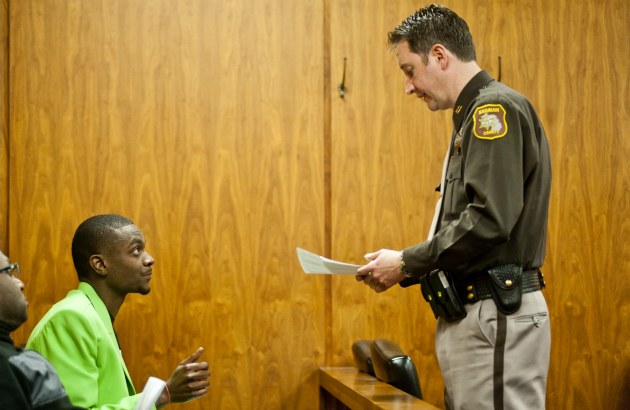 Charles Rogers allegedly threatened "to blow [his mother's] mouth out." (AP)
Late last month, Saginaw, Mich., officials charged former
Lions
receiver Charles Rogers with
five misdemeanors in two unrelated incidents
(everything from marijuana possession to making malicious phone calls).
According to
Mlive.com
, one of those alleged phone calls produced chilling results. The No. 2 pick of the 2003 draft apparently threatened to do bodily harm to his mother over the matter of $100,000.
Rogers' uncle, Ronie Rogers, also has been charged with making malicious phone calls, but he denied involvement in the phone calls which supposedly occurred March 5. He also told the
Saginaw News
that he didn't think Charles Rogers was involved either.
According to the police report, Cathy Rogers, Charles' mother, was told that her son was in danger of losing his house. She called Charles and left a voicemail.
Then, according MLive.com, "Cathy Rogers told the trooper that her son then returned her call and began threatening her and demanding that she mind her own business, the report states. Cathy Rogers said that she then received a voicemail from Ronie Rogers, a voicemail from Debbie Rogers [Cathy Rogers' sister], and several voicemails from Charles Rogers, the report states.
"The police report states that in a voicemail to his mother, Charles Rogers threatened to 'blow her mouth out' and said that he was willing to do 'the time' he would face as a result."
Rogers also apparently demanded his mother return $100,000 to him.
Rogers, who surrendered to authorities last week, has pleaded not guilty to all five charges.
For more NFL news, rumors and analysis, follow @EyeOnNFL on Twitter, and subscribe to our Pick-6 Podcast and NFL newsletter. You can follow Josh Katzowitz on Twitter here: @joshkatzowitz.