Maybe we were wrong about the Bengals and Mike Brown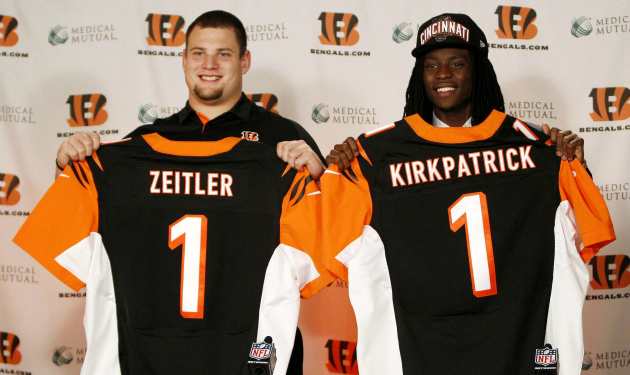 Kirkpatrick and Zeitler make their first appearance as members of the NFL. (US Presswire)
Sometimes (well, most of the time), the
Bengals
confuse me with their scouting and drafting methods. Owner Mike Brown insists that the team does just fine in those departments, and during the past few years,
I've blasted him
for thinking that.
When the team brought back coach Marvin Lewis and held a god-awful press conference in doing so, Brown, in regards to the team's scouting department (one of the smallest in the league), said this: "The scouting thing is another criticism that rises up when we don't do well. If you look at the last 10 years, we rank 10th for the number of games played by players we drafted. I don't apologize for our scouting. It's an easy target. But if you look at the real facts, you'll see it different."
Then, I wrote: "Yeah, but if those players aren't any good, that statistic makes absolutely no sense. Honestly, I'm not sure the statistic makes much sense either way."
And when your franchise has drafted players like
Keith Rivers
, Chris Perry, Peter Warrick and Akili Smith (all in the first round) and
Jerome Simpson
, Kenny Irons, Odell Thurman (all in the second round), maybe it's time to reexamine the way your team does business.
In 2011, though, the Bengals had a strong performance, drafting
A.J. Green
in the first round and
Andy Dalton
in the second. As those two showed last season, helping the Bengals to the playoffs, they were immediate impact players for a young team who was expected to finish in the basement of the AFC North. And while we won't know for a while the organization's performance this past weekend, it seems like they had one of the best drafts in the entire league.
It feels that way, at least.
The Bengals addressed some major needs, drafting cornerback Dre Kirkpatrick and then guard Kevin Zeitler in the first round -- the Bengals had two first-round draft picks, thanks to the
Carson Palmer
trade, another Mike Brown triumph. They got Green some help in the third round by taking
prank call
victim Mohamed Sanu (the all-time leading receiver in the Big East), and they added a strong tight end in Orson Charles. Not surprisingly for this squad, Charles has some potential character issues -- he got popped for a DUI in college -- but taking a talent like Charles in the fourth round could pay off.
In the fifth, the Bengals scooped up safety George Iloka, a player with second- or third-round potential who happened to fall much later than expected.
As Will Brinson pointed out in his 2012 NFL Draft
Winners/Losers recap
, "Their first
six
picks in this draft -- Dre Kirkpatrick, Kevin Zeitler, Devon Still, Mohamed Sanu, Brandon Thompson and Orson Charles -- are all arguably first- or second-round value guys." Heck, even curmudgeonly Pete Prisco gave the team an A-plus, and Rob Rang
marked the Bengals
with an A.
So, what the heck is happening in Cincinnati?
"We feel like we know what works," coach Marvin Lewis said Saturday. "Obviously we've all worked together ... for a while now. … We've all been together. I think everybody's comfortable with each other, and it works."
For the past two years, it seems to have worked exceedingly well. Maybe Mike Brown doesn't need my input into the way he runs his scouting department -- maybe he doesn't need anybody's input. Maybe Mike Brown has it figured out.
Maybe he actually knows what he's doing.
For more NFL news, rumors and analysis, follow @EyeOnNFL on Twitter, and subscribe to our Pick-6 Podcast and NFL newsletter. You can follow Josh Katzowitz on Twitter here: @joshkatzowitz.