Nick Mangold's sister to compete in Olympics, but Nick won't be there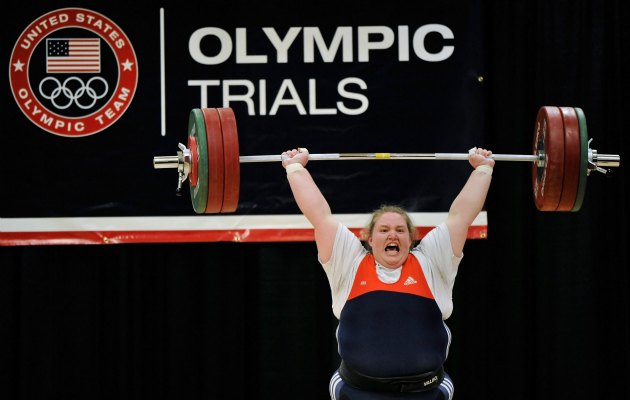 This is Holley Mangold, and she apparently out-lifts her brother, Nick. (Getty)
Normally if you had to place a bet on whether
Nick Mangold
could beat up his sister, you'd put the entire mortgage on the
Jets
center triumphing with relative ease. In this case, though, you might lose your house.
Mangold's sister, Holley, outweighs him by more than 40 pounds (she's 5-foot-9 and 350 pounds, and he's 6-4 and 307), and oh yeah, she's going to the Summer Olympics as a member of the USA women's weightlifting squad. And she talks trash.
"Has he gotten to a Super Bowl?" she recently asked the
LA Times
. "That is the question. This is the Super Bowl of my sport."
Indeed, Nick Mangold probably doesn't want to mess with Holley, who regularly out-lifts him in the weight room (to be fair, though, Nick isn't trying to make the Olympics. He's trying to protect
Mark Sanchez
and, soon after him,
Tim Tebow
).
Maybe Nick doesn't enjoy that notion, because as the paper notes, he declined repeated requests to talk about Holley.
Nick Mangold also apparently isn't traveling to London to see his sister in action. It occurs during Jets training camp, but I imagine the franchise would make an exception for Mangold to miss a couple of days. In fact, coach Rex Ryan said he's going to try to change Mangold's mind.
"Yeah, I will [try]. But it's not going to happen," Ryan told reporters Thursday. "Once Nick is locked in ... I don't think he realized this is an amazing thing, it really is. How many people are good enough to go to the Olympics and compete against the world's best, and represent our country? I think it's an incredible opportunity for her and him as well."
And as far as missing some key practice time? Ryan -- who says he was "shocked" when Mangold said he wasn't going -- isn't worried about it.
"I just think Nick is a smart guy," Ryan said. "He would understand our offense, all of that kind of stuff. So it is an once-in-a-lifetime opportunity to see your sister do something that is absolutely incredible: competing against the world's best in a weightlifting competition I think would be incredible. ... I just wanted to make sure, 'Hey, look, I know how important this season is, this game is, our football team is, but there's other things that are equally as important, maybe more important in the big picture of things.' "
Here's what Mangold
said the other day
: "God bless Rex because he did offer it to me, but I don't think I can leave my guys in the middle of training camp. But we'll figure out a way to watch, and I'm real excited and real proud for her. Somehow, some way, I'll watch it. But I don't know if I can do the jump over the pond in the middle of training camp."
Here's hoping Mangold changes his mind. Because, really, family is more important than a couple days of practice, even if you have a sister who could totally dominate you in the weightroom.
For more NFL news, rumors and analysis, follow @EyeOnNFL on Twitter, and subscribe to our Pick-6 Podcast and NFL newsletter. You can follow Josh Katzowitz on Twitter here: @joshkatzowitz.