NFL plans to 'proceed immediately' with hiring of replacement referees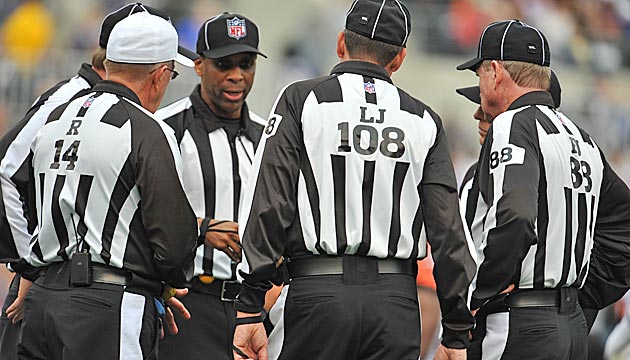 NFL referees could be sitting out at the start of the season if a new CBA isn't reached soon. (Getty Images)
The NFL is preparing to head into 2012 with another labor situation unresolved, as the Collective Bargaining Agreement between the referees and the league is still up in the air. And on Monday, the NFL announced it would "proceed immediately" with the hiring of replacement refs.
A few weeks ago,
we passed along the report that the NFL was
telling its referee-scouting department to begin looking at possible replacements. The NFL made it official on Monday.
"Negotiations with the NFL Referees Association on a new collective bargaining agreement remain unresolved and the previous CBA has expired," the league said in a statement. "In order to ensure that there is no disruption to NFL games this season we will proceed immediately with the hiring and training of replacement officials.
"Our goal is to maintain the highest quality of officiating for our teams, players, and fans, including proper enforcement of the playing rules and efficient management of our games."
Obviously the news of using replacement refs doesn't have the same pizzazz as the terrifying possibility last summer of football not being played. There are but a few notable and famous (or perhaps you prefer infamous) zebras out there.
And that puts the current referees at a significant disadvantage when it comes to negotiations. Should this impasse continue into the season, it would take some seriously butchered officiating for fans to clamor for the return of the guys who wore the stripes previously.
For now, negotiations will continue -- the NFL also said in its statement that a mediation session took place on Sunday. Additionally, the league claims that it has "made a proposal that includes substantial increases in compensation for all game officials."
For more NFL news, rumors and analysis, follow @EyeOnNFL on Twitter, subscribe to our RSS Feed and subscribe to our Pick-6 Podcast and NFL newsletter. You can follow Will Brinson on Twitter here: @willbrinson.