Before committing suicide, Ray Easterling reached out to Harry Carson for help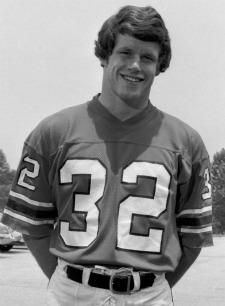 Ray Easterling played for the Falcons from 1972-79. (AP)
When former Falcons safety Ray Easterling
committed suicide
in April, it struck a chord with former
Giants
star Harry Carson.
As detailed by this
New York Daily News
report, Easterling had contacted Carson by e-mail to detail the symptoms he was experiencing and to ask for help.
"He wrote that he didn't know how much longer he could hold on," Carson told the
Daily News
.
Easterling told Carson that he had undergone tests that indicated he had early onset of Alzheimer's and he wrote about his two hip replacements and many knee, elbow and shoulder operations. He also wrote that he was in financial trouble.
Carson responded and said he had told George Martin, then the head of the NFL Alumni Association, about Easterling, and after wishing him luck, that was the last contact Carson had with Easterling.
After he heard about Easterling's death, Carson thought to himself, "Is that the same guy I got an e-mail from? I found it. Oh s---."
Which left Carson upset.
"It was at that point I recognized he was really, really pleading for some kind of assistance, he was looking for a lifeline. In some ways, we all failed him," he said. "He took the action he felt he needed to take."
Although Carson says he suffered at least a dozen concussions during his career and that he deals with migraines and blurred vision these days, he's not ready to join the enormous lawsuit against the NFL that involves more than 2,000 former players.
"I feel like I am a messenger," he said. "If I join a lawsuit, then people will say, 'You see Harry Carson joined the lawsuit, so whatever he says carries no weight, he's going in it for the money.' I feel I don't want my message to be tainted."
Hopefully, Easterling's message (and that of Dave Duerson, Junior Seau and Andre Waters) will be heard even more loudly.
For more NFL news, rumors and analysis, follow @EyeOnNFL on Twitter, and subscribe to our Pick-6 Podcast and NFL newsletter. You can follow Josh Katzowitz on Twitter here: @joshkatzowitz.