Eagles owner: Andy Reid might coach in Philly's preseason opener Thursday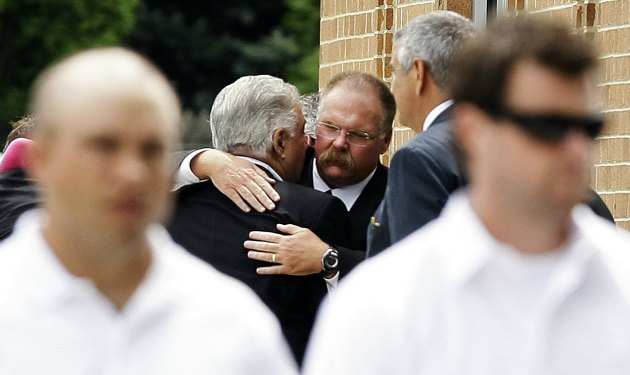 Reid has seen plenty of support since the death of his son. (AP)
On Tuesday morning, hundreds of people converged on Broomall, Pa., to say goodbye to Garrett Reid, who was found dead in his hotel room Sunday.
According to reports from the funeral, NFL coaches like New England's Bill Belichick, Baltimore's John Harbaugh and New Orleans interim Joe Vitt came to mourn the death of Eagles coach Andy Reid's 29-year-old son, along with commissioner Roger Goodell, Browns general manager Tom Heckert and a number of other coaches and current and former Eagles players.
So many people showed up, the Philadelphia Inquirer wrote, that the funeral had to be delayed by nearly an hour. Perhaps as many as 900 people filled the church in order to say goodbye.
And while it might seem the height of irrelevance within Reid's circle to ask when he'll return to the practice field, Eagles owner Jeff Lurie told reporters, including CSN Philly, that Reid likely will coach the team in Thursday's preseason opener against the Steelers.
"I think so," Lurie said. "We'll see, but all indications are that he probably will be."
Emotions obviously are running high in Eagles camp, and players have been adamant since Garrett Reid's death in saying how much they love their coach. Lurie believes that Reid will benefit from his team's heartfelt feelings about him.
"I think what you'll see from Andy is that desire to be around another loving extended family," Lurie said.
Since Reid has been gone, offensive coordinator Marty Mornhinweg and defensive coordinator Juan Castillo have been running team practices. If Reid doesn't coach Thursday, Mornhinweg would take over the interim role. But Lurie doesn't expect Reid to be gone long.
"He's so comfortable coaching," Lurie said. "That's what he does, he's a football coach. On behalf of all of us, he can take as much time off as would be warranted but that's not what he wants. He wants to get right back in there."

For more NFL news, rumors and analysis, follow @EyeOnNFL on Twitter, and subscribe to our Pick-6 Podcast and NFL newsletter. You can follow Josh Katzowitz on Twitter here: @joshkatzowitz.