NFL Week 1: Grading the rookie quarterbacks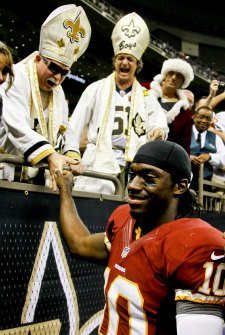 Even New Orleans fans fell under RG3's spell. (US Presswire)
There were five rookies who started NFL games Sunday. One performed spectacularly, one was pretty good, one was decent enough and two were horrid. Here's what happened with the NFL freshman QBs in Week 1 of their rookie seasons.
Robert Griffin III, Redskins: Easily the biggest rookie star of the day (and probably the most important performance of any quarterback in the early games), he completed his first eight passes of the contest and finished 19 of 26 for 320 yards and two touchdowns (and zero interceptions). Unlike Luck, RG3 got help from a solid offensive line and some nice plays by his receivers, but his talent and poise were undeniable. And to beat the Saints in New Orleans is quite a feat. Basically, he was everything for which Redskins fans could have hoped. Grade: A++
Russell Wilson, Seahawks: Wilson (18 of 34 for 153 yards, a touchdown and a pick) had a mixed day, though overall, it was a positive performance. He looked solid on some throws, and he looked like a rookie on a few other plays (the backward pass that became a fumble was one example). But after Cardinals backup quarterback Kevin Kolb threw a touchdown pass to give the Cardinals a four-point lead late in the fourth quarter, Wilson lead his team back down the field, running for a first down while being helped by pass interference penalties against Patrick Peterson and William Gay. The Cardinals secondary, however, was just good enough to deny Seattle the win with three stops at the Arizona 4-yard line with less than a minute to play. Grade: B
Andrew Luck, Colts: He had a tough day vs. the Bears after the Colts defense gave him a 7-0 lead with a Jay Cutler pick-6. But Luck didn't get much help from his offensive line (he was sacked three times and pressured much of the day) and he was constantly on the move. He finished 23 of 45 for 309 yards, one touchdown and three interceptions, and if Colts fans hoped that Luck's emergence would immediately give Indianapolis a chance to win tough games, they sadly were mistaken. Even with Luck's talent, this team has a long way to go. Altogether, it wasn't a terrible day for Luck. But it wasn't a good one either. Grade: C+
And now we get to the real slop of the day.
Ryan Tannehill, Dolphins: Of anybody on this list, he was the guy who most had to earn his starting job today. He beat out incumbent starter Matt Moore for the spot after David Garrard was lost with an injury, and during the preseason, the team seemed excited about what Tannehill could accomplish. But he struggled badly against a good Texans defense, completing 20 of 36 passes for 219 yards and three interceptions. There was little chance Miami was going to win this game anyway, but Tannehill certainly didn't help matters. Grade: D
Brandon Weeden, Browns: The only reason Cleveland had a chance in this game was because Eagles quarterback Michael Vick was rookie-bad in this game (four interceptions) and because Philadelphia couldn't stop itself from committing penalties (12 for 110 yards). But even with some of those advantages, the 28-year-old rookie looked awfully young, completing 12 of 35 passes for 118 yards and four picks. He finished with a microscopic quarterback rating of 5.1, and it was ugly. Even though this was one of the worst games of Vick's career, Weeden couldn't take advantage. He was brutally bad. Grade: F+

For more NFL news, rumors and analysis, follow @EyeOnNFL on Twitter, and subscribe to our Pick-6 Podcast and NFL newsletter. You can follow Josh Katzowitz on Twitter here: @joshkatzowitz.