Goodell: 'I believe safety is all of our responsibilities'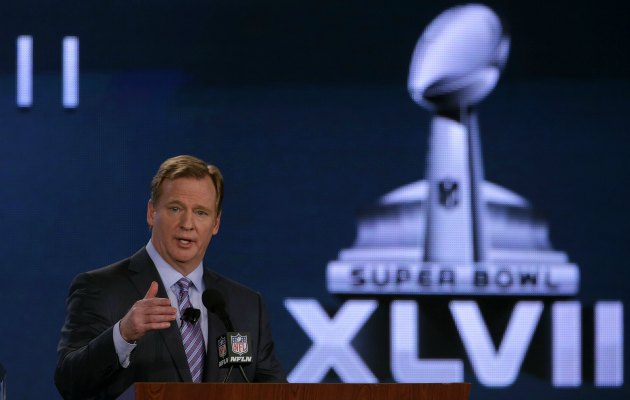 Roger Goodell responded to the NFLPA on Friday. (AP)
NEW ORLEANS -- At its annual news conference Thursday, the NFLPA revealed 78 percent of its members were unsatisfied by the work of their team's medical staffs and ultimately don't trust them.
On Friday, during his state-of-the-league address, NFL commissioner Roger Goodell said he was upset with the results of the union's internal survey.
The home of the Super Bowl
"I'm disappointed, because I think we have tremendous medical care," said Goodell, though it was unclear if he was disappointed with the players or why they voted the way they did. "These are not just team doctors. They're affiliated with the best medical institutions in the world. [They're] extraordinary. We will always seek to improve how we can do things better, provide better medical care. As I talk to players, they feel the same way. But we'll have to address it and find out what we can do to improve it."
Goodell seemed perturbed, though, at the union's voting results Thursday, because, as he repeated multiple times Friday, he met with owners and NFLPA representatives for four hours last week and the players did not raise this issue. Goodell found out about the complaints around the same time as the rest of us -- as well as the union's request for the two sides to agree to appoint a neutral chief safety officer.
"That issue did not come up; it wasn't raised during that four hours," Goodell said. "I believe safety is all of our responsibilities. I can't appoint somebody who's going to make the game safer. I'll stand up and be accountable. I will do everything. But the players have to do it, the coaches have to do it, the officials have to do it, the medical doctors have to do it. That said, I'll do anything that will make the game safer and better. I'm happy to engage in the dialogue."
The union, though, had some specific complaints -- especially against Chargers team doctor David Chao, who has been sued multiple times for malpractice -- and the NFLPA says it wants Chao replaced. In that case, Goodell pointed to Article 50 of the most-recent CBA.

"In the collective bargaining agreement, at the union's request, we entered into an agreement that if there's an issue with any medical decision, there can be a resolution by engaging with [at least two] neutral doctors, including an NFLPA attorney," Goodell said. "They will review the matter. As I understand it, that's exactly what's going on in San Diego."
One of the major storylines of the week was the plight of Alex Smith and how he lost his job after suffering a midseason concussion. I posited that the loss of his job to make room for Colin Kaepernick would have implications in the future and that players might try to hide concussion symptoms because they'd be worried about suffering the same fate as Smith.
Goodell, not surprisingly, disagreed.
"I believe very strongly that there's a big difference between a medical decision and a football decision," Goodell said. "I'm glad he came forward with that injury. Players need to do that. He's been healthy for several weeks, and I now believe that's a football decision. That's something the coaches have to do. I understand the somewhat-dilemma, but the highest priority you can have is that players raise their hand when there's an injury so they can get the proper treatment. They won't be effective as players if they have lingering problems with a concussion."

For more NFL news, rumors and analysis, follow @EyeOnNFL on Twitter, and subscribe to our Pick-6 Podcast and NFL newsletter. You can follow Josh Katzowitz on Twitter here: @joshkatzowitz.