Michael Strahan looks to next year's Hall of Fame ballot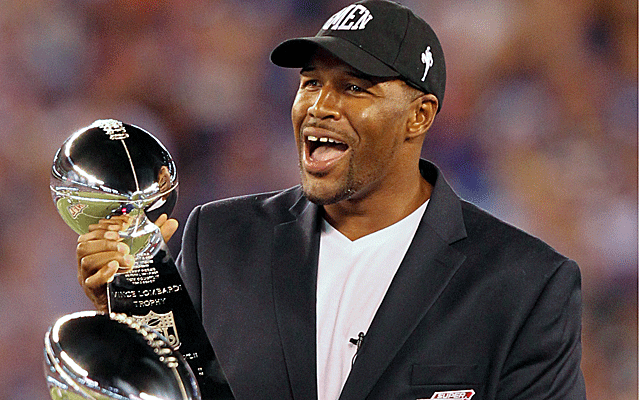 Michael Strahan will have a good chance to gain entry into the Hall of Fame next year.
(US Presswire)
On Saturday night, the Hall of Fame class of 2013 was announced and names like Ogden, Sapp, Carter and Allen were chosen for induction. One major name missing: former Giants superstar defensive end Michael Strahan.
Talking to some Hall voters after the announcement, it sounded like there was plenty of support for Strahan -- he was one of the 10 finalists before being turned away (Strahan did not garner the 80 percent of votes in order to be elected) -- but voters also sounded confident that Strahan would get in soon.
Strahan feels OK about it, as well.
"I'm honored to be in the top 10, and I look at it like I'll get in eventually," Strahan told Newsday. "I'm blessed. I have so many things going on right now, so this is just a delayed blessing. It'll eventually happen. I don't define myself by what I do, so if I don't get in, I'm not going to yell, scream and pout. It wasn't meant to be."
Besides, as CBSSports.com's Matt Rybaltowski points out, Strahan very well could be the biggest name on next year's Hall of Fame ballot.
While Strahan probably was disappointed, he also talked to the newspaper about how proud he was to have played for the same team for 15 years.
"To finish 15 years and not be a shell of myself on the field was important," he said. "You never looked and said, 'Why is he out there?' I brought it for all 15 years. My teammates were happy, my coaches, the Giants, my fans. Hopefully, the Hall sees that one day and I get a chance to make it in."
For now, though, Strahan has something else to help ease the pain of Saturday's vote.


I didn't make the Pro Football Hall Of Famea this year but I did win the Directv beach bowl MVP! twitter.com/michaelstrahan…

— Michael Strahan (@michaelstrahan) February 3, 2013


For more NFL news, rumors and analysis, follow @EyeOnNFL on Twitter, and subscribe to our Pick-6 Podcast and NFL newsletter. You can follow Josh Katzowitz on Twitter here: @joshkatzowitz.