Jake Long signing likely means a new postion for Rodger Saffold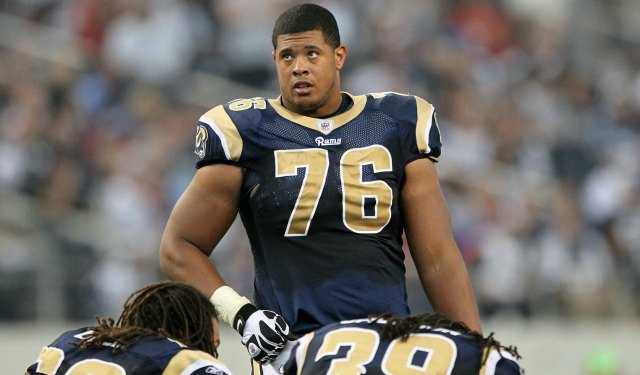 With the acquisition of tackle Jake Long -- formerly the No. 1 overall pick of the Dolphins -- the Rams seemingly have solidified the left tackle spot that will protect quarterback Sam Bradford's blind side for the next few years.
But you could also make the argument that Rodger Saffold kind of did that last season and, as a reward, he probably will be the one to move to right tackle in 2013. Which probably doesn't make Saffold a happy man.
"[Left tackle] is his position," Saffold's agent, Alan Herman, said a week ago. "It's a paying position in the league. He's played left tackle his whole life since he was a little kid. Why would he want to move to the other side?"
Well, for one, he might not have a choice. Rams coach Jeff Fisher was asked Monday if there was a potential conflict here, and he said it wasn't an issue. Which most likely means the left tackle spot belongs to Long and not Saffold, who had a decent season last year after struggling for much of his first two years in the league. (He allowed a career-best two sacks, according to Pro Football Focus.)
The move also could hurt Saffold's wallet, especially if you subscribe to Herman's theory about getting paid as a left tackle. Long just signed a four-year deal worth as much as $36 million, and Saffold will make $880,000 in the final year of his contract. (Of course, the point that Herman subtly made was a move to right tackle for Saffold will hinder his ability to make left-tackle money once he becomes a free agent following this season.).
General manager Les Snead, meanwhile, said nothing has been decided.
"We'll sit down and discuss where's the best fit for everyone," Snead said at the NFL owners meetings on Monday, via the St. Louis Post-Dispatch. "Rodger's started here as a right tackle. I think nowadays on the offensive line, no position punishes you financially. And you could even make a move and be better at a [different] position than you are now.
"So we'll sit down and discuss that internally with the player and even his agent. But Rodger's a team player, and he's young. If he comes in and consistently plays like he did at the end of last year, Rodger will be fine and we'll be better."
But you know what might make Saffold and Herman really queasy? This possible scenario, via the Post-Dispatch:
"Or what if Oklahoma [tackle] Lane Johnson unexpectedly drops to No. 16 [in the upcoming draft]? Maybe the Rams take him, plug him in at right tackle and then tap Saffold on the shoulder and tell him he's playing left guard."
In a word: ugh.
For more NFL news, rumors and analysis, follow @EyeOnNFL on Twitter, and subscribe to our Pick-6 Podcast and NFL newsletter. You can follow Josh Katzowitz on Twitter here: @joshkatzowitz.