Sources: Locked-out officials willing to sit out for months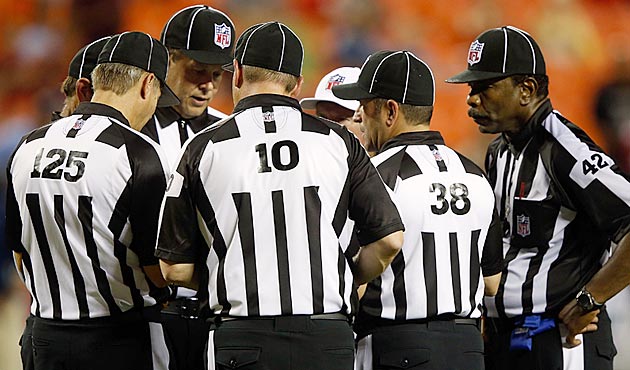 It looks like the replacements will be around for a while. (Getty Images)

Locked-out game officials are willing to sit out for much of the season, if not all of it, several of them told CBSSports.com.
Now, this needs to be put into perspective. As the NFL and game officials continue to battle and the regular season will proceed with replacement refs, there is a lot of rhetoric and sometimes straight-up poker faces. Real officials telling me they are willing to sit out for up to the entire season could be part of this bluffing and poker-ing atmosphere. Sure.
However ...
For months now, I've had communications with various game officials, sometimes on a daily basis, and I can tell you -- and this is no bluff -- they are determined to win this fight with the NFL. This doesn't mean they will. This doesn't mean a deal will be struck sooner or later but they are without question determined.
"This is a battle of right and wrong," one official said. "We are willing to wait for as long as it takes."
That's their mantra. Whether you believe it or do not that is what they feel -- that they are fighting the NFL's attempt at union busting (the NFL vehemently denies this). The main front in this battle remains how the officials' pensions are distributed. The NFL wants to alter the current system.
I've been saying for months (while others in the media said differently) that there was a strong chance this dispute could extend into the regular season. Looks like that will happen.
And I'm saying now don't be so sure this dispute will end soon.
Several officials outlined this scenario. The union will remain open to negotiating with the NFL but will remain firm in its beliefs and as both sides go back and forth and games are played, the replacements will continue to, ahem, be replacements.
As the weeks go on, the real officials believe the replacements will be so bad, the NFL will have no choice but to cave. This is not a horrible strategy since the replacements will be, ahem, the replacements.
Also, remember: While the real officials know they have a good gig and make good cash reffing a game, they also have other jobs. Many of the officials are already wealthy. They are not like a significant number of the players. They don't live paycheck to paycheck.
Thus that's why this situation could get worse before it gets better.
I say again: Things can turn quickly and a deal is a phone call away, but if the real officials' position is that they can wait things out, this whole situation might take longer than expected.