Goodell reduces suspensions but fight will continue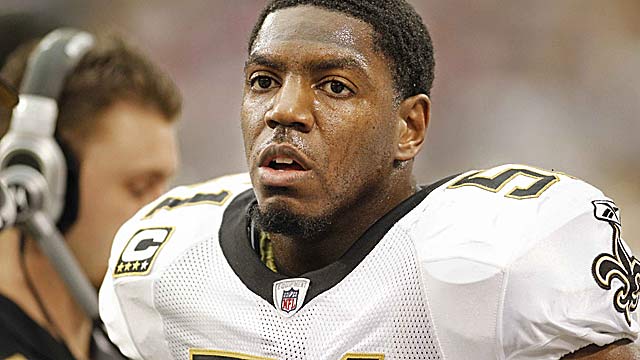 Jonathan Vilma's season-long suspension is upheld, but the Saints LB isn't likely to accept that.
(US Presswire)
Roger Goodell wanted cooperation from the players. He wanted to talk to them. Goodell got his wish, and reduced some suspensions, but this is far from over.
What Goodell wanted all along was for the players to tell Goodell their side. Only recently did those players agree to speak directly to the NFL. The benefit of that meeting, in some cases, were reduced suspensions.
Was there a pay-to-injure program? Probably of some sort. Did the NFL totally prove its case? Not entirely, no. But there is reason to believe a bounty program existed.
More on bounty case
Related links
More importantly, this case is not stopping anytime soon. There will likely be appeals and there is no way linebacker Jonathan Vilma will accept what happened. He'll keep fighting in court.
Scott Fujita's suspension was reduced from three games to one. Vilma's suspension was unchanged but he will receive game-checks (six) while on the physically unable to perform list. Anthony Hargrove had his suspension reduced from eight games to seven. Will Smith had his suspension reduced from eight to seven games.
Notice what Goodell did here. As he did with Mike Vick and Ben Roethlisberger, who also met with Goodell, he rewarded cooperation while also making it clear the league believes there was a pay-to-injure program.
From the union's perspective, the NFL has been wrong about this case from the beginning. They believe fighting the NFL needs to continue and that while the suspensions were reduced, the damage to the reputation of the players has already been done.
From the NFL's perspective, strong actions were needed so bounties are eliminated from football. The game is safer because of that. The NFL says players in September meetings confirmed key facts. They have sworn statements from witnesses backing their position.
But reduced suspensions won't end what has been a long, ugly fight. The players have 72 hours to appeal back to Goodell or go back to court. The union issued a statement saying the NFL has "ignored the fact, abused the process." That means there is more fighting to come.
So there remains a great deal of anger here. This might not go away for a long time, indeed.