Lions, NFL need to again address Suh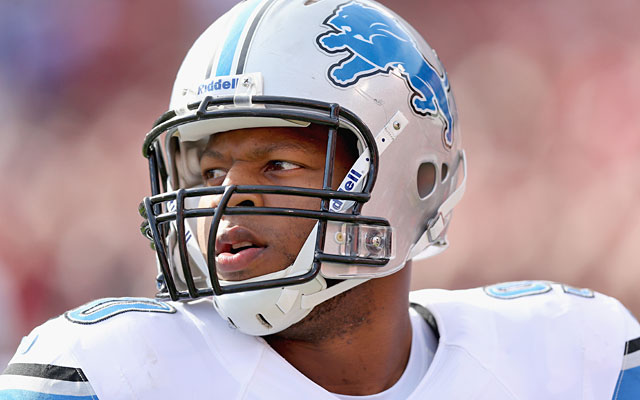 Ndamukong Suh has a disturbing history with automobile incidents.
(Getty Images)
Ndamukong Suh and automobiles apparently get along like Jonathan Vilma and Roger Goodell. Suh's history with cars and recklessness are starting to reach scary levels. Before this latest incident Suh had been involved in at least three traffic incidents since joining the NFL in 2010. That's a Danica Patrick level of crashtastic mayhem.
There was a two-car accident as a rookie. Last December, a wreck led to Suh being sued for a cool $1 million. Then in March, Suh was ticketed driving 91 mph in a 55 mph zone. If you count a ticket for negligent driving his last year at Nebraska, when he sideswiped three cars, allegedly, that's five car incidents in just a matter of a few years. One more and Suh officially qualifies as an extra on the next Fast and Furious sequel.
With regards to the latest accusations of sideswiping a car, police told local media no ticket would be issued, because they couldn't prove Suh did what he was accused of. That doesn't mean he didn't do it. That just means police couldn't ptove it. But at this point, does NASCAR Suh deserve the benefit of the doubt? Hell, no.
So here we are, again, talking about a Lion's off-the-field exploits, and here we are again, talking about Suh's off-the-field exploits. Leg stomps, wrecked cars, allegedly leaving scenes of accidents he caused ... see a pattern here?
No lessons are apparently being learned. The two-game suspension for the leg stomp dance didn't do much because Suh is still being Suh.
Again, it's possible this latest incident isn't what the witness is claiming, but that seems a tad unlikely. It's more likely this is another case of Suh being unable to control his emotions.
If the Lions don't do anything to keep Suh in check, they might regret it. In fact, it might be time for the NFL to get even more heavily involved.
Because this is not heading to a good place.