Jets players stab Tim Tebow in the back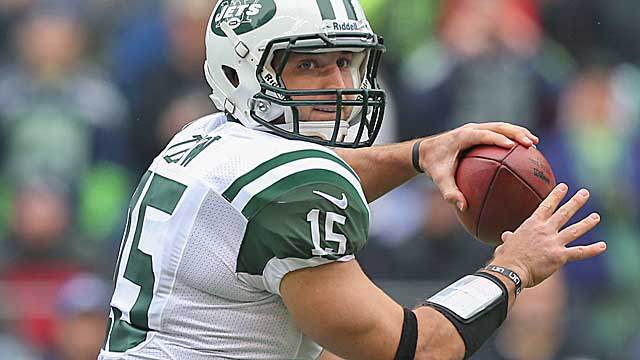 Some of Tebow's teammates say he hasn't improved as a QB. (Getty Images)
This is why the Jets lose.
It's not the only reason but the backstabbing of Tim Tebow by anonymous Jets players is a big one.
Tebow was savaged by his teammates for being a terrible quarterback with only one of them willing to put his name on the ripping.
Now, to be clear, the factual context of what the players said about Tebow is accurate. He's not a good quarterback. In fact, he's a pretty terrible quarterback. (See that, Jets players, my name is attached.)
That, however, is not the point. What the Jets players are basically doing is putting the blame for the season on Tebow. There is also a larger issue here that has always been a problem with the Jets under coach Rex Ryan. There has been a lack of unity on the team. They don't stick together. The minute adversity hits the locker room splits and everyone ducks for cover.
Duck and cover, blame someone else, duck some more. In the past anonymous teammates have ripped Mark Sanchez as well. Total cowardice.
Part of this is on the coach. Ryan has demonstrated he can talk -- and talk, and talk, and talk some more -- but that talk has led to very little actual production. I think the Jets see this and feed off of it. That isn't how things are supposed to work but that's how the Jets roll.
Players see Ryan running his yapper and think they can do the same.
But at least Ryan puts his name to it.
There has long been jealousy of Tebow by players around the league and some of it is actually justifiable. Tebow is one of the most covered and discussed players in all of sports but has accomplished almost nothing. This irritates the hell out of some players and you know what? They may have a point.
But express that displeasure with your name attached.
Don't be a chicken.
Is that too much to ask?