Fellow players must speak out against Ndamukong Suh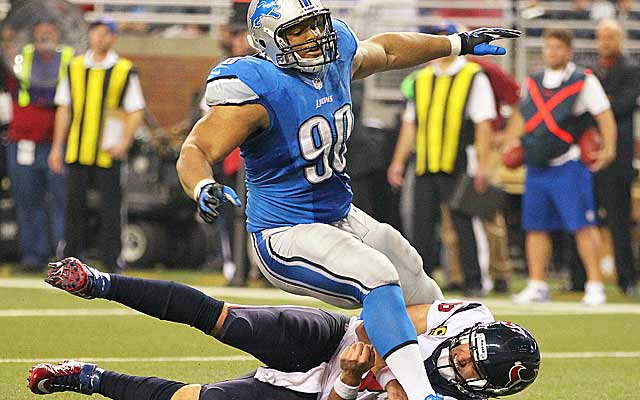 Ndamukong Suh could be suspended after Thursday's incident, but fellow NFL players have remained silent. (US Presswire)
Once again, we are talking about Ndamukong Suh as a dirty player, and once again, there is breathtaking silence from the NFL's player community.
It's unclear if the NFL will suspend Suh. There is a belief among some league officials that a suspension is warranted while others aren't certain the video evidence is enough. What is certain is that few in the NFL believe Suh deserves the benefit of the doubt.
Suh himself is a problem. I called him a dirty player before it was fashionable to do so, and what was always most curious was the lack of outrage from the player base. These are the same players that don't trust the NFL's motives when it comes to player safety (and that's fair) but the players lose credibility when there is no anger over a dirty player like Suh.
I'm not talking about a few players need to say something or merely the Green Bay Packers. There needs to be a lot of players speaking up.
Suh's antics are far from the head-hunting ways of some of the league's other dirty players, past and present. His various leg kicks and quarterback body slams might not end careers or alter brain chemistry. Granted, but Suh's actions are still nasty. They are still an indicator of a
player using dirty means instead of fair, aggressive ones to make plays.
An alleged intentional leg kick to the cajones isn't a Deacon Jones forearm to the head, but the intent should anger players. They should be chirping loudly, but there is silence.
Players rarely criticize other players publicly, but it seems this requires a different approach before Suh does something that really threatens someone's career.
I can say with certainty there are some Lions players tiring of Suh's antics, but it seems because of the code that says you don't publicly criticize players, especially teammates, they will stay quiet.
Some of those same players despise Roger Goodell and the NFL for what they feel is a league going too far. Yet those same players refuse to criticize their own publicly. That has to change.
On Monday, the NFL will begin the review process of The Great Groin Kick of 2012. Who knows what the NFL will do, but it seems the NFL is unlikely to simply let Suh slide considering his history and considering he was suspended for two games after kicking a player in the leg only a year ago.
There remains a possibility the NFL will send a message, while the players, who should be the most vocal, say nothing.