Michael Strahan leads my Hall of Fame list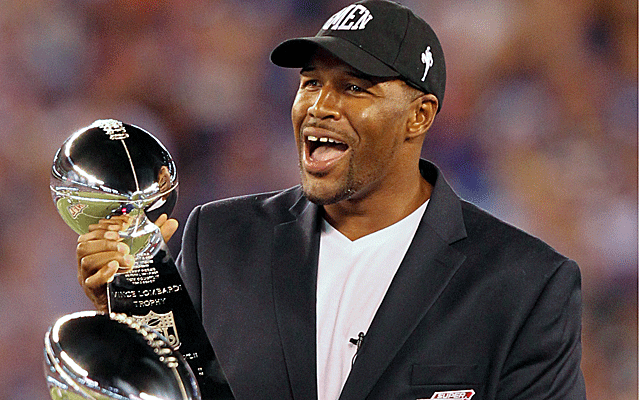 The Giants' Michael Strahan dominated as a defensive linemen throughout his career.
(US Presswire)
The complete list of Hall of Fame candidates is out and may be the most comprehensive list of greats ever put together. I mean, when Cris Carter, one of the more lethal wide receivers in the NFL's history, is a borderline candidate to make it, that tells you all you need to know.
This is the list of finalists I'd put in and it begins with Michael Strahan.
I covered Strahan when I was a beat writer covering the Giants for The New York Times. He was a gap-toothed kid upon entering the sport and a gap-toothed man when he left. There were two defensive linemen I personally covered who utterly dominated the position: one was Strahan and the other was Warren Sapp. Few others in this class at their positions dominated the way Strahan and Sapp did.
The numbers I will leave for later and others to digest, though they are impressive. I'm strictly talking playing and dominating. The linemen you see now, the J.J. Watt types, well, Strahan was one of the first -- if not the first-- of that mold: skinny waist, massive upper body, highly athletic and fast. Strahan could stuff the run or pick a pass out of the air. The Giants sometimes used Strahan in coverage and he was actually pretty good at it.
Reggie White, the best defenisve lineman ever, was massive and fast but Strahan was the beginning of the highly-athletic lineman.
I never saw Strahan take a play off. Not one. I also never saw him totally dominated.
The other choices on my Hall of Fame ballot:
2. Sapp. I'm fairly certain I wrote about one game where Sapp was covered by a lineman, a tight end and a back. I'm fairly certain of that. He was that terrific. Just absolutely smashed people. A round mound of disruption.
3. Bill Parcells. Will be one of the most hotly-debated (second only to the person next on my list). Parcells was not a great person and he did not treat people well but there cannot be a Hall of Fame without him. He helped transform a Giants franchise (behind the drafts of George Young, who is also a Hall of Fame nominee) into a multiple Super Bowl winner, turned the sorry Patriots into a Super Bowl team, the even sorrier Jets into winners, and did some good things in Dallas. The two greatest player motivators in history were Don Shula and Parcells. Parcells wasn't loyal or decent but he was historic.
4. Art Modell. The history of the NFL cannot be written without Modell. It just can't be and to pretend otherwise would be foolish and vindictive. Hated Modell moving the team but Al Davis moved the Raiders 476 times and he's a Hall of Famer.
5. Jonathan Ogden. I always thought of Ogden as the offensive line equivalent of Strahan. Ogden made the Pro Bowl nine times and I covered most of his career. He buried guys (without holding them) because he was so large and fast.
Because this class is so superb, good players will be left out, one of them being Carter. He deserves to be in but he'll likely have to wait a little longer.