This might be Peyton Manning's best season ever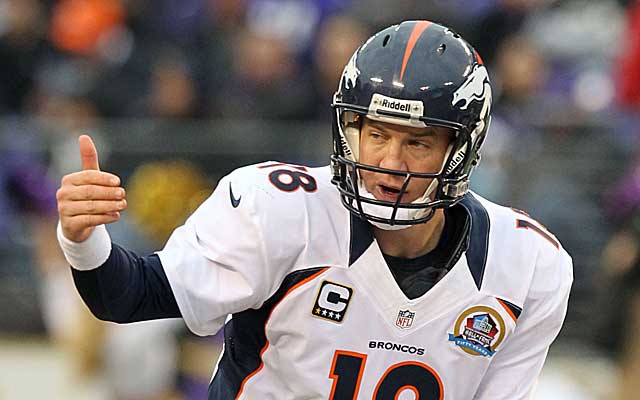 Peyton Manning has been selected to 12 Pro Bowls in his 14 seasons. (US Presswire)
The numbers are, well, astounding. They are difficult to believe. They are almost impossible.

Peyton Manning was the fastest to reach 50,000 yards passing. He is the fastest to 400 touchdowns. As a member of the Colts he set team records for passing yards, completions, touchdowns and careers wins, among others.
Related Info
Analysis

More content
He was a Super Bowl MVP and four-time Associated Press MVP.
On Wednesday, it was announced that Manning made his 12th Pro Bowl. He's been in the league 14 years.
Twelve Pro Bowls.
But of all of the records, and all of the Pro Bowls, and of all the big moments it's possible this season with the Broncos is one of his greatest achievements. It might be his greatest period.
That's because Manning made the Pro Bowl with a patched-up neck. He was Frankenquarterback. He was cast out of Indianapolis for a younger version, told by many he'd never be the same (including some scouts to me), had his sanity and arm strength questioned, and was overall seen as a once elite player with a one in a million chance to be elite again.
Well, here he is, and I'd argue this is maybe his greatest season ever -- Super Bowl years included -- because of the health risks he faced and the doubt that was even stronger.
Once, I used to refer to Manning as Stat Boy because it seemed he was more interested in accumulating numbers than winning. What we've seen with Manning in recent years, and especially this season, is an almost primal determination not just to prove people wrong, but to win another title. He's playing almost with a viciousness and that word is used in a positive way.
He's no longer Stat Boy. Hasn't been that in a long time.
Now, he's Manning the Miracle, and he's having his best season maybe ever.