Ravens' Reed is smart, but his take on concussions anything but wise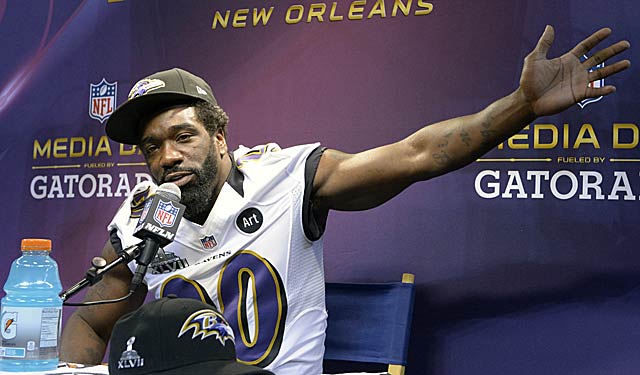 Reed: '[Seau] signed up to play football. Things are going to happen.' (US Presswire)
NEW ORLEANS -- There remain remarkable levels of ignorance emerging from extremely intelligent men when it comes to the dangers of football. Ravens safety Ed Reed is as bright as they come and on Tuesday he said a very dumb thing.
Reed said that every player signed up for the dangers of football. Then, Reed went further when asked if Junior Seau, who committed suicide, also signed up for the dangers.
"Did he sign up for it?" Reed said. "Yeah, he signed up to play football. Things are going to happen. Do I want it to happen? No. When I was on a golf course, did I want to hear about Junior Seau? No, I didn't want to hear that. I grew up watching him play. That was a sad day. A sad day, and there have been many other guys that have been down that road that you didn't want to hear about because of football."
But here's the thing. Unless Seau was a time traveler, he didn't know what he was getting into. Until the past few years, no player knew what they were getting into, because no player knew about the brain disease CTE.
This is the point people like Reed -- smart people, good people, well-intentioned people -- still don't grasp. We've never had the knowledge we do now. Science has become so remarkable that almost beyond a shadow of a doubt, science has proven that football can cause such trauma to a man's brain, the mind can turn on itself.
Before knowledge of chronic traumatic encephalopathy (CTE), players signed up for violence to their bodies. They signed up knowing they would get concussions or knee surgeries. They had no idea the extent of the damage that football could cause to the mind.
Until now, they were far from informed. They had no idea about the true danger because the science had not caught up to the violence of the sport.
Only now can we can truly say a football player is making an informed choice.
If someone went to Seau when he was drafted in 1990 and said, "If you play football, there is a very good chance will suffer from a brain disease. That disease might cause you to take your life."
That would be informed.