Now a free agent, Dwight Freeney will be on many teams' radar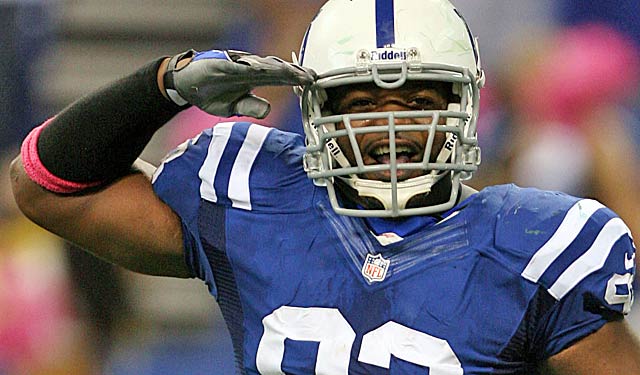 After saying good-bye to Indy, Freeney figures to have plenty of suitors. (USATSI)
When Dwight Freeney was dumped recently by the Indianapolis Colts -- he didn't even a get a pen or a coffee cup with "Dwight" on it -- it didn't take long for him to receive calls and texts from other players around the NFL. One was from quarterback Peyton Manning.

"He sent me a text," said Freeney. The text said: "Come play with the Broncos. We'd love to have you."
More offseason news
Related content
When Freeney went to the NBA All-Star Game this weekend, one of the people he saw was Minnesota's Adrian Peterson. "We'd love to have you," Peterson told Freeney.
This is how it's been for Freeney since the Colts released him. It will only get more hectic because there's Freeney still has a great deal left in his body. A body of work that includes seven Pro Bowls, the 2000s All-Decade team, a Super Bowl title and the Colts' all-time sack mark.
Freeney instantly became one of the more coveted free agents this year. He could transform a mediocre franchise into a playoff contender and a playoff team into a Super one. He's still that good.
"I was shocked at being released," he said. "I was stunned. I had a good year. I came back from an [ankle] injury earlier than I was supposed to. We made the playoffs. I always envisioned myself retiring as a Colt, but the team didn't make an offer. I got a pat on the back and they wished me well."
The Colts are continuing to purge veterans as the franchise gets younger. It's hard to question the Colts' decisions thus far. They've gone faster and further than anyone envisioned. But letting Freeney go still is a risk.
Freeney is 33, but also is known for his tremendous work ethic and staying in shape. It's likely he has a solid three years left playing at a high level.
Where does Freeney want to go? The Broncos and Vikings actually are good possibilities. Don't rule out the Giants either.
"Where I go depends on offers and scheme," said Freeney, who wants to play in a 4-3 defense. "But the biggest thing is the team has to be competitive. I'm not saying they have to be in the Super Bowl every year. But one or two players away from the playoffs or making playoff runs."
The line to sign Freeney likely will be a long one.