Finally, tuck rule may be changed -- though way too late for Raiders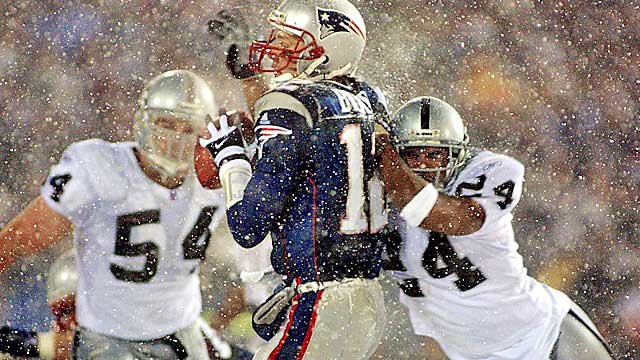 The NFL is on the verge of eliminating the dumbest, stupidest, craziest, most nonsensical, idiotic, putrid, insane rule ever invented. The tuck rule is about to die.
The league's competition committee has proposed that the infamous tuck rule be changed. The proposal goes like this: If the passer loses control while he's trying to tuck the ball after going into a throwing motion, it's a fumble. A play in which the quarterback loses control as he's hit and his arm is moving forward, is still an incomplete pass.
The committee will recommend to the owners next week, and it's likely the owners will approve it when they vote. It's not a guarantee, but it's likely.
Why it took so long for this rule to be changed is one of the great mysteries. It was always a totally dumb rule, and I've never gotten an explanation from anyone as to why it stayed on the books for so long.
In some ways, the tuck-rule saga is emblematic of two issues the NFL sometimes faces. First, it's such a huge organization, that it acts like a brontosaurus that was hit in the tail with a hammer. It takes hours for the big beast to feel something after initial contact.
There are multiple examples of where the tuck rule came into play, but none were more infamous than what happened during the Patriots-Raiders divisional playoff game following the 2001 season. That game showed the silliness of the rule in all its glory.
It allowed the Patriots to win the game, and the nucleus of a dynasty was created. The Raiders, basically, have never been the same.
For years, and to this day, many of the Raiders from that team still complain about that call. Al Davis told me the tuck call was one of the most unjust calls in NFL history.
It was certainly the dumbest.