'Hip-Hop Experience' mercifully helping Von Miller reinvent his sack dance
Von Miller's moves needed re-working, and now a charity is the big winner.(Getty Images)
Broncos linebacker Von Miller is adept at getting to opposing quarterbacks and bringing them down to the ground. As such, he's obviously got great dance moves after sacking quarterbacks, right? Wrong. Mercifully, the folks at Ubisoft, the company thats make the "Hip-Hop Dance Experience" video game, sent someone to Miller's house to teach him how to bust a move on the field.
You see, Miller's old-school dance isn't ... bad. It's just that you wouldn't want your kids seeing it.
Exhibit A, from the Atlanta game in Week 2 on Monday Night Football: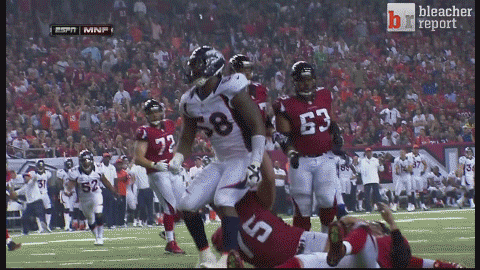 I mean, what is that (besides damaging to your retinas anyway)? It's Miller's move, apparently, because he used the same thing when he brought down Tom Brady in Week 5.
Miller's also got some other ridiculous, Funky Chicken hybrid-thing he does, which he used in Week 1 against the Steelers.
Yes, all of this is a complete trainwreck. Ubisoft picked a good guy to approach when they decided to fix his dance moves on the field. So they went to his house and they recorded a video of the crew trying to help Miller get his groove back.
Miller's going to start busting out this move in Week 6 and is involving fans to help him name the move (tweet him @millertime40 with suggestions). But the best bonus is this: Every time Miller uses the move on the field, Ubisoft will donate to "Von's Vision," a charity that Miller started to give glasses, eye care and contact lenses to underprivileged youth.
Yup, all of our retinas win.
For more NFL news, rumors and analysis, follow @EyeOnNFL on Twitter, subscribe to our RSS Feed watch Pro Football 360 daily at 3 p.m. ET and NFL newsletter. You can follow Will Brinson on Twitter here: @willbrinson.