The defending national champion Ohio State Buckeyes are poised to make a run at a repeat with a roster as stacked with future NFL talent as any in the country. Star defensive end Joey Bosa tops my initial Big Board rankings of the best draft-eligible prospects, and he's joined by four teammates: left tackle Taylor Decker (No. 17 overall), running back Ezekiel Elliott (21), wide receiver Michael Thomas (29) and, yes, strong-armed quarterback Cardale Jones (31).
While the 2015 NFL Draft was hailed for its running backs, wide receivers and edge rushers, 2016 could boast a significantly deeper talent pool among more traditionally-built defensive linemen, quarterbacks and the return of shutdown corners.
Much will change between now and the first pick of the 2016 NFL Draft. As it stands now, these are my top 32 NFL prospects in college football.
1. Joey Bosa, DE, Ohio State, 6-5, 275, 4.82, Jr.: While Bosa's suspension for the Buckeyes' season opener due to an undisclosed violation of team rules is troubling, there is no denying his talent. Powerful, athletic and relentless, Bosa is already drawing comparisons to former NFL MVP J.J. Watt and it isn't hyperbole. Had he been eligible a year ago, Bosa quite possibly would have been the first defensive player selected. Barring injury, he'll almost certainly achieve that in 2016 and is currently the odds-on-favorite to go No. 1 overall.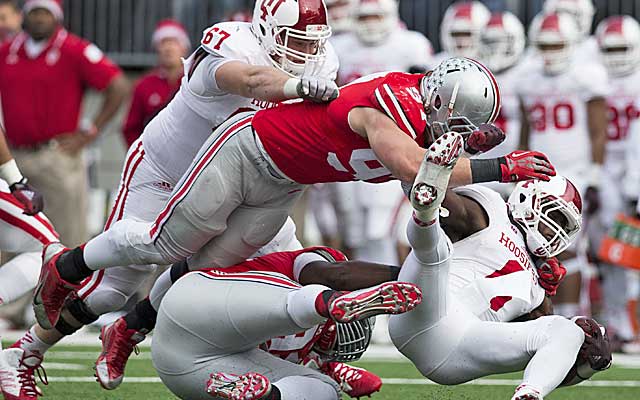 2. Laremy Tunsil, OT, Mississippi, 6-5, 305, 5.23, Jr.: To justify this lofty ranking, Tunsil must show no ill-effects from the fractured fibula and dislocated right ankle he suffered in the Rebels' season-ending loss to TCU in the Peach Bowl last season. When healthy, Tunsil has proven a legitimate star left tackle, demonstrating a Pro Bowl-caliber combination of initial quickness, balance and power.
3. Vernon Hargreaves III, CB, Florida, 5-11, 198, 4.44, Jr.: An immediate standout in the SEC, Hargreaves combines instincts, agility and controlled aggression to shut down one side of the field in coverage as well as run support. He looks destined to join former Gators corner Joe Haden as a top 10 pick.
4. Myles Jack, OLB, UCLA, 6-1, 232, 4.56, Jr.: Appropriately named given his "Jack"-of-all-trades talent, the Bruins' star has dominated the Pac-12 since stepping onto the field as a true freshman, projecting as an NFL standout at outside linebacker in the 4-3 based on his athleticism, awareness and big-play chops. Jack isn't just splashy, he's also among the surest open-field tacklers in the country.
5. Ronnie Stanley, OT, Notre Dame, 6-6, 315, 5.17, RJr.: Bigger and more durable thus far than Mississippi's Tunsil, Stanley could justifiably be ranked ahead of the Rebels' star. He has allowed just one sack in two seasons on the blind side, winning with initial quickness, a powerful, accurate punch and terrific balance.
6. Jalen Ramsey, CB, Florida State, 6-1, 202, 4.49, Jr.: It was the sophomore, Ramsey, not 2015 draft picks Ronald Darby or P.J. Williams who proved the Seminoles' top defensive back a year ago. Injuries to teammates pushed Ramsey all over the field last year and his versatility shined through, starring at safety, cornerback and even linebacker at times. A freakish athlete with legitimate Olympic hopes and the physicality required for the NFL, Ramsey has the look of a top-10 pick, regardless of where he ultimately lines up in the secondary.
7. Robert Nkemdiche, DT, Mississippi, 6-4, 296, 4.86, Jr.: After signing with the Rebels as the top-rated prep prospect in the country two years ago, Nkemdiche hasn't exactly dominated box scores, averaging "just" 34.5 tackles, including six tackles for loss and two sacks while starting 23 games. Statistics don't reflect Nkemdiche's impact, however, as he faces constant double-teams and possesses an exciting blend of size, power and overall athleticism.
8. DeForest Buckner, DE, Oregon, 6-7, 290, 4.87, Sr.: Sporting a similar frame and physicality as former teammate Arik Armstead (whom San Francisco selected 17th overall in the spring), Buckner is even further along from a technique standpoint. He's never going to lead the league in sacks, but has the size, strength and length to play all over the defensive line, perhaps projecting best as a 3-4 defensive end.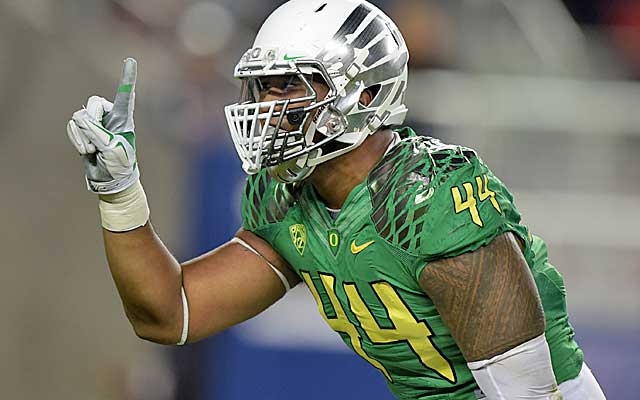 9. Connor Cook, QB, Michigan State, 6-4, 220, 4.89, RSr.: With prototypical size, a strong arm and steady improvement in a pro-style attack, Cook would have followed Jameis Winston and Marcus Mariota as a first-round choice in the 2015 draft. He isn't without flaws; showing sporadic accuracy when pressured forces him to re-set his feet. Cook also faces a daunting challenge in 2015 as his favorite targets -- wide receivers Tony Lippett and Keith Mumphery and running back Jeremy Langford -- are now in the NFL.
10. Tyler Boyd, WR, Pittsburgh, 6-2, 200, 4.47, Jr.: Though leaner than scouts would prefer, Boyd enters his junior campaign as a verifiable superstar who consistently wins due to talent as well as technique. Boyd's quickness and agility make him a threat not only at receiver but in the return game as well, and he possesses the body control and hand-eye coordination to make difficult receptions look easy.
11. Shawn Oakman, DE, Baylor, 6-8, 280, 4.88, RSr.: Boasting a body-builder physique and freakish athleticism, Oakman looks the part of a future All-Pro. At this time, he remains overly reliant on his talent, struggling a bit with leverage and showing limited development of any pass rush repertoire despite his production (11 sacks in 2014) indicating otherwise.
12. Jared Goff, QB, California, 6-4, 210, 4.82, Jr.: There is no denying that head coach Sonny Dykes' up-tempo spread offense has inflated Goff's production (7,481 yards and a 53/17 TD to INT ratio in 24 starts), but the lanky flamethrower offers exciting traits, as well, including impressive accuracy on short and intermediate passes, functional mobility and toughness.
13. Jaylon Smith, OLB, Notre Dame, 6-3, 235, 4.67, Jr.: A remarkably explosive athlete who combines raw power and aggression with fluidity and speed, Smith has top-10 potential. To earn that distinction, however, he needs to show more consistent pursuit angles and open-field tackling.
14. Kendall Fuller, CB, Virginia Tech, 6-0, 197, 4.48, Jr.: A First Team All-ACC pick last season after earning the conference's Defensive Rookie of the Year as a true freshman, Fuller has recorded 26 pass breakups and eight interceptions in just two seasons. Athletic, physical and instinctive, Fuller may prove an even more exciting prospect than older brothers Vincent, Corey and Kyle -- each of whom currently plays in the NFL.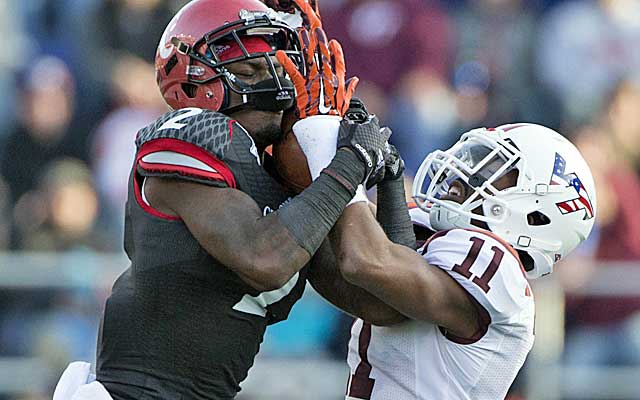 15. Laquon Treadwell, WR, Mississippi, 6-2, 212, 4.52, Jr.: Before suffering a gruesome fracture of his left leg and dislocated ankle in a November loss to Auburn, Treadwell ranked as the top underclassmen receiver in the country. If he can return to form this season, it may not take him long to recapture that distinction as Treadwell possesses an exciting blend of size, speed and savvy as a route-runner and after the catch.
16. Leonard Floyd, OLB, Georgia, 6-3, 232, 4.73, RJr.: Floyd exploded onto the SEC two years ago, racking up 55 tackles, including 9.5 for loss and 6.5 sacks, but his production didn't improve last year as expected (55-8.5-6) despite starting three more games. I'd like to see him add a little more mass but Floyd possesses the first-step explosiveness, length and functional strength to wreak havoc off the edge.
17. Taylor Decker, OT, Ohio State, 6-7, 317, 5.21, Sr.: Too often overshadowed by flashier teammates, Decker checks in as my No. 4 senior prospect regardless of position. While perhaps not as quick off the snap as Tunsil or Stanley, Decker has enough athleticism to potentially remain at left tackle in the NFL while also exhibiting the power, grit and length to project nicely to the right side.
18. Emmanuel Ogbah, DE, Oklahoma State, 6-4, 275, 4.76, RJr.: Like fellow Big 12 defensive end Oakman, Ogbah looks the part of an NFL star but at this time is overly reliant on his natural tools. He registered 17.5 tackles for loss and 11 sacks a year ago and could build upon those numbers by adding a little more variety to his pass rush repertoire.
19. A'Shawn Robinson, DT, Alabama, 6-3, 312, 5.18, Jr.: An anchor befitting the Crimson Tide, Robinson is a powerful two-gap run-stuffer whose frame, strength and schematic versatility could earn first round consideration despite less than eye-popping production (49 tackles, including 6.5 for loss, but zero sacks).
20. Jack Conklin, OT, Michigan State, 6-6, 318, 5.43, RJr.: A former walk-on who has built himself into a future early round pick, Conklin is a favorite among scouts due to his blue collar work ethic and powerful, no-nonsense style. He isn't as agile as some of the other top tackles on this board and, in fact, may be pushed inside at the next level. He's long, powerful and tenacious, however -- traits that make him one of the nation's best run blockers.
21. Ezekiel Elliott, RB, Ohio State, 6-0, 225, 4.42, Jr.: It is easy to dismiss Elliott's video game-like numbers a year ago (he averaged 9.8 yards per attempt in gaining 1,878 yards and scoring 18 touchdowns on the ground) as a function of all the talent around him in Columbus, but Elliott's blend of vision, agility, burst and power would lead to production anywhere. If he can match last year's breakout campaign, Elliott could join Todd Gurley and Melvin Gordon III as a rare back worthy of first-round consideration.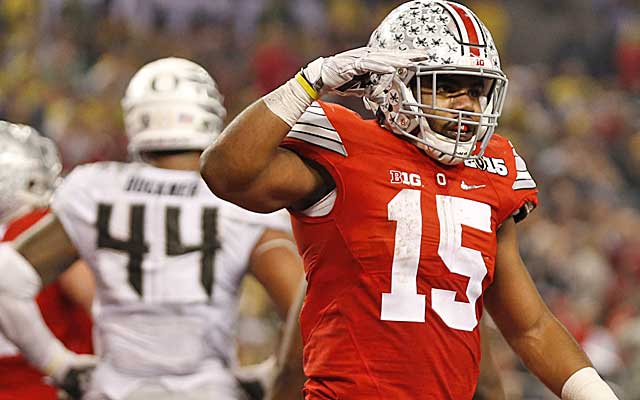 22. Germain Ifedi, OL, Texas A&M, 6-5, 325, 5.34, RJr.: The latest in the A&M train of offensive linemen going full steam ahead to the NFL, Ifedi has experience at left guard, right tackle and left tackle and possesses the mass, light feet and active hands to maintain this versatility at the next level.
23. Anthony Zettel, DT, Penn State, 6-4, 278, 4.84, RSr.: A quick-twitch penetrator in a class filled with powerful run-stuffers, Zettel stands apart from other defensive tackles and not just because of his eye-popping production, which included 42 tackles, 17 tackles for loss, 8.0 sacks, eight passes broken up and three interceptions last season. The former defensive end wins with quickness off the snap as well as active hands, a relentless motor and a knack for finding the ball.
24. Tyler Johnstone, OT, Oregon, 6-6, 295, 5.14, RSr.: Johnstone has to prove his health after twice tearing the ACL in his right knee and missing the entire 2014 season. When healthy, however, he has shown the nimble feet and length teams are looking for at left tackle.
25. Kenny Clark, DT, UCLA, 6-3 308, 5.22, Jr.: A bit overshadowed at UCLA despite a breakout 2014 season that saw him register 58 tackles, including 5.5 for loss, Clark is a no-nonsense run-stuffer with experience at defensive tackle, nose guard and even outside at end. His steady development under former NFL head coach Jim Mora along with positional and schematic diversity has scouts intrigued.
26. Vadal Alexander, OG, LSU, 6-5, 326, 5.39, Sr.: If you're looking for an old-fashioned mauler, Alexander is the offensive lineman in this draft for you. Expected to move back outside to right tackle this fall (where he starred as a freshman) after lining up the past two years at left guard, Alexander is a drive-blocking dynamo, dominating opponents with girth, strength and surprising agility to stalk at the second level.
27. Demarcus Robinson, WR, Florida, 6-1, 197, 4.54, Jr.: Named Florida's Offensive MVP as a true sophomore, Robinson could be on the verge of a true breakout campaign in 2015 as the featured target in new head coach Jim McElwain's pro-style attack. Robinson's quickness, agility and acceleration make him a legitimate threat to rack up yards after the catch.
28. Tre'Davious White, CB, LSU, 5-11, 191, 4.48, Jr.: Few programs can match LSU's regular production of NFL defensive backs and White is as fluid in coverage as any of the past Tigers, including current Arizona Cardinals Patrick Peterson and Tyrann Mathieu. While a dynamic cover corner, White must show better grit in run support in 2015 to justify this lofty ranking.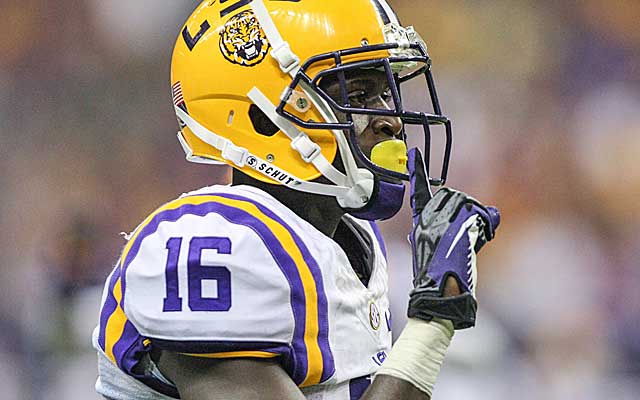 29. Michael Thomas, WR, Ohio State, 6-3, 210, 4.54, RJr.: Thomas doesn't get the same recognition or opportunities as other big receivers like Auburn's Duke Williams, Notre Dame's Corey Robinson or Clemson's Mike Williams, but he is surprisingly polished as a route-runner and downfield blocker and possesses a combination of agility and strength to create yards after the catch.
30. Max Tuerk, OL, Southern Cal, 6-6, 285, 5.12, Sr.: With a frame that looks better suited to left tackle or even tight end, Tuerk isn't your traditional short, squatty center, but that's precisely where he starred a year ago for the Trojans and will remain there in 2015. Regardless of his ultimate position in the NFL, Tuerk's blend of length, initial quickness and agility is sure to excite offensive line coaches.
31. Cardale Jones, QB, Ohio State, 6-5, 250, 4.76, RJr.: Sure, he only has three starts under his belt, is surrounded by talent and may very wind up behind J.T. Barrett on the Buckeyes' depth chart, but there isn't a quarterback in the country with a more intoxicating blend of physical traits than Jones. Massive, athletic and owning an arm deserving of his "12 Gauge" nickname, Jones could shoot up boards in much the same way that Cam Newton did five years ago despite the fact that he remains very raw.
32. Christian Hackenberg, QB, Penn State, 6-4, 236, 4.78, Jr.: Hackenberg offers an intriguing blend of size and arm strength, but a big reason for his struggles last season were due to his own inconsistencies rather than poor blocking and young receivers, as many have suggested. Hackenberg doesn't consistently step into his throws, resulting in scattershot accuracy. Only because the footwork (and thus accuracy) is potentially correctable am I keeping the true junior among my top 32. Unless he shows vastly improved ball placement in 2015, Hackenberg will be best served returning for his senior campaign.