Offensive linemen rarely get much attention, but given the relative struggles of early first-round blockers Eric Fisher (Kansas City), Luke Joeckel (Jacksonville) and Jake Matthews (Atlanta), it is somewhat understandable that the 2015 group is being overlooked.
There is a perception that Iowa's Brandon Scherff, LSU's La'el Collins and Miami's Ereck Flowers will all have to change positions in the NFL after starring at left tackle in college. All three could handle remaining on the blind side, though the opportunity to be better at an earlier stage in their careers is at right tackle or guard. While perhaps not future All-Pro pass blockers, each boasts the traits I feel are most important to successful offensive line play in the NFL -- size, power and tenacity.
I'm as intrigued as anyone in the upside of Florida's D.J. Humphries, Pittsburgh's T.J. Clemmings and Stanford's Andrus Peat. For teams looking for safer, more immediate fits, however, Scherff, Collins and Flowers are the blockers deserving of top-20 consideration.
Below are my personal rankings of the top 64 prospects available in the 2015 draft.
1. Jameis Winston, QB, 6-4, 231, 4.97, rSo, Florida State: Winston's off-field issues are certainly a concern. There is no denying his talent or the importance of the quarterback position in today's NFL. Winston possesses a prototypical combination of physical traits necessary for success in the NFL, including the size, functional mobility, arm strength and accuracy. Better yet, he enhances these tools with awareness, on-field composure and natural leadership skills. Barring a meltdown over the next two months, Winston will be the Tampa Bay Bucs' choice with the No. 1 overall selection.
2. Leonard Williams, DT, 6-5, 302, 4.97, Jr, Southern Cal: Strong, athletic and passionate, the Trojans' star is earning comparisons to everyone from Houston Texans' defensive end J.J. Watt to Tampa Bay Buccaneers defensive tackle Gerald McCoy for his ability to dominate the line of scrimmage while alternating between defensive tackle and defensive end. He's too quick for guards and too strong for tackles, wreaking havoc along the line of scrimmage against the run and pass.
3. Dante Fowler Jr., DE, 6-3, 261, 4.60, Jr, Florida: A talented pass rusher with experience at outside linebacker and all over the defensive line, Fowler is an intriguing athlete with range, strength and flexibility. He isn't as explosive off the snap or productive as some of the other pass rushers, but is the most pro-ready.
4. Marcus Mariota, QB, 6-4, 222, 4.52, rJr, Oregon: As one of the few in the media who attended both Mariota's throwing session at the combine and his pro day workout, I can tell you that there were gains made in his accuracy while dropping back from center -- critical to success in a pro-style offense. Mariota is a work in progress, but he offers a rare combination of physical talent and work ethic.
5. Amari Cooper, WR, 6-1, 211, 4.42, Jr, Alabama: Cooper's production this season looks like something out of a video game. Alabama's first Biletnikoff Award winner, Cooper shattered Alabama records with 124 receptions for 1,727 yards and 16 touchdowns, including two scores against the Buckeyes in the Sugar Bowl loss. It isn't just the production in Lane Kiffin's pro-style scheme that has scouts excited. Cooper is a terrific route-runner whose agility and acceleration make his elusiveness appear almost effortless.
6. Brandon Scherff, OT, 6-5, 319, 5.05, rSr, Iowa: Scherff may just prove to be the best in the long line of blockers tutored by Hawkeyes coach Kirk Ferentz, which is quite an accomplishment considering that 13 Iowa offensive linemen have been drafted since he took over in 1999. Scherff won big points with scouts for his toughness, battling back from a torn meniscus and corrective surgery on Sept. 8 to start against rival Iowa State five days later. Team doctors want to check his recovery, though he certainly looked good March 23 at his pro day. Scherff is powerful, tough and tenacious, and I see him as one of the "safer" prospects in the draft, though his ultimate position in the NFL could be at right tackle or guard.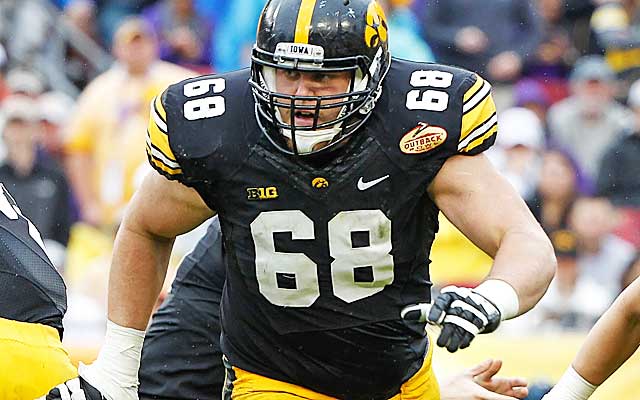 7. Danny Shelton, DT, 6-2, 339, 5.64, Sr, Washington: Broad-shouldered, powerful and surprisingly passionate in pursuit, Shelton is a classic two-gap run defender with the gaudy statistics to catch the attention of scouts. He has flashed first-round talent throughout his career but played at a different level as a senior, boosting his stock considerably. Shelton was nearly unstoppable during Senior Bowl practices, cementing his top 10 status.
8. Vic Beasley, OLB, 6-3, 246, 4.53, rSr, Clemson: With pressure on the quarterback priority No. 1 on defense, teams are more willing than ever to trade size for speed at the position. Like recent "undersized" first-round rushers Von Miller, Bruce Irvin, Barkevious Mingo and Dee Ford, Beasley boasts a lightning-quick first-step and the agility to stalk mobile quarterbacks. His combination of speed and strength (35 repetitions of 225 pounds) demonstrated at the combine shows up on tape, as Beasley leaves Clemson as the school's all-time sacks leader (29).
9. Kevin White, WR, 6-3, 215, 4.35, Sr, West Virginia: No player improved his draft stock more in 2014 than White. It wasn't just his production (110 catches for 1,447 yards and 10 touchdowns) that is impressing scouts. White's size, strength and ability to come down with contested grabs is something that every team in the NFL is looking for at the receiver position. While the eye-popping 40-yard dash time at the combine is sure to generate buzz, I didn't always see this kind of speed from White on tape.
10. Landon Collins, SS, 6-0, 228, 4.53, Jr, Alabama: Instinctive, athletic and an explosive hitter, Collins looks the part of a top-10 pick. His downhill-playing style might be best suited to strong safety as he has been fooled deep on occasion this year due to his aggression. Further, scouts are certainly aware of the fact that few of the highly drafted few defensive backs out of Alabama have performed as brilliantly in the NFL as they did for Nick Saban.
11. La'el Collins, OT, 6-4, 305, 5.12, Sr, LSU: Collins doesn't get the national attention of other tackles in this class, but the big man is surprisingly agile in pass protection and is a mauler in the running game. Collins isn't an elite athlete and will likely wind up inside at guard or right tackle in the NFL rather than at his customary left tackle position. He has the square build and physical nature to handle the move and saw snaps at left guard in Mobile.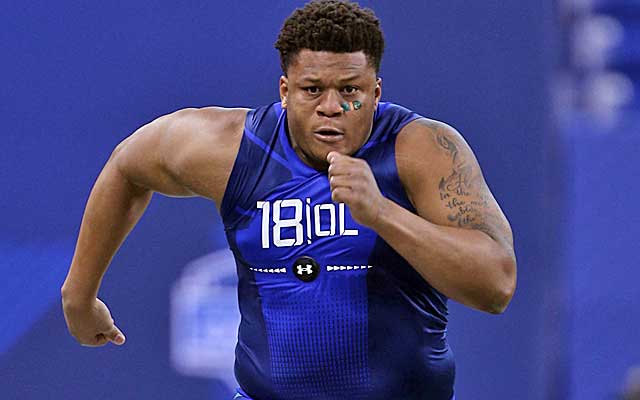 12. DeVante Parker, WR, 6-3, 209, 4.45, Sr, Louisville: A broken left foot sidelined Parker for the first seven games of the 2014 season but he returned with a vengeance, averaging seven receptions for 140 yards and a touchdown in his six games, including a Belk Bowl loss to Georgia. Parker can win with his height and ability to high-point passes. He also has impressive fluidity and acceleration for a receiver of his size.
13. Randy Gregory, DE, 6-5, 235, Jr, 4.64, Nebraska: Attacking off the edge out of the two- or three-point stance, Gregory has proven to be a natural pass rusher with an explosive get-off, flexibility, long arms and active hands and the tenacious style of play (including against the run) that will endear him to coaches. Though he showed terrific agility during drills to project nicely as a 3-4 rush linebacker, his thin frame is one of several concerns scouts have about Gregory. He wasn't as effective a year ago as he was in 2013 and raised more questions than answers during interviews with teams at the combine.
14. Trae Waynes, CB, 6-0, 186, 4.31, rJr, Michigan State: Waynes erased any doubts about his athleticism by blazing through the 40-yard dash at the Combine. He possesses the length, fluidity and ball skills required of cornerbacks in today's pass-happy NFL and is stouter against the run than his frame implies.
15. Ereck Flowers, OT, 6-6, 329, 5.31, Jr, Miami (Fla.): Flowers played left tackle at Miami but may need to move to the right side in the NFL. Despite his massive frame, Flowers is light on his feet and balanced in pass protection. He is aggressive and active as a run blocker, including looking for defenders in pursuit - offering precisely the type of "nastiness" scouts prefer.
16. Shane Ray, DE, 6-3, 245, 4.54, Jr, Missouri: Ray was unable to match the phenomenal combine workouts from Beasley and Gregory at his March 19 Pro Day and has slipped down my board as a result. It is important to remember his tape. This is the reigning SEC Defensive Player of the Year -- he led the power conference with 14.5 sacks and 21.5 tackles for loss in his first season as a starter. However, the extra 15 pounds that Ray put on for his workout robbed him of some of his speed and explosiveness (33-inch vertical) and scouts on hand questioned his weight distribution, noting his thin legs and narrow hips that may limit the weight Ray can gain and force him to play linebacker in the NFL.
17. Dorial Green-Beckham, WR, 6-5, 237, 4.49, rJr, Oklahoma: His split surname is appropriate as the former Missouri and Oklahoma wideout possesses the height and grace of Cincinnati's All-Pro A.J. Green and the ability to make the ridiculous catch look easy, ala the Giants' star rookie Odell Beckham, Jr. The character concerns that prompted Green-Beckham's transfer from Missouri certainly require thorough investigating.
18. Alvin "Bud" Dupree, DE, 6-4, 269, 4.56, rSr, Kentucky: The Wildcats may not have the history of churning out high-end defenders of some other SEC teams, but that won't stop Dupree from earning a first round selection. Dupree's length, agility and closing speed stand out on tape, as does his comfort playing out of the two- or three-point stance. Better yet, his traits translate into production against quality competition. Dupree leaves Kentucky with 24 sacks over his career, more than any other player in the SEC.
19. Eddie Goldman, DT, 6-4, 336, 5.28, Jr, Florida State: Teams are willing to gamble on difference-makers along the defensive line almost as much as they are quarterbacks, and no defensive tackle captured the imagination of scouts more than the massive Goldman this season. Goldman is broad, powerful and surprisingly athletic, having stood at defensive end in 2013 before making the switch back inside as a junior.
20. Marcus Peters, CB, 6-0, 197, 4.53, Jr, Washington: On the field, Peters is the top cornerback in the class. His aggression, length and ball skills (11 career interceptions) are clearly first-round caliber. His character is a legitimate concern, however. I've been told by a few teams that Peters is off their board as he was dismissed by new Washington head coach Chris Peterson Nov. 6 and was suspended by the previous staff for the first quarter of the 2012 Kraft Fight Hunger Bowl, as well.
21. T.J. Clemmings, OT, 6-5, 309, 5.14, rSr, Pittsburgh: Clemmings made steady progress at right tackle since making the jump from defensive end two years ago, demonstrating an exciting combination of length, agility and tenacity. He remains quite raw, however - something that the polished defensive ends at the Senior Bowl took full advantage of. Clemmings' upside will earn him a first-round selection, but the team that selects him will need to be patient as he learns the finer points of the position.
22. Malcom Brown, DT, 6-2, 319, 5.05, Jr, Texas: Much quicker than his well-proportioned frame would indicate, Brown proved a relative bright spot in 2014 for the Longhorns, earning consensus All-American honors with 72 tackles, 15 tackles for loss, 6.5 sacks and two forced fumbles. Though Brown is leaving Austin as just a junior, the NFL may be impressed with his maturity, as he's married with two children.
23. Andrus Peat, OT, 6-7, 313, 5.18, Jr, Stanford: Peat signed with Stanford as a five-star recruit and possesses the combination of size and athleticism scouts drool over, so it is quite possible that he'll be drafted much higher than I grade him. However, he experienced notable lapses as a junior, from getting blown up by Notre Dame and struggling mightily against Utah's Nate Orchard. Peat's upside warrants early consideration but unless he develops more nastiness to his play, there is doubt that he will fulfill his potential.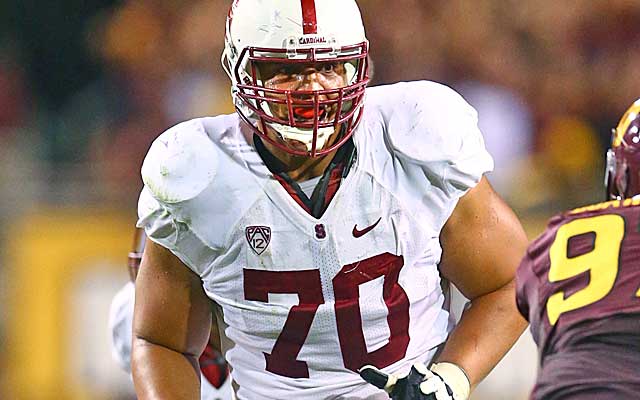 24. Owamagbe Odighizuwa, DE, 6-3, 267, 4.62, rSr, UCLA: Overshadowed by some of UCLA's "other" talent, Odighizuwa quietly recorded 61 tackles, including 11.5 tackles for loss in 2014 and followed that up with a strong performance during Senior Bowl week and a dynamite combine. Odighizuwa possesses an NFL-ready frame, a quick first step and good power to hold up against the run. The biggest concern is the medical. He's undergone surgery on both hips, missing the entire 2013 season.
25. Cameron Erving, OL, 6-5, 313, 5.15, rSr, Florida State: In making a seamless transition from left tackle to center, Erving won the ACC's Jacobs Blocking Trophy as the conference's top blocker after winning the same award last year at the blind side. He also captured the imagination of scouts, who see Erving's length, agility and selflessness as traits that could help him play any of the five spots along the offensive line.
26. Maxx Williams, TE, 6-4, 249, 4.78, rSo, Minnesota: Though just a redshirt sophomore, it is easy to see Williams' talent, as he boasts a solid frame with good acceleration and overall athleticism, soft hands and the grit to hold up as an inline blocker. He has a long way to go before warranting the hype, but comparisons to Dallas Cowboys' star Jason Witten aren't far off.
27. Eric Kendricks, OLB, 6-0, 232, 4.61, rSr, UCLA: Given today's pass-happy offenses, NFL defenses are desperate for three-down linebackers. Like his older brother Mychal with the Philadelphia Eagles, Kendricks lacks prototypical size but his athleticism, instincts and ball-skills could earn him first round consideration.
28. Jaelen Strong, WR, 6-2, 217, 4.44, rJr, Arizona State: The aptly-named Strong uses his well-built frame, body control and hand-eye coordination to win contested and eliminated any concerns about his pure athleticism with a speedy 40-yard dash and explosive vertical jump (42 inches). Strong doesn't get the buzz of some of the other receivers in this class but he's a first round pick in my book.
29. Danielle Hunter, DE, 6-5, 252, 4.57, Jr, LSU: Hunter sports a lanky build, but he is surprisingly strong at the point of attack and uses his length and lateral agility very well to harass quarterbacks -- rushing after them or batting down passes at the line of scrimmage. Hunter knocked down three passes, for example, against Alabama. Like many of the pass rushers on this list, Hunter is a work in progress but his exciting skill-set and the value of his position in today's NFL could push him into the first round.
30. Melvin Gordon, RB, 6-1, 215, 4.52, rJr, Wisconsin: Gordon slips a few spots on my board as, frankly, I thought he'd run faster in Indianapolis. The tape shows rare acceleration for a back of his size, however, as well as the balance and vision to turn any "touch" into a touchdown.
31. Todd Gurley, RB, 6-1, 222, 4.52, Jr, Georgia: Boasting a combination of size, power, balance and acceleration to warrant comparison to Seattle's superstar Marshawn Lynch, Gurley is the most gifted running back in the class of 2015. To earn a first-round selection, however, he'll need to convince the NFL of his health after electing not to fully participate in the medical evaluations at the Combine.
32. Shaq Thompson, OLB, 6-0, 228, 4.64, Jr, Washington: Boasting terrific athleticism, instincts and awareness, Thompson has proven a standout wherever he's played for the Huskies, earning him the Paul Hornung Award as the nation's most versatile player. While not as stout as preferred, Thompson's fluidity, reliable open-field tackling and big play moxie could earn him a hybrid linebacker/safety role.
The Next 32:
Preston Smith
, DE, 6-5, 271, 4.74, Sr, Mississippi State
Eli Harold
, OLB, 6-3, 247, 4.60, Jr, Virginia
D.J. Humphries, OT, 6-5, 307, 5.12, Jr, Florida
Breshad Perriman
, WR, 6-2, 212, 4.52, rJr, Central Florida
Nelson Agholor
, WR, 6-0, 198, 4.42, Jr, Southern Cal
Kevin Johnson
, CB, 6-0, 188, 4.52, rSr, Wake Forest
P.J. Williams, CB, 6-0, 194, 4.57, Jr, Florida State
Jake Fisher
, OT, 6-6, 306, 5.01, Sr, Oregon
Grady Jarrett
, DT, 6-1, 304, 5.06, Sr, Clemson
AJ Cann
, OG, 6-3, 313, 5.18, Sr, South Carolina
Devin Smith
, WR, 6-0, 196, 4.42, Sr, Ohio State
Sammie Coates
, WR, 6-1, 212, 4.43, Jr, Auburn
Byron Jones
, CB, 6-1, 199, 4.45 (est), Sr, Connecticut
Daryl Williams
, OT, 6-5, 327, 5.34, rSr, Oklahoma
Nate Orchard
, DE, 6-3, 250, 4.80, Sr, Utah
Quinten Rollins
, CB, 5-11, 195, 4.57, rSr, Miami (Ohio)
Ameer Abdullah
, RB, 5-09, 205, 4.60, Sr, Nebraska
Mario Edwards
, Jr., DE, 6-3, 279, 4.84, Jr, Florida State
Donovan Smith
, OT, 6-6, 341, 5.15, Jr, Penn State
Jay Ajayi
, RB, 6-0, 221, 4.57, rJr, Boise State
Arik Armstead
, DT, 6-7, 292, 5.10, Jr, Oregon
Brett Hundley
, QB, 6-3, 226, 4.63, rJr, UCLA
Ty Sambrailo
, OT, 6-6, 311, 5.36, rSr, Colorado State
Laken Tomlinson
, OG, 6-3, 323, 5.33, rSr, Duke
Michael Bennett
, DT, 6-2, 293, 4.96, Sr, Ohio State