Denver Broncos outside linebacker Von Miller dominated the Carolina Panthers to take home Super Bowl MVP honors and perhaps help Peyton Manning retire a champion. Expect the copycat NFL to follow the path the Broncos set by seeking upgrades on the edge.
As good fortune would have it, the class of 2016 is loaded with playmakers, and outside linebacker competes only with defensive tackle as the best position group in this year's draft. The Big Board isn't just another mock draft. No attention is paid to team needs or upcoming free agency. This is my personal ranking of the top 32 prospects available in the 2016 NFL Draft, along with eight others who just missed the cut.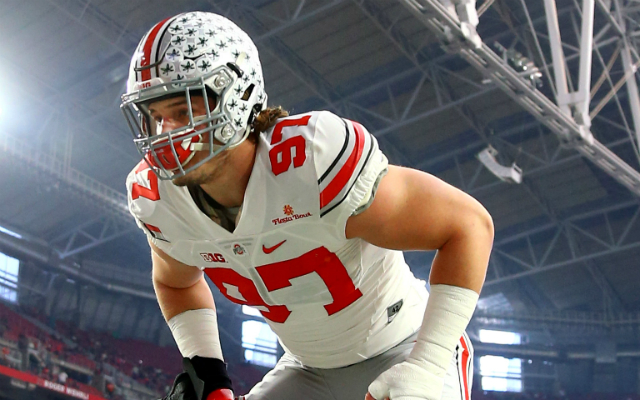 1. Joey Bosa, DE, Ohio State, 6-5, 275, 4.82, Junior: Bosa isn't the dominant edge rusher his hype might suggest but no one in this class is better at a more important position. Powerful, athletic, technically sound and ultra-competitive, Bosa is a threat to make a big play on every snap, whether it be rushing the passer or defending the run. He projects best in the left defensive end role in which he's starred for much of his career with the Buckeyes but has experience rushing out of the two-point stance, as well. He is agile and instinctive enough to handle the transition to a 3-4 alignment should the team lucky enough to get him favor that approach.
2. Laremy Tunsil, OT, Mississippi, 6-5, 305, 5.23, Junior: Tunsil was suspended for the first seven games of the season by the NCAA for multiple rules violations that include accepting improper benefits. Since he has returned, Tunsil shut down first-round caliber pass rushers in Texas A&M's Myles Garrett, Auburn's Carl Lawson and Oklahoma State's Emmanuel Ogbah (No. 11 overall on this list) in the Sugar Bowl. Tunsil possesses a remarkable combination of size, agility and strength that has scouts comparing him to Philadelphia Eagles All-Pro Jason Peters.
3. Jalen Ramsey, CB, Florida State, 6-1, 202, 4.49, Junior: A freakish athlete with legitimate Olympics hopes and the physicality required for the NFL, Ramsey is the best of a strong draft for defensive backs. He has starred at safety, cornerback and even linebacker over his three seasons with the Seminoles, standing out on tape regardless of the position he played.
4. Myles Jack, OLB, UCLA, 6-1, 222, 4.56, Junior: The NFL will have to carefully evaluate Jack's health after UCLA announced Oct. 6 that the true junior was leaving for the pros despite suffering a season-ending knee injury. The decision was bold but not reckless. Put simply, Jack is a "natural" whose fluidity, instincts and knack for game-breaking plays made him the only player in Pac-12 history to be named both the Offensive and Defensive Freshman of the Year in 2013. Given Jack's talent and the gains made in player recovery from surgeries, Jack remains very much in the early first round conversation despite his injury.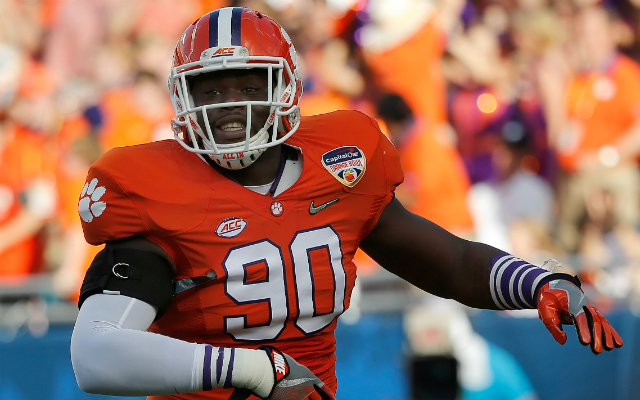 5. Shaq Lawson, DE, Clemson, 6-3, 275, 4.64, Redshirt Junior: Battling through a knee injury, Lawson teamed with fellow Tigers defensive end Kevin Dodd to record five sacks (three from Dodd) in the national championship game. Quick off the ball, powerful and tenacious, he's a threat on every snap, leading the country with 25.5 tackles for loss this season. Better yet, with only one starting season under his belt, Lawson may only be scratching the surface of his potential.
6. Ronnie Stanley, OT, Notre Dame, 6-6, 315, 5.17, Redshirt Junior: Stanley has the length, agility and balance to remain at left tackle in the NFL, where he's starred the past three seasons for the Irish. Stanley isn't as powerful or tenacious a run blocker as my top-rated tackle (Tunsil) but he's athletic, technically sound and battle-tested.
7. DeForest Buckner, DE, Oregon, 6-7, 290, 4.87, Senior: All of the attention goes to Vernon Adams III and Oregon's offense but the imposing Buckner was one of the few consistent bright spots for the Ducks this season, earning the most votes from Pac-12 blockers to win the Morris Trophy as the conference's top defensive linemen. Buckner isn't an explosive edge rusher but his length, strength and balance will intrigue coaches at the next level, especially as a five-tech defensive end. He's my top-rated senior, regardless of position.
8. Laquon Treadwell, WR, Mississippi, 6-2, 212, 4.52, Junior: Just over a year removed from a horrific leg injury that some thought might threaten his career, Treadwell was one of three finalists for the Biletnikoff Award as the nation's top receiver and unlike eventual winner Corey Coleman (29th on this list), Treadwell got better as the season progressed. Some are concerned about his top-end speed, but Treadwell's NFL-ready frame, body control and raw power make him a frightening draw as a receiver and downfield blocker.
9. Ezekiel Elliott, RB, Ohio State, 6-0, 225, 4.42, Junior: Elliott isn't the second-coming of Todd Gurley, but he's clearly the top draft-eligible back this year, showing the vision, burst, power and balance to be a workhorse in the NFL. Elliott is a gifted runner but he's just as effective on third down, showing soft hands and savvy as a receiver and the best awareness and competitiveness as a blocker as any back I've scouted in many years.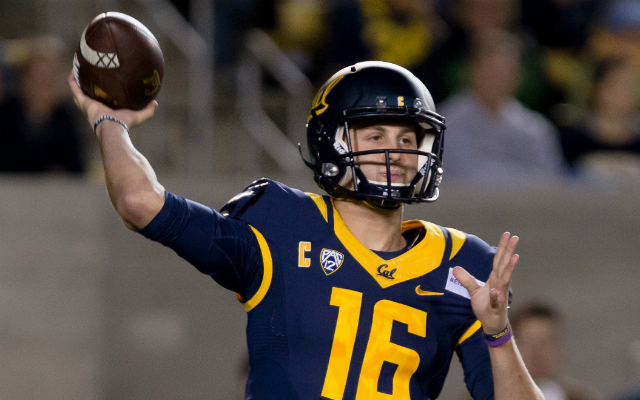 10. Jared Goff, QB, California, 6-4, 210, 4.82, Junior: Anything less than a sparkling performance against Air Force in the Armed Forces Bowl would have sent up red flags. Goff sealed the deal in completing 25 of 37 passes for 467 yards and six touchdowns without an interception to give Cal its first bowl win since 2008. Sure, coach Sonny Dykes' up-tempo spread offense has inflated Goff's production but of the quarterbacks potentially available in the 2016 draft, the lanky junior offers the best combination of awareness, functional mobility, accuracy and toughness -- the traits I believe are the best indicators of future success at this position for the NFL.
11. Robert Nkemdiche, DT, Mississippi, 6-4, 296, 4.86, Junior: Nkemdiche -- and his draft stock -- took a dip Dec. 12 when police found him hurt after falling through a hotel room window. On its own, the fall might be just a bizarre accident. Frankly though, there were scouts worried about Nkemdiche's commitment prior to the incident, which earned him a citation from Atlanta police for marijuana possession and led to Rebels head coach Hugh Freeze suspending Nkemdiche for the Sugar Bowl. Even with growing concerns about his decision-making, Nkemdiche remains in my top 10 prospects. He might just be the most gifted prospect in the country, boasting a combination of power and athleticism sure to intrigue every team in the league.
12. Jarran Reed, DL, Alabama, 6-3, 313, 5.14, Senior: Country-strong with tree trunks for thighs and long arms, Reed is a classic two-gap run-stuffer stout enough to play inside at defensive tackle or outside at end. He's not a quick-twitch pass rusher who'll ever lead the team in sacks but he changes directions surprisingly well for a big man, accelerates smoothly and hustles to the ball. Reed wasn't as flashy as some of the pass rushers at the Senior Bowl but he was virtually immovable.
13. Vernon Hargreaves III, CB, Florida, 5-11, 198, 4.44, Junior: A rare three-time First Team All-SEC pick, Hargreaves combines instincts, agility and controlled aggression to shut down one side of the field in coverage. He lived off of his reputation a bit this season, biting on double-moves to give up big yardage in both the SEC Championship and Citrus Bowl. Hargreaves doesn't possess ideal size, but he's highly aggressive, which includes fighting off blocks and looking to tackle backs in run support. Further, he possesses excellent ball skills, as his 10 career interceptions can attest.
14. Mackensie Alexander, CB, Clemson, 5-10, 195, 4.43, Redshirt Sophomore: Alexander gamely battled through a hamstring injury early on against Alabama but was ultimately forced to the sideline, missing the entire second half. Sporting an athletic, compact frame more like a running back than most corners, Alexander already passes the eye test. He doesn't have the preferred height but offers excellent man-to-man cover skills.
15. Carson Wentz, QB, North Dakota State, 6-5, 231, 4.85, Senior: Wentz wasn't highly recruited out of high school but he grew into a legitimate first rounder for FCS powerhouse NDSU and silenced critics (including me) at the Senior Bowl. Wentz checked a lot of the boxes required of a franchise signal-caller in Mobile, wowing with his physical traits and intangibles and he may very well wind up a top five pick. It is worth noting, however, that Wentz started just 24 games over his career (including just one against an FBS opponent) and that the Bison went 8-0 this season without him while he recovered from a broken wrist.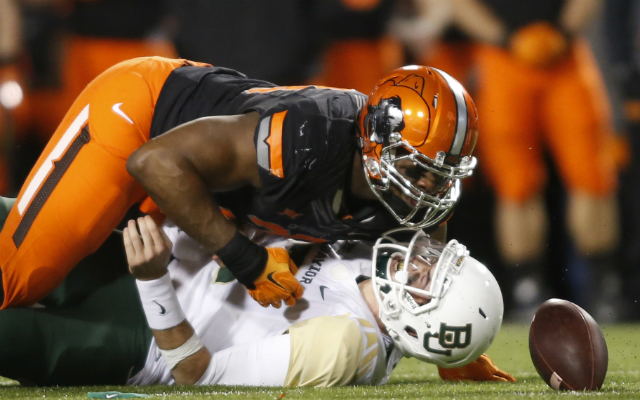 16. Emmanuel Ogbah, DE, Oklahoma State, 6-4, 275, 4.76, Redshirt Junior: Ogbah was recognized by Big 12 coaches as the conference's top defensive lineman a year ago and was even better this season, leading the Cowboys in tackles for loss (17.5), sacks (13) and forced fumbles (three) to earn co-honors with Baylor DT Andrew Billings (18th on these rankings). Ogbah isn't just productive, he's gifted and versatile, boasting an exciting length, power and agility.
17. A'Shawn Robinson, DT, Alabama, 6-3, 312, 5.18, Junior: The stoutest of Alabama's thread-headed monster along the defensive line, Robinson is viewed by some scouts as the top two-gap defensive lineman in the country. Robinson is surprisingly agile for his size but his game is all about power. Though he recorded just three tackles against Clemson, Robinson made a huge impact, clogging up running lanes and serving as a fullback in short yardage situations.
18. Andrew Billings, DT, Baylor, 6-1, 300, 5.04, Junior: Given the success of Aaron Donald, Jurrell Casey and similarly "undersized" defensive tackles in the NFL, it is easy to get excited about the Billings, whose bowling ball style can be tough for offensive linemen to handle. Billings' statistics are deceptive -- he just might be the most disruptive defensive lineman in college football. After careful deliberation, on Jan. 12, Billings announced his intention to leave early for the NFL.
19. Jaylon Smith, OLB, Notre Dame, 6-3, 235, 4.67, Junior: Smith looked all but certain to be the earliest selected defender from Notre Dame since Bryant Young (seventh overall in 1994) until suffering a "significant" knee injury in the Fiesta Bowl. Prior to the injury, some scouts considered the junior to be the best player in the country and as such, he remains firmly on my board, despite his pending surgery. While his medical grade obviously impacts Smith's grade, the tape shows a position and scheme-versatile player with an explosive combination of speed and power.
20. Noah Spence, DE/OLB, Eastern Kentucky, 6-3, 254, 4.68, Redshirt Junior: While Wentz was the obvious center of attention in Mobile, Spence was the best player on the field, exploding past would-be blockers whether lining up from the two or three point stance. Spence is the elite edge rusher of this class, possessing the potential to record 10 sacks per season. He comes with well-documented character red-flags, however.
21. Taylor Decker, OT, Ohio State, 6-7, 317, 5.21, Senior: They don't come much safer than Decker, the Big Ten's Offensive Lineman of the Year. Massive and athletic, he has enough agility to potentially remain at left tackle in the NFL, plus the power, grit and tenacity to project nicely to the right side.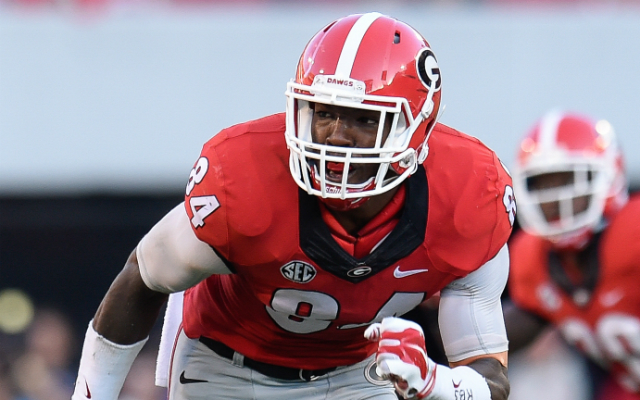 22. Leonard Floyd, OLB, Georgia, 6-3, 232, 4.73, Redshirt Junior: Floyd emerged as one of the SEC's most-feared edge rushers over the past two seasons, beating opponents with first-step explosiveness, length and surprising functional strength for his relatively slim frame. He was asked to play off the line of scrimmage more often in 2015 and while the positional versatility could theoretically help his stock, Floyd has looked hesitant in his new role.
23. Kenny Clark, DT, UCLA, 6-3, 308, 5.22, Junior: Clark doesn't get as much national attention as Nkemdiche or Billings, who are superior athletes. He has proven a standout since Day One for the Bruins and is viewed by some scouts as the safest of the trio. He is an assignment-sound tough guy with the broad frame and power to plug holes in the running game, projecting nicely to any defensive front.
24. Sheldon Rankins, DT, Louisville, 6-2, 304, 4.93, Senior: Rankins may lack ideal bulk but there isn't a defensive tackle in this class with a better combination of agility and active hands, which is why some scouts have compared him to Rams star Aaron Donald. While that may be a bit hyperbole, with the value of interior pass rushers at an all-time high given today's quick-hitting passing attacks, Rankins could enjoy a steady rise up boards as the draft approaches the same way that Donald did two years ago.
25. Darron Lee, OLB, Ohio State, 6-1, 234, 4.65, Redshirt Sophomore: A former safety and 195-pound quarterback in high school, Lee has grown into a fierce run and hit linebacker with the combination of instincts, physicality and agility to project as a true three down defender in the NFL. Lee remains a bit raw with just two seasons at his "new" position but his versatile skill-set and upside will be highly valued in the NFL.
26. Jack Conklin, OT, Michigan State, 6-6, 318, 5.43, Redshirt Junior: A former walk-on, Conklin is a favorite among scouts due to his blue collar work ethic and powerful, no-nonsense style. He isn't as agile as some of the other top tackles on this board and may be pushed inside at the next level. He's long, powerful and tenacious, however -- traits that make him one of the nation's best run blockers. Conklin was one of the few Spartans to play well against Alabama in the Cotton Bowl.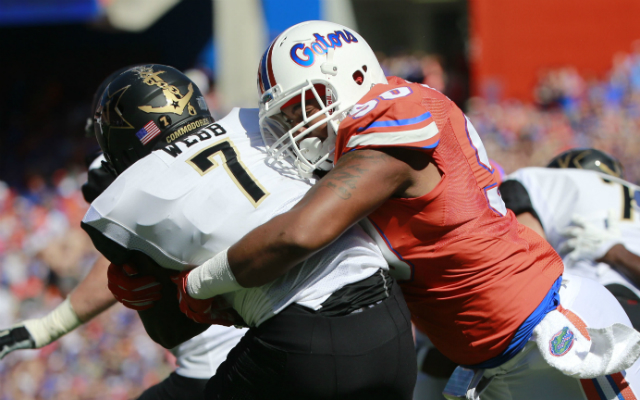 27. Jonathan Bullard, DE, Florida, 6-3, 283, 4.86, Senior: Bullard is aptly named as he possesses brute strength to control opponents at the point of attack, gumming up rushing lanes. He's quick enough to challenge the corner and split gaps but isn't a traditional speed rusher. Bullard inspired this season by playing through shoulder and knee injuries to emerge as Florida's most consistent defender.
28. Kendall Fuller, CB, Virginia Tech, 6-0, 197, 4.50, Junior: Like Jack (No. 4 overall on this board), Fuller elected to forego his final year of amateur eligibility despite missing virtually the entire season due to a knee injury and subsequent surgery. The younger brother of former Virginia Tech standouts and current NFL players Vincent, Corey and Kyle Fuller, Kendall is a fluid and savvy defender whose instincts and poise when the ball is in the air helped him record eight interceptions and an NCAA-best 34 pass breakups in his first two seasons at Virginia Tech.
29. Corey Coleman, WR, Baylor, 5-10, 190, 4.45, Redshirt Junior: After racing to an eye-popping 20 touchdowns over the first eight games of the 2015 season, Coleman was kept out of the end zone the rest of the year. While Coleman's blinding speed makes him a perfect fit in coach Art Briles' vertical attack, he's more than just a big-play threat, showing the combination of strength, agility and vision to make plays underneath, as well.
30. Eli Apple, CB, Ohio State, 6-1, 200, 4.53, Redshirt Sophomore: The third redshirt sophomore (and fifth Buckeye) on my list, Apple could sneak into the first round based on his exciting potential. Apple has size, athleticism and physicality, projecting best in a press scheme because his aggression and length.
31. Vernon Butler, DT, Louisiana Tech, 6-4, 325, 5.06, Senior: Turning down SEC teams to sign with the Bulldogs out of high school, Butler quietly but steadily developed over his collegiate career. There was nothing quiet about his play at the Senior Bowl, however, where Butler consistently blew up the middle with his quick burst, over-arm swim move and high-revving motor.
32. Reggie Ragland, ILB, Alabama, 6-2, 259, 4.72, Senior: Ragland is a classic thumper in the middle with the instincts, physicality and reliable tackling to start immediately. I do have some reservations about his ability to remain on the field on third down, however, as Ragland doesn't possess ideal fluidity or speed for coverage or the burst and bend to consistently get home as an edge rusher.
Just Missed The Cut:
33. Jason Spriggs, OT, Indiana, 6-6, 301, 5.17, Senior
34. Michael Thomas, WR, Ohio State, 6-3, 210, 4.54, Redshirt Junior
35. Joshua Perry, OLB, Ohio State, 6-4, 253, 4.67, Senior
36. Germain Ifedi, OT, Texas A&M, 6-5, 325, 5.34, Junior
37. Braxton Miller, WR, Ohio State, 6-1, 204, 4.42, Redshirt Senior
38. Shon Coleman, OT, Auburn, 6-6, 313, 5.18, Redshirt Junior
39. Su'a Cravens, OLB, Southern California, 6-1, 225, 4.58, Junior
40. Ryan Kelly, C, Alabama, 6-4, 297, 5.23, Redshirt Senior