A pair of Big 12 showdowns are getting more attention, but the matchup NFL scouts are most anxious to see Saturday takes place in the Big Ten when Connor Cook and the Michigan State Spartans travel to Columbus to face Joey Bosa and the defending champion Ohio State Buckeyes.
Bosa, Cook and Heisman hopeful running back Ezekiel Elliott are just some of the biggest names in a game with obvious playoff implications. In all, eight of the players listed below -- a full 25 percent -- of the top 32 NFL prospects in all of college football will be competing in this contest, which is why every team in the league is expected to have at least one scout present.
Much will change between now and the first pick of the 2016 NFL Draft. As it stands, these are the top 32 NFL prospects in college football.
1. Joey Bosa, DE, Ohio State, 6-5, 275, 4.82, Junior: Given that he ranks third on his own team in sacks (four) so far this season, it would be easy to cast off Bosa as having a poor year. In reality, he has been every bit as disruptive for the reigning champion Buckeyes as the past two years, when he averaged 10.5 sacks per season. Powerful, athletic, technically sound and ultra-competitive, Bosa is a threat to make a big play on every snap.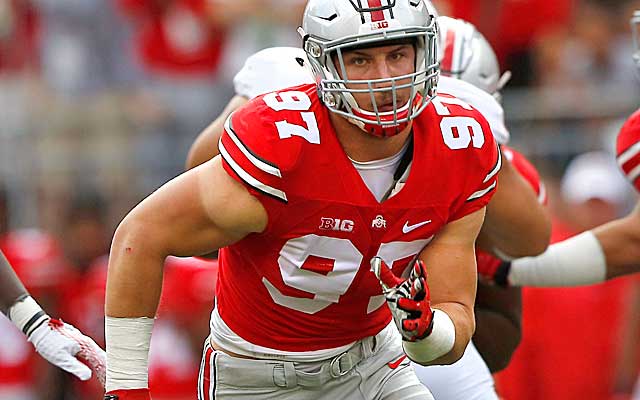 2. Laremy Tunsil, OT, Mississippi, 6-5, 305, 5.23, Junior: Tunsil was suspended for the first seven games of the season by the NCAA for multiple rules violations that include accepting improper benefits. Since he has returned, he has shut down first-round caliber pass rushers in Texas A&M's Myles Garrett and Auburn's Carl Lawson. Tunsil possesses a remarkable combination of size, agility and strength that has scouts comparing him to Philadelphia Eagles All-Pro Jason Peters.
3. Robert Nkemdiche, DT, Mississippi, 6-4, 296, 4.86, Junior: Some characterize Nkemdiche as a disappointment because he has hasn't lit up box scores since signing with the Rebels as the top-rated prep prospect in the country two years ago. Statistics, however, don't reflect Nkemdiche's impact as he faces constant double-teams. He moves like a man 50 pounds lighter than he is, showing terrific burst and agility to go along with power.
4. Jalen Ramsey, CB, Florida State, 6-1, 202, 4.49, Junior: A freakish athlete with legitimate Olympics hopes and the physicality required for the NFL, Ramsey has the look of a top-10 pick, regardless of where he ultimately lines up in the secondary. He has starred at safety, cornerback and even linebacker, occasionally, over his nearly three seasons for the Seminoles. I wish he turned breakups into interceptions more often but as he showed in a quietly spectacular game Nov. 7 against top-ranked Clemson, Ramsey is a game-changer.
5. Vernon Hargreaves III, CB, Florida, 5-11, 198, 4.44, Junior: An immediate standout in the SEC, Hargreaves combines instincts, agility and controlled aggression to shut down one side of the field in coverage. Hargreaves doesn't possess ideal size, but he's highly aggressive, which includes fighting off blocks and looking to tackle backs in run support. Further, he possesses excellent ball skills, as his 10 career interceptions can attest.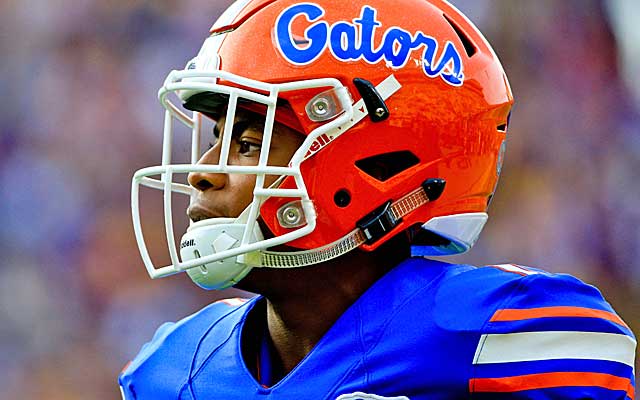 6. Ronnie Stanley, OT, Notre Dame, 6-6, 315, 5.17, Redshirt Junior: Stanley is one of the few collegiate left tackles with the traits to remain at this critical position in the NFL. A three-year standout at left tackle who has given up just one sack during that time, Stanley wins with initial quickness, a powerful, accurate punch and terrific balance.
7. Jaylon Smith, OLB, Notre Dame, 6-3, 235, 4.67, Junior: The Irish annually produce NFL talent, but Smith is a different level of athlete than recent Notre Dame prospects. With raw power and aggression to go with fluidity and speed, Smith has the look of a top-10 pick. To earn that distinction, however, he needs to show more consistent pursuit angles and open-field tackling.
8. Jared Goff, QB, California, 6-4, 210, 4.82, Junior: A rash of interceptions against the top defenses in the Pac-12 is concerning but Goff bounced back in a big way Nov. 14 against Oregon State, tossing six touchdowns to end the Bears' recent losing streak. Sure, coach Sonny Dykes' up-tempo spread offense has inflated Goff's production (10,805 yards and an 83-30 TD-to-INT ratio in 33 starts) but the lanky junior offers exciting traits -- good anticipation, impressive accuracy on short and intermediate passes, functional mobility and toughness.
9. Kenny Clark, DT, UCLA, 6-3, 308, 5.22, Junior: While not as athletic as my top-rated defensive tackle Nkemdiche, Clark's burst, strength and versatility have scouts excited. Powerful enough to anchor against double-teams and split gaps, Clark is arguably more schematically diverse than the Ole Miss star.
10. DeForest Buckner, DE, Oregon, 6-7, 290, 4.87, Senior: Don't blame Buckner for Oregon's alarming fall from grace as the senior defensive end's play has been one of the few consistent bright spots for the Ducks this season. Buckner isn't an explosive edge rusher but his length, strength and balance will intrigue coaches at the next level, especially as a five-tech defensive end.
11. Connor Cook, QB, Michigan State, 6-4, 220, 4.89, Redshirt Senior: After absorbing a big hit early last week against Maryland, Cook lost velocity on his throws and watched the second half from the sidelines. He's expected to start in the showdown with Ohio State, which could earn him points with scouts for toughness but only if he's effective. With an offensive line and receiving corps lacking durability and consistency, themselves, Cook has pushed the Spartans to an impressive 9-1 record thus far on the strength of a 21-4 TD-to-INT ratio. Unlike fellow highly regarded quarterbacks like Goff (No. 8) and Paxton Lynch of Memphis (No. 20 overall), Cook runs a pro-style attack, making his projection to the NFL simpler. Cook doesn't possess elite traits but he has shown the poise, arm strength and accuracy to start early in his pro career.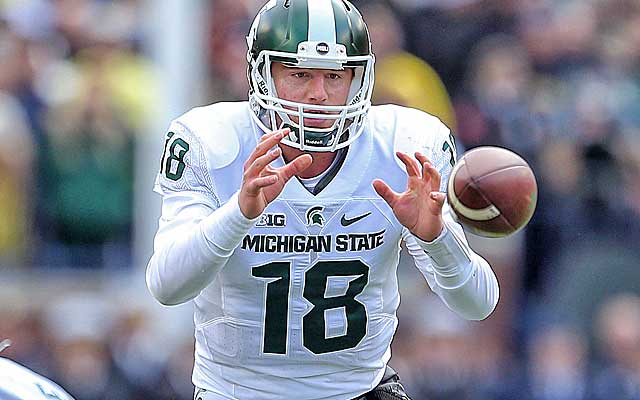 12. Laquon Treadwell, WR, Mississippi, 6-2, 212, 4.52, Junior: It took Treadwell a few weeks this season to get going, but he recorded his fifth consecutive game with at least 100 receiving yards and a touchdown against Arkansas in the Rebels' last action, Nov. 7. He'll draw a tough assignment this week with LSU and its talented secondary coming to Oxford. There remain concerns about his top-end speed, but Treadwell's NFL-ready frame, body control and hand-eye coordination make him a nightmare to defend. Comparisons to Cowboys star Dez Bryant might be tough to live up to, but there are plenty of similarities to longtime NFL standout Anquan Boldin.
13. Taylor Decker, OT, Ohio State, 6-7, 317, 5.21, Senior: Too often overshadowed by flashier teammates, Decker checks in as my No. 3 senior prospect regardless of position. While perhaps not as quick off the snap as Tunsil or Stanley, Decker has enough athleticism to potentially remain at left tackle in the NFL while also exhibiting the power, grit and length to project nicely to the right side.
14. Ezekiel Elliott, RB, Ohio State, 6-0, 225, 4.42, Junior: Elliott's numbers a year ago were like something out of a video game. He averaged 9.8 yards per attempt in gaining 1,878 yards and scoring 18 touchdowns on the ground. Given the inconsistency Ohio State has endured at quarterback this season, perhaps his numbers in 2015 (averaging 6.5 yards per carry for 1,425 yards and 16 scores through 10 games) are even more astounding. Elliott isn't the second coming of Todd Gurley, but he's clearly the top draft-eligible back this year, blending vision, agility, burst and power to dominate at the collegiate level.
15. Myles Jack, OLB, UCLA, 6-1, 222, 4.56, Junior: The NFL will have to carefully evaluate Jack's health after UCLA announced Oct. 6 that the true junior was leaving for the pros despite suffering a season-ending knee injury. The decision was bold but not reckless. Put simply, Jack is a "natural" whose fluidity, instincts and knack for game-breaking plays made him the only player in Pac-12 history to be named both the Offensive and Defensive Freshman of the Year in 2013. Given Jack's talent and the gains made in player recovery from surgeries, Jack remains very much in the first-round conversation despite his injury.
16. Shaq Lawson, DE, Clemson, 6-3, 275, 4.64, Redshirt Junior: This has been a breakout campaign from Lawson, who has 16.5 tackles for loss and 7.5 sacks on the year. Lawson's compact frame and power make him equally effective against the run as the pass, where he shows surprising initial quickness and agility, as well as a terrific motor.
17. Corey Coleman, WR, Baylor, 5-10, 190, 4.45, Redshirt Junior: The NFL loves playmakers and the speedy Coleman has certainly proven adept at the big play, recording an eye-popping 20 touchdowns in just nine games so far in 2015. While Coleman's sudden acceleration makes him a perfect fit in coach Art Briles' vertical attack, he's more than just a big-play threat, showing the combination of strength, agility and vision to make plays underneath, as well.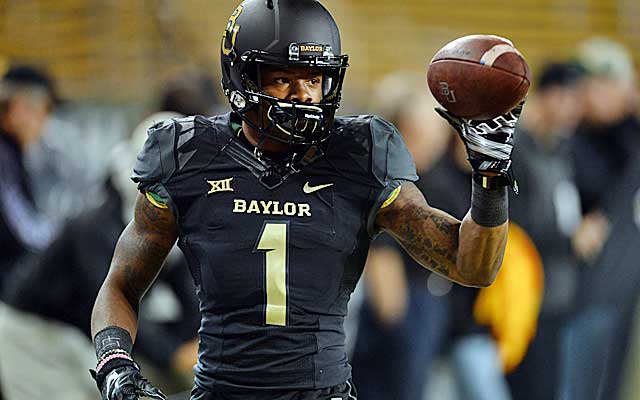 18. Tre'Davious White, CB, LSU, 5-11, 191, 4.48, Junior: Few programs can match LSU's regular production of NFL defensive backs and White is as fluid in coverage as any of the past Tigers, including current Arizona Cardinals Patrick Peterson and Tyrann Mathieu. White's ability in coverage has always impressed, but he has shown greater physicality and reliability as a tackler in 2015, boosting his stock with scouts.
19. Germain Ifedi, OL, Texas A&M, 6-5, 325, 5.34, Redshirt Junior: The latest in the A&M train of offensive linemen going full steam ahead to the NFL, Ifedi has experience at left guard, right tackle and left tackle and possesses the mass, light feet and active hands to maintain this versatility at the next level.
20. Paxton Lynch, QB, Memphis, 6-6, 230, 4.95, Redshirt Junior: Lynch has been a favorite of many in the scouting community for quite some time and when he helped guide the then-undefeated Tigers to an upset over Ole Miss Oct. 17, he became the hottest prospect in the country. His numbers are impressive (completing 68.7 percent of his passes on the year for 3,292 yards with 21 touchdowns and just three interceptions) and with an exciting combination of athleticism and arm strength, Lynch possesses undeniable tools and upside. However, he has been aided by a spread offense that provides him relatively easy reads and open targets.
21. Jack Conklin, OT, Michigan State, 6-6, 318, 5.43, Redshirt Junior: A former walk-on, Conklin is a favorite among scouts due to his blue collar work ethic and powerful, no-nonsense style. He isn't as agile as some of the other top tackles on this board and may be pushed inside at the next level. He's long, powerful and tenacious, however -- traits that make him one of the nation's best run blockers. Conklin suffered a left knee injury against Central Michigan Sept. 26 but showed his toughness in returning (and playing very well) since.
22. Leonard Floyd, OLB, Georgia, 6-3, 232, 4.73, Redshirt Junior: Floyd emerged as one of the SEC's most feared edge rushers over the past two seasons, beating opponents with first-step explosiveness, length and surprising functional strength for his relatively slim frame. This season, he has been asked to play off the line of scrimmage more often and while the positional versatility could theoretically help his stock, Floyd has looked hesitant in his new role.
23. Mackensie Alexander, CB, Clemson, 5-10, 195, 4.43, Redshirt Sophomore: I rarely include redshirt sophomores on this list, but the NFL's constant need for cornerbacks and Alexander's talent warrant it. Sporting an athletic, compact frame more like a running back than most corners, Alexander already passes the eye test. He doesn't have the preferred height but offers excellent man-to-man cover skills.
24. Jarran Reed, DL, Alabama, 6-3, 313, 5.14, Senior: While linemate A'Shawn Robinson (No. 28) and linebacker Reggie Ragland earn much of the hype, Reed has been the Tide's steadiest defender this season, currently ranking second (to Ragland) with 45 tackles, including 3.5 for loss and a sack. Powerful, surprisingly athletic and capable of playing inside and out, Reed's stock is on the rise.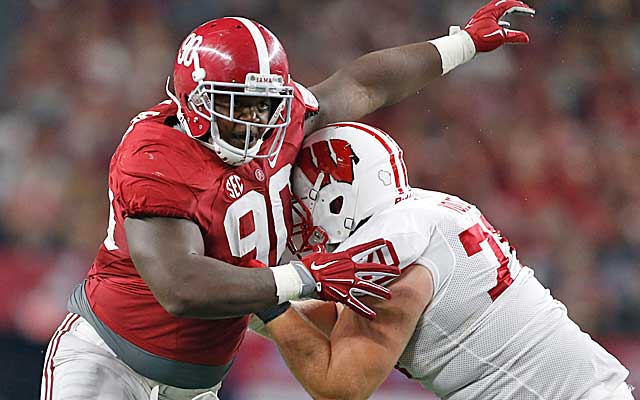 25. Andrew Billings, DT, Baylor, 6-1, 300, 5.04, Junior: Given the success of Aaron Donald, Jurrell Casey and similarly "undersized" defensive tackles in the NFL, it is easy to get excited about the Billings, whose bowling ball style can be tough for offensive linemen to handle. Billings' numbers (27 tackles, 10 tackles for loss and 1.5 sack in eight games) are deceptive. He just might be the most disruptive defensive lineman in college football.
26. Adolphus Washington, DT, Ohio State, 6-4, 290, 4.96, Senior: Though he doesn't get the attention of his peers, Washington is earning high grades from scouts because of the steady development he has shown throughout his collegiate career. He has been terrific in 2015, terrorizing opponents to the tune of 40 tackles, six tackles for loss, 3.0 sacks and an interception (which he returned for a touchdown). Strong enough to hold up to double-teams and quick enough to split gaps, Washington can play all over the defensive line.
27. Michael Thomas, WR, Ohio State, 6-3, 210, 4.54, Redshirt Junior: Ohio State's inconsistencies at quarterback and run-first approach limit Thomas' numbers (45 catches for 651 yards and eight touchdowns through 10 games) but scouts love his combination of size, body control and toughness and some see similarities to his uncle, Keyshawn Johnson's, game.
28. A'Shawn Robinson, DT, Alabama, 6-3, 312, 5.18, Junior: Whereas Billings' burst and agility make him a classic penetrating interior defender best suited to a four-man front, Robinson's game is all about power, making him a better fit in a two-gap alignment. Robinson's stock is on the rise after recording two tackles for loss in a huge win over LSU Nov. 7 -- a game scouts from every NFL team watched closely.
29. Tyler Boyd, WR, Pittsburgh, 6-2, 200, 4.47, Junior: Though leaner than scouts would prefer, Boyd entered his junior campaign as a verifiable superstar who consistently wins due to talent as well as technique. Boyd's quickness and agility make him a threat not only at receiver but in the return game as well, and he possesses the body control and hand-eye coordination to make difficult receptions look easy.
30. Emmanuel Ogbah, DE, Oklahoma State, 6-4, 275, 4.76, Redshirt Junior: Ogbah was recognized by Big 12 coaches as the conference's top defensive lineman a year ago and he has been even better this season, leading the Cowboys in both sacks (11) and tackles for loss (15.5). Ogbah isn't just productive, he's gifted, boasting an exciting length, power and agility.
31. Darron Lee, OLB, Ohio State, 6-1, 235, 4.64, Redshirt Sophomore: Given the Buckeyes' star power, it is easy to overlook relative youngsters like Lee and cornerback Eli Apple but both are already highly regarded in the scouting community. Lee is particularly intriguing as he possesses the agility and instincts for coverage and shows physicality and aggression at the point of attack, as well.
32. Jayron Kearse, S, Clemson, 6-3, 210, 4.57, Junior: The nephew of former Tennessee Titans star Jevon Kearse, this Tiger has shown "freakish" speed to go along with a knack for turnovers and explosive hitting ability throughout his collegiate career.