Big injuries brought big changes to the Big Board this week. Michigan State offensive tackle Jack Conklin, Virginia Tech cornerback Kendall Fuller and UCLA outside linebacker Myles Jack slide due to injuries, opening the rankings to risers.
Soaring up the board are LSU cornerback Tre'Davious White, Baylor wide receiver Corey Coleman and Duke safety Jeremy Cash, early-season standouts who look to have staying power.
More changes are coming before the first pick of the 2016 NFL Draft is announced in Chicago in April 2016. As it stands a month into the college football season, these are the top 32 NFL prospects in college football.
1. Joey Bosa, DE, Ohio State, 6-5, 275, 4.82, Junior: While Bosa's suspension for the Buckeyes' season opener for an undisclosed violation of team rules is troubling, there is no denying his talent. Bosa -- the son of former Miami Dolphins 1987 first-rounder John Bosa -- is a man among boys at the collegiate level, earning consensus All-American honors as a true sophomore in 2014 with 21 tackles for loss, 13½ sacks and four forced fumbles. While not a quick-twitch edge rusher who'll blow past tackles with speed, Bosa's combination of power, athleticism and relentlessness makes him the nation's top edge defender.
2. Robert Nkemdiche, DT, Mississippi, 6-4, 296, 4.86, Junior: After signing with the Rebels as the top-rated prep prospect in the country two years ago, Nkemdiche didn't exactly dominate box scores, averaging "just" 34.5 tackles, including six tackles for loss and two sacks while starting 23 games. This season, however, he's playing like a man possessed, including in Mississippi's big win in Tuscaloosa. Statistics don't reflect Nkemdiche's impact. He faces constant double-teams and has an exciting blend of size, power and overall athleticism that has drawn comparisons to All-Pro Ndamukong Suh.
3. Jared Goff, QB, California, 6-4, 210, 4.82, Junior: Coach Sonny Dykes' up-tempo spread offense has inflated Goff's production (8,721 yards and a 64/20 TD to INT ratio in 27 starts) but the lanky flamethrower offers exciting traits -- impressive accuracy on short and intermediate passes, functional mobility and toughness. Behind Goff, Dykes has the upstart Bears at 4-0. Beating Washington State this week would set up back-to-back showdowns on the road with Utah (Oct. 10) and UCLA (Oct. 22), the conference's grittiest defenses.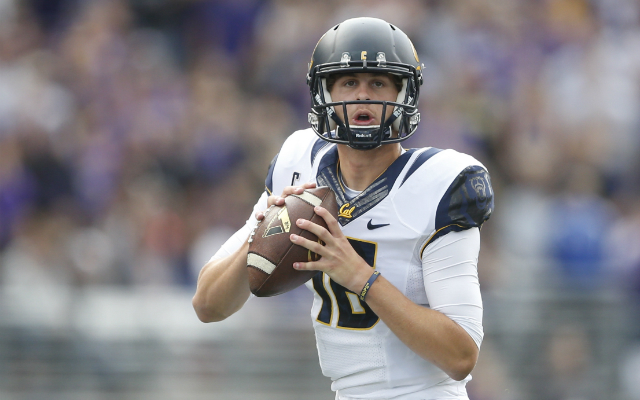 4. Vernon Hargreaves III, CB, Florida, 5-11, 198, 4.44, Junior: An immediate standout in the SEC, Hargreaves combines instincts, agility and controlled aggression to shut down one side of the field in coverage. Hargreaves doesn't have ideal size but he's highly aggressive, including in fighting off blocks and looking to tackle backs in run support. Hargreaves was limited with back soreness last week against Tennessee and that may have contributed to his missing a few tackles. Hargreaves has a huge test this weekend with Ole Miss and fellow Big Board member Laquon Treadwell up.
5. Ronnie Stanley, OT, Notre Dame, 6-6, 315, 5.17, Redshirt Junior: Bigger and more durable thus far than Mississippi's Laremy Tunsil, Stanley could justifiably be the first offensive tackle off the board ahead of the Rebels' star. He has allowed just one sack the past two full seasons on the blind side, winning with initial quickness, a powerful, accurate punch and terrific balance.
6. Laremy Tunsil, OT, Mississippi, 6-5, 305, 5.23, Junior: Tunsil is coming off major leg injuries and currently is being investigated by the NCAA for multiple rules violations that include accepting improper benefits. He has sat out the first three games (and could miss more) to start the 2015 season. Even with those troubling factors, Tunsil ranks this high on my board. He demonstrates a Pro Bowl-caliber combination of initial quickness, balance and power. Tunsil suffered a fractured fibula and dislocated right ankle in last season's Peach Bowl loss to TCU.
7. Jalen Ramsey, CB, Florida State, 6-1, 202, 4.49, Junior: It was the sophomore, Ramsey, not 2015 draft picks Ronald Darby or P.J. Williams, who proved the Seminoles' top defensive back a year ago. Injuries to teammates pushed Ramsey all over the field last year and his versatility shined through, starring at safety, cornerback and even linebacker at times. A freakish athlete with legitimate Olympics hopes and the physicality required for the NFL, Ramsey has the look of a top-10 pick, regardless of where he ultimately lines up in the secondary. Ramsey could improve by turning breakups into interceptions.
8. Jaylon Smith, OLB, Notre Dame, 6-3, 235, 4.67, Junior: The Irish annually produce NFL talent but Smith is a different level of athlete than recent Notre Dame prospects. With raw power and aggression to go with fluidity and speed, Smith has the look of a top-10 pick. To earn that distinction, however, he needs to show more consistent pursuit angles and open-field tackling.
9. Connor Cook, QB, Michigan State, 6-4, 220, 4.89, Redshirt Senior: Against Oregon, the strong-armed Cook looked pro-ready, guiding the Spartans to a big win with NFL-caliber throws to a relatively inexperienced receiving corps. He isn't without flaws -- notably sporadic accuracy by occasionally throwing without resetting his feet and too often taking risky shots into coverage.
10. Laquon Treadwell, WR, Mississippi, 6-2, 212, 4.52, Junior: Concerns about his top-end speed remain, but Treadwell's NFL-ready frame, body control and hand-eye coordination make him a nightmare to defend. His anticipated one-on-one matchup with Hargreaves III (No. 4) on Saturday will be considered a must-see by every NFL scouting department.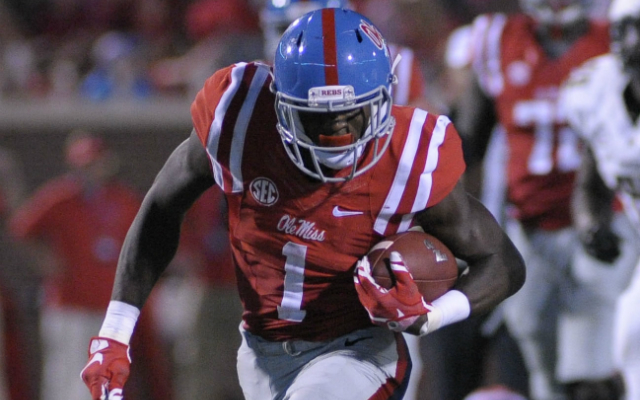 11. DeForest Buckner, DE, Oregon, 6-7, 290, 4.87, Senior: Utah smashed Oregon 62-20, but the question is how much more pain the Utes might've inflicted upon the Ducks had Buckner not tied for the team lead with six tackles, including two QB hurries, and batting down a pass. Buckner isn't an explosive edge rusher but his length, strength and balance will intrigue coaches at the next level.
12. Leonard Floyd, OLB, Georgia, 6-3, 232, 4.73, Redshirt Junior: Floyd exploded onto the SEC stage two years ago, racking up 55 tackles, including 9½ for loss, and 6½ sacks but his production didn't progress last year as expected (55-8½-6) despite starting three more games. I would like to see him add a little more mass but Floyd has the first-step explosiveness, length and functional strength to wreak havoc off the edge.
13. Taylor Decker, OT, Ohio State, 6-7, 317, 5.21, Senior: Too often overshadowed by flashier teammates, Decker checks in as my No. 3 senior prospect regardless of position. While perhaps not as quick off the snap as Tunsil or Stanley, Decker has enough athleticism to potentially remain at left tackle in the NFL while also exhibiting the power, grit and length to project nicely to the right side.
14. Ezekiel Elliott, RB, Ohio State, 6-0, 225, 4.42, Junior: It is easy to dismiss Elliott's video game-like numbers a year ago (9.8 yards per carry, 1,878 yards, 18 touchdowns on the ground) as a function of all the talent around him in Columbus, but Elliott's blend of vision, agility, burst and power would lead to production anywhere.
15. Tyler Boyd, WR, Pittsburgh, 6-2, 200, 4.47, Junior: Though leaner than scouts would prefer, Boyd entered his junior campaign as a verifiable superstar who consistently wins due to talent as well as technique. Boyd's quickness and agility make him a threat not only at receiver but in the return game as well and he has the body control and hand-eye coordination to make difficult receptions look easy.
16. Shawn Oakman, DE, Baylor, 6-8, 280, 4.88, Redshirt Senior: Boasting a body-builder physique and freakish athleticism, Oakman looks the part of a future All-Pro. At this time, Oakman remains overly reliant on his talent, struggling a bit with leverage and showing limited development of any pass-rush repertoire despite his production (11 sacks in 2014) saying otherwise.
17. Jack Conklin, OT, Michigan State, 6-6, 318, 5.43, Redshirt Junior: A former walk-on, Conklin is a favorite among scouts due to his work ethic and powerful, no-nonsense style. He isn't as agile as some of the other top tackles on this board and could be pushed inside at the next level. He's long, powerful and tenacious -- traits that make him one of the nation's best run blockers. Conklin suffered a left knee injury against Central Michigan on Sept. 26 but it isn't thought to be season-ending and therefore shouldn't significantly alter his draft status.
18. Tre'Davious White, CB, LSU, 5-11, 191, 4.48, Junior: Few programs can match LSU's regular production of NFL defensive backs. White is as fluid in coverage as any of the past Tigers, including current Arizona Cardinals Patrick Peterson and Tyrann Mathieu. White's ability in coverage has always impressed but he has shown greater physicality and reliability as a tackler in 2015, boosting his stock with scouts.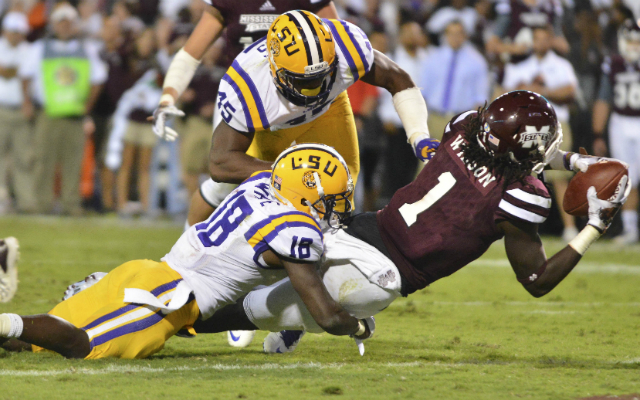 19. A'Shawn Robinson, DT, Alabama, 6-3, 312, 5.18, Junior: An anchor befitting the Crimson Tide, Robinson is a powerful two-gap run-stuffer whose frame, strength and schematic versatility could earn first-round consideration despite less than eye-popping production (49 tackles, including 6½ for loss but zero sacks in 2014, and nine tackles with one for loss and no sacks in 2015).
20. Kendall Fuller, CB, Virginia Tech, 6-0, 197, 4.48, Junior: An all-conference pick each of his first two campaigns and the younger brother of NFL players Vincent, Corey and Kyle, Fuller entered the year viewed as one of the "safer" prospects. Unfortunately, he was beaten for a touchdown from fellow Big Board member Michael Thomas (No. 25) in the season-opener and had his season put on hold this week with the decision to undergo knee surgery, putting the junior's draft stock in flux.
21. Germain Ifedi, OL, Texas A&M, 6-5, 325, 5.34, Redshirt Junior: The latest in the A&M train of offensive linemen going full steam ahead to the NFL, Ifedi has experience at left guard, right tackle and left tackle and possesses the mass, light feet and active hands to maintain this versatility at the next level.
22. Kenny Clark, DT, UCLA, 6-3 308, 5.22, Junior: While the heart-breaking knee injury to teammate Jack (previously listed at No. 8 on the Big Board) is a significant blow to the Bruins' playoff hopes, Clark proves the team doesn't lack for top-notch NFL prospects. A bit overshadowed at UCLA despite a breakout 2014 season that saw him register 58 tackles, including 5½ for loss, Clark is a no-nonsense run-stuffer with experience at defensive tackle, nose guard and even outside at end. His steady development under former NFL head coach Jim Mora, as well as his positional and schematic diversity, has scouts intrigued.
23. Emmanuel Ogbah, DE, Oklahoma State, 6-4, 275, 4.76, Redshirt Junior: Like fellow Big 12 defensive end Oakman (No. 16), Ogbah looks the part of an NFL star but at this time is overly reliant on his natural tools. He registered 17½ tackles for loss and 11 sacks a year ago and could build upon those numbers by adding a little more variety to his pass rush repertoire.
24. Max Tuerk, OL, Southern Cal, 6-6, 285, 5.12, Senior: With a frame that looks better suited to left tackle or even tight end, Tuerk isn't your traditional short, squatty center but that's precisely where he starred a year ago for the Trojans and will remain there in 2015. Regardless of his ultimate position in the NFL, Tuerk's blend of length, initial quickness and agility is sure to excite offensive line coaches.
25. Michael Thomas, WR, Ohio State, 6-3, 210, 4.54, Redshirt Junior: Thomas doesn't get the same recognition or opportunities as similarly big receivers like Auburn's Duke Williams, Notre Dame's Corey Robinson or Clemson's Mike Williams but he is surprisingly polished as a route-runner and downfield blocker and possesses a combination of agility and strength to create yards after the catch.
26. Vadal Alexander, OG, LSU, 6-5, 326, 5.39, Senior: If you're looking for an old-fashioned mauler, Alexander is the offensive lineman in this draft for you. Expected to move back outside to right tackle this fall (where he starred as a freshman) after lining up the past two years at left guard, Alexander is a drive-blocking dynamo, dominating opponents with girth, strength and surprising agility to stalk at the second level.
27. Corey Coleman, WR, Baylor, 5-10, 190, 4.45, Redshirt Junior: The NFL loves speed and Coleman -- a track star with eight touchdowns in the first three games of 2015 -- has it. Coleman's sudden acceleration makes him a perfect fit in Art Briles' vertical attack. Still, he's more than just a big-play threat and has a combination of strength, agility and vision to make plays underneath.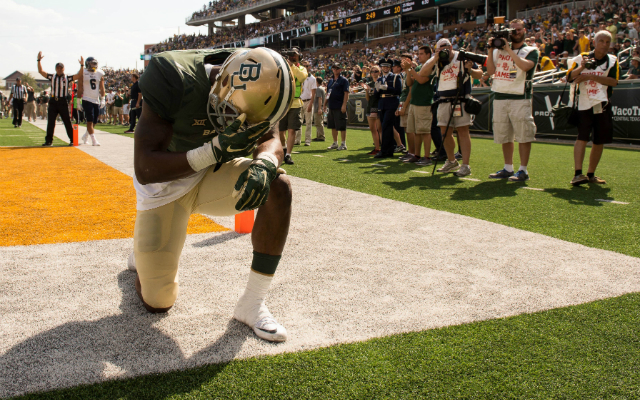 28. Jeremy Cash, S, Duke, 6-1, 208, 4.56, Redshirt Senior: A highly regarded prep prospect out of Miami who began his collegiate career at Ohio State, Cash looks like the next Blue Devil likely to earn big dollars as an early pick. His instincts and physicality were on display September 28 against Georgia Tech's triple-option offense, when he recorded 12 tackles, including three tackles for loss, and a sack to earn Walter Camp Defensive Player of the Week honors.
29. Jordan Jenkins, DE/OLB, Georgia, 6-2, 253, 4.64, Senior: While not as explosive off the snap as scouts would prefer of an undersized rusher, Jenkins' power, instincts and tenacity make him effective against the run and pass, alike. He was dominant in Georgia's Week 2 win over Vanderbilt, recording 11 tackles, including 5½ for loss, and two sacks to earn SEC Defensive Lineman of the Week honors.
30. Adolphus Washington, DT, Ohio State, 6-4, 290, 4.96, Senior: Though he doesn't get the attention of his peers, Washington is earning high grades from scouts because of the steady development he's shown throughout his collegiate career and the versatility he'll bring. Strong enough to hold up to double-teams and quick enough to split gaps, Washington can play all over the defensive line.
31. Myles Jack, OLB, 6-1, 222, 4.56, Junior: Jack's health would be carefully evaluated if he elects to leave UCLA as a true junior despite suffering a season-ending knee injury September 23. His talent is undeniable. Jack is a "natural." His fluidity, instincts and knack for game-breaking plays made him the only player in Pac-12 history to be named both the Offensive and Defensive Freshman of the Year (2013). Given his talent and the gains made in recovery from major surgeries, Jack remains very much in the first-round conversation despite his injury.
32. Jayron Kearse, S, Clemson, 6-3, 210, 4.57, Junior: With today's advanced passing attacks, safeties are more valuable than ever. The nephew of former Tennessee Titans star Jevon Kearse, this Tiger has shown "freakish" speed and explosive hitting ability throughout his collegiate career and has the frame scouts are looking for at the position.