2013 NFL Draft: Georgia Tech Preview
Despite an offensive scheme that is rarely seen at the next level, Georgia Tech has NFL-quality players on both sides of the ball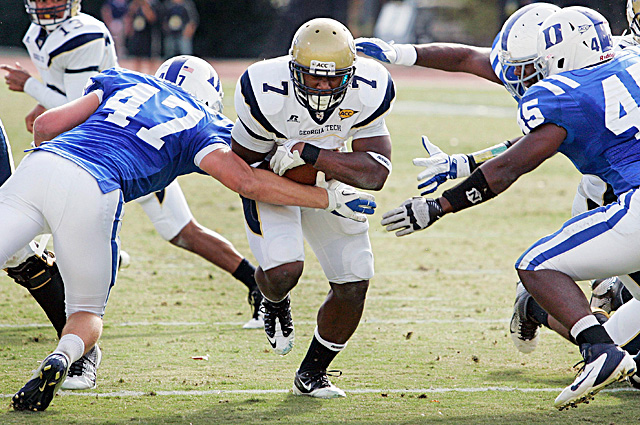 David Sims rushed for 698 yards and seven touchdowns, averaging 5.2 yards per carry.
(US Presswire)
In preparation for the 2013 NFL Draft, NFLDraftScout.com will profile the top draft-eligible prospects from FBS-level programs. This summer series will run until the start of the college football season.

GEORGIA TECH YELLOW JACKETS
NFL Draft picks the last five years: 13
2012 NFL Draft picks: 1 – WR Stephen Hill (2nd round, 43rd overall)

One of the toughest aspects of projecting talent to the NFL is deciphering certain schemes. No matter how talented a prospect may be, thriving in a collegiate system doesn't always translate and could limit his "fit" at the next level. An example is Georgia Tech and their triple-option offense, a look that is rarely seen on Sundays. In this offense, players are given responsibilities that are much different from a pro-style look.

Last season, wide receiver Stephen Hill was a tough prospect to project because of his athletic tools, but limited production in a run-heavy offense. When receiver Demaryius Thomas got to the NFL, coaches called him the most athletic player on offense, but it has taken time for him to adjust to the pro level because he was so unpolished. Even the defense is far from traditional as the Yellow Jackets are one of the few college programs who run a 3-4 defensive scheme. Regardless of the scheme, Georgia Tech has several NFL-quality players on their roster.

Top-five prospects for the 2013 NFL Draft
*Indicates underclassman

1. OLB Jeremiah Attaochu (6-3, 235)*
Outside of Atlanta, Attaochu isn't a well-known name, but the junior linebacker is one of the best young defenders in the ACC. He lines up on the strongside in Georgia Tech's 3-4 defensive scheme where he is asked to blitz, drop in coverage and do just about everything. Attaochu was a three-star DE/OLB recruit out of Washington D.C. and earned playing time as a true freshman in 2010, including a start in the bowl game. He became the full-time starter last season as a sophomore (10 starts, missed two games due to injury), leading the Yellow Jackets in sacks (6.0) and tackles for loss (11.5) and finishing third in tackles (59). Attaochu is a fluid athlete with the footwork and movement skills to explode in any direction, whether he's attacking the line of scrimmage or flipping his hips in coverage. His aggressive demeanor and competitive style of play allows him to defeat blockers and use his hands to complete tackles. Attaochu is still developing his instincts and needs to cut down on the mental errors, but he has the versatile skill-set to mature into an early round pick.

2. OG Omoregie Uzzi (6-3, 300)
Entering his third year as the starting right guard for the Yellow Jackets, Uzzi is a physical run blocker and about as tough on the field as it is to pronounce his name (for the record, the correct pronunciation is O-more-gay ooze-E). He was considered a four-star recruit and received scholarship offers from Alabama, Auburn and Georgia, but instead decided to stay close to home (Georgia Tech is only 20 minutes from his high school). After redshirting in 2008, Uzzi played in 12 games as a back-up in 2009 before becoming a starter for every game as a sophomore, earning Second Team All-ACC honors. He started 12 games last year as a junior, earning First Team All-ACC and All-American honors. Uzzi missed the bowl game and was forced to sit out all of spring ball because of injury, but is expected to be healthy for the 2012 season opener. He does a nice job staying low off the snap, packing a punch upon contact and moving station-to-station as a physical run blocker. Uzzi has a chance to be one of the top-five senior guards selected in the 2013 NFL Draft.

3. CB Louis Young (6-1, 200)*
Although he has only one career interception, Young is one of the bright young stars on the Georgia Tech defense. He looks the part with the size and length to match up with bigger receivers, but also the quickness to hold up in space, often moving inside in nickel situations. Out of high school in the D.C. area, Young was recruited by Maryland to play basketball, but was an even better football recruit and decided to go South to Atlanta. He was a back-up freshman in 2010 before earning the starting nod at cornerback last season, starting the first 12 games as a sophomore. Young was suspended for the bowl game due to a violation of team rules, but finished the season with 52 tackles, 3.0 tackles for loss, five pass break-ups and one interception. He plays with a lot of energy on the field and loves to get physical, lowering his shoulder and delivering a blow to the ballcarrier. Young has the foot quickness to mirror and the speed in reverse to stay in receivers' hip pocket. He is still developing his awareness and feel for the position, but is considered one of the hardest workers off the field, in both the weight and film room, thriving to emulate the game of his favorite player, Charles Woodson. Young has the skill-set to develop into an early round cornerback.

4. CB Rod Sweeting (6-0, 185)
The more experienced cornerback on the Georgia Tech depth chart, Sweeting leads the team with 39 career games under his belt. The senior is one of the top leaders on the team and is only one of three ACC defensive backs who defended at least 12 passes last season. Sweeting was one of the top recruits out Georgia four years ago, choosing in-state Georgia Tech over Ohio State and Auburn. He didn't start as a freshman or sophomore, but he played in every game as a valuable member of the secondary. Sweeting started all 13 games last season at cornerback, earning All-ACC Honorable Mention honors as he tied for the team-lead with three interceptions. He has good length for the position, but needs to add more muscle and bulk to his lean frame to match up better at the next level. Sweeting plays fast with smooth body control and natural instincts to read/react in a flash while staying under control. He currently projects as a mid-round draft pick, but is definitely in the conversation of being the top senior cornerback in the conference.

5. RB David Sims (6-0, 220)*
In any option offense, the run attack is main focus of the team's play calling, especially in Georgia Tech's triple option formation. A former quarterback, Sims transitioned to the B-back position a year ago, joining A-back Orwin Smith in the backfield. In Paul Johnson's offense, the role of the B-back is generally a runner with fullback size, but the speed of a running back, a role Anthony Allen and Jonathan Dwyer filled during their time in Atlanta. And last season, Sims finished second on the team in rushing behind quarterback Tevin Washington with 698 yards and seven touchdowns on the ground, averaging 5.2 yards per carry. He was a three-star quarterback out of South Carolina and spurned an offer from the Gamecocks to play in the Yellow Jackets' option offense. However with Washington entrenched as the starter, Sims moved to the B-back role last season in order to get on the field. It was a tough transition as he was forced to learn on the fly, but with a full year under his belt, Sims, who spent the entire offseason studying the position, could be one of the top rushers in the ACC.

Just missed:
QB/RB Tevin Washington
RB Orwin Smith
G Will Jackson*
DE Izaan Cross
DT TJ Barnes
OLB Quayshawn Nealy*
S Isaiah Johnson*
Show Comments
Hide Comments
Plus Nick Saban sends a ton of talent to the NFL, the Browns find a QB and more from Rounds...

Here are the 25 best prospects still available after three rounds of the 2017 draft have w...

Here are the 50 best prospects still on the board as the 2017 NFL Draft heads into Day 2
Florida State RB Dalvin Cook will kick off Day 2 of the draft

After an unpredictable Round 1, here are some predictions you can bank on for Rounds 2 and...

Receivers surprise in the top 10, Alabama goes MIA in the top 15 and more 2017 NFL Draft t...