2013 NFL Draft: Michigan Preview
Although the Wolverines lack a surefire top-10 pick, Michigan does have a handful of intriguing prospects for the 2013 NFL Draft, led by quarterback Denard Robinson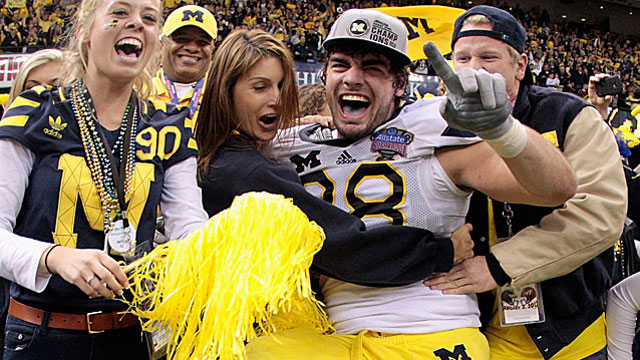 Craig Roh celebrates at the Sugar Bowl. He may be celebrating on draft day, too. (Getty Images)
In preparation for the 2013 NFL Draft, NFLDraftScout.com will profile the top draft-eligible prospects from FBS-level programs. This summer series will run until the start of the college football season.

MICHIGAN WOLVERINES
NFL Draft picks the last five years: 16
2012 NFL Draft picks: 3 -- DT Mike Martin (3rd round, 82nd overall), C David Molk (7th round, 226th overall), WR Junior Hemingway (7th round, 238th overall)


More on NFL Draft
Related content
Over the final two years of the Lloyd Carr era in Ann Arbor (2007 and 2008), Michigan had 13 players drafted, including No. 1 overall pick Jake Long. But since Carr's retirement, the Wolverines have had only 10 prospects selected over the past four NFL Drafts, a total that ranks them in the middle of the pack in the Big Ten. But with coach Brady Hoke entering his second season leading the Wolverines, Michigan appears to be back on track, not only in the Big Ten, but also sending quality prospects to the NFL.

The Wolverines are coming off an 11-win year, their first double-digit victory season since 2006, and are considered by many to be the favorites in the Big Ten. But regardless of how Michigan finishes in 2012, the Wolverines will almost certainly send a few more draft picks to the NFL next April (for the 61st straight season) with the most intriguing prospect being quarterback Denard Robinson. What position will he play? How early will he be drafted? Few answers this early in the process, but one can bet the NFL is keeping a close eye on the talented athlete.

Top-five prospects for the 2013 NFL Draft
*Indicates underclassman

1. OT Tyler Lewan (6-8, 310)*
This year's group of senior offensive tackles is OK, but it's the underclassmen who will determine if the 2013 class of tackles is great. And one of those underclassmen with first-round potential is Lewan, who is entering his third year as the starting left tackle. Despite not playing offensive tackle until his senior year in high school, Lewan was a four-star offensive line recruit out of Arizona and chose Michigan over Oregon, Minnesota and Arizona. After spending the first few games of his redshirt freshman season as a reserve, he came off the bench and started nine games at left tackle in 2009. Lewan started all 13 games at left tackle last season and earned second-team All-Big Ten honors as a sophomore. With good height and length, he looks the part and has the frame to play on the left side at the next level, adding nearly 50 pounds since his senior year in high school. A former defensive lineman, Lewan is known as a self-starter with a mean streak and nasty attitude on the field, but is also expected to become more of a leader as a junior in 2012. He keeps his head on a swivel and has the competitive drive to win one-on-one battles, but needs to stay focused to cut down on penalties and use proper footwork and technique, not simply relying on his natural ability. While not considered to be on the same level as former Wolverine Jake Long, who went No. 1 overall in 2008, Lewan has top-32 potential and will be a early-round prospect to watch in 2012.

2. DE Craig Roh (6-5, 280)
One of the more underrated prospects in the nation, Roh (pronounced "Row") has bounced between positions and roles during his tenure in Ann Arbor, but he appears to have finally found a home at strongside defensive end. After adding weight to move from linebacker to defensive end last year, he has put on an additional 10 to 15 pounds to move over to the strongside in 2012. An Arizona native and high school teammate of Lewan, Roh was a top-10 defensive end recruit out of high school and passed up offers by Arizona State and USC to move east and join Rich Rodriguez's Wolverines. He earned All-Freshman honors in 2009 after starting all 12 games at outside linebacker, recording 35 tackles, 7.5 tackles for loss, 2.0 sacks and one interception. Roh bounced between linebacker and defensive end in Rodriguez's 3-3-5 defense as a sophomore before moving to defensive end full-time as a junior under new head coach Brady Hoke and defensive coordinator Greg Mattison. Last season in 13 starts at weakside end, he set new career-bests with eight tackles for loss and four sacks. Roh is a fierce competitor and workout warrior, adding and shedding weight to do whatever the coaching staff has asked, always playing at full speed and creating little doubt about his passion for the game. He has good quickness for his size and looks comfortable in space, but will overpursue at times and needs to consistently play under control. Roh is strong at the point of attack, taking on blocks well and disposing of linemen with his raw power, which will make him a natural fit on the strongside in more of a five-technique role. For as quick and physical as he is, Roh wins a lot of plays because of his ability between the ears, showing natural instincts and a love for watching film. Although he probably won't be super productive as a senior, Roh shouldn't be overlooked in a potentially special class of pass rushers next April.

3. WR/QB Denard Robinson (6-0, 195)
While he will be a favorite for the Heisman Trophy at quarterback, Robinson is being viewed as more of an athlete for the next level by pro scouts. He is an electric athlete with good arm strength and the propensity to make plays out of the backfield, but his inconsistency as a passer is maddening to evaluate and probably will lead to him being projected as a running back or wideout in the NFL. Robinson received dozens of scholarship offers out of Florida with most schools recruiting him as a receiver or cornerback, but Rich Rodriguez targeted Robinson to possibly quarterback his new-look offense at Michigan. He was Tate Forcier's backup in 2009 as a freshman, but earned the starting nod as a sophomore and earned Big Ten Offensive Player of the Year honors, breaking the school record for total offense (4,272 yards). With Rodriguez out and Brady Hoke in as head coach, Robinson went through a transition to new offensive coordinator Al Borges' offense but still produced big numbers with 36 total touchdowns (20 passing, 16 rushing) and 3,349 yards of total offense. He is the favorite to be the conference's offensive player of the year again in 2012, but he is also expected to change positions during the pre-draft process next winter. Robinson has track-like speed with balanced explosion and change of direction ability to create with the ball in his hands. However he is extremely streaky as a passer with too many inconsistent decisions, low-percentage pass attempts and messy mechanics. With hot/cold accuracy and a frame under 6-foot, scouts are viewing Robinson as an Antwan Randel-El-type of prospect and more of a second- or third-round athlete rather than a quarterback.

4. SS Jordan Kovacs (6-0, 195)
One of the more inspirational stories in college football, Kovacs went from recruiting afterthought to walk-on to All-Conference defender. An All-Ohio selection out of the Toledo area, he struggled to receive looks from any FBS-level programs and decided to walk on for the Wolverines, the same path his father took nearly 20 years earlier. Kovacs always knew he had what it took to play in the Big Ten and dreamed of playing in the "Big House" and after a few tryouts in 2009, the Michigan coaching staff gave him a chance. He worked his way into the starting line-up as a freshman and started eight games, recording 75 tackles, 4.5 tackles for loss and one interception. Kovacs had his best season in 2010 as a sophomore (13 starts), finishing with a career-best 116 tackles, 8.5 tackles for loss and a pair of interceptions. He started a dozen games last year and had another productive season, earning All-Big Ten Honorable Mention honors. Kovacs is a savvy defender with a nose for the ball and the football attitude that endears him to coaches and teammates. He fills run lanes well, taking fast, accurate angles to the ball with an aggressive playing style. Kovacs is more of a downhill player who is limited in coverage and struggles when forced to turn his back to the action. He might be a liability in man coverage, but his approach to the game and overachieving attitude will find him a home at the next level. Kovacs might not be a top-100 pick next April, but he is at-worst a special teams stud who probably will exceed expectations, the same way he has done in Ann Arbor.

5. CB J.T. Floyd (6-0, 185)
Although he was a safety all through high school, Floyd moved to cornerback soon after arriving in Ann Arbor and has started there since his freshman season. Although his first few seasons had several bumps, he proved to be one of the team's most valuable defenders last season. Floyd was a three-star defensive back recruit out of high school in South Carolina, choosing to go north to Michigan over offers from Georgia Tech, Tennessee and N.C. State. After redshirting in 2008, he started a pair of games in 2009 followed by eight starts as a sophomore. Floyd became a full-time starter at cornerback last season, starting 12 games and finishing with 48 tackles and a team-best two interceptions. Listed at 6-0 and 185 pounds, he has a tall, lanky frame with good length to get his hands on receivers and make plays on the ball (13 career pass break-ups). Floyd has a physical demeanor for the position and doesn't shy from attacking the run, but needs to show better bend and stay close to the ground in his drops in order to quickly redirect his momentum. Based on his first few seasons at Michigan, he was an afterthought to be a pro prospect, but Floyd really came into his own as a junior and more is expected in 2012.

Just missed:
RB Fitzgerald Toussaint (5-10, 195)*
WR Roy Roundtree (6-0, 175)
OG Patrick Omameh (6-4, 300)
DT William Campbell (6-5, 320)
MLB Kenny Demens (6-1, 250)
FS Thomas Gordon (5-11, 210)*
For all of NFLDraftScout.com's team-by-team previews of the top prospects to watch in the 2012 season in preparation for the 2013 NFL draft, click here.
Show Comments
Hide Comments
Four defensive backs are picked in the final five spots of the first round in Rob Rang's final...

Character has become such a concern for draft prospects that scouts spend a majority of their...

Also, expect Haason Reddick to go higher than expected and Reuben Foster to be taken on Th...
Plus the Cowboys and Steelers find new cornerbacks late in the first round in Dane Brugler's...

Late breaking news has caused several players to slide down the Top 100 just before the 2017...

Drama is always a certainty when it comes to the unpredictability of the draft