2014 NFL combine: Bortles-Beckham show leads QB/WR positional drills
Central Florida quarterback Blake Bortles and LSU wide receiver Odell Beckham were impressive during the on-field drills at the NFL combine on Sunday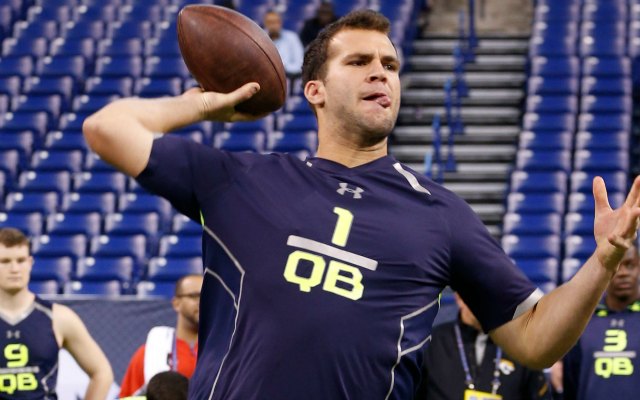 More Draft: NFL Mock Drafts | Prospect Rankings | NFL combine workout results
The 40-yard dashes, vertical jumps and bench press reps are all important exercises, but the on-field positional drills at the NFL combine are just as, if not more, important. And on Sunday morning in the first group of wide receivers and quarterbacks, Central Florida QB Blake Bortles and LSU WR Odell Beckham stood out above the rest.
I spent almost two hours in the stands at Lucas Oil Stadium Sunday morning watching the first group of passers and pass-catchers and several stood out – some good, some bad.
With Johnny Manziel, Teddy Bridgewater and Derek Carr choosing not to throw at the Combine, Bortles had the stage to show why many, including myself, have touted him as a possibility to be drafted No. 1 overall by the Houston Texans. And he didn't disappoint with the spotlight on him, displaying his smooth set up and release and tossing darts down the field. Bortles' accuracy and footwork on his three-step drops were excellent, showing very good rhythm, timing and precision to rip it with very good target placement. He was a tick late with his seven-step drops and has room to improve his feet and balance in this area, but Bortles was still able to be accurate down the field, especially on deep bucket throws.
The wide receivers in the first group included several possible first rounders, including Texas A&M's Mike Evans and Florida State's Kelvin Benjamin, who both did well, but it was Beckham who looked the most impressive Sunday morning. He was terrific in the gauntlet drill with his quick, strong hands and easy extension to snare throws away from his body. While most receivers in that drill allow themselves to get wild and off balance, Beckham accelerated well and stayed in a straight line on the white, staying precise and making it look extremely easy. He needs to be more controlled in his cuts, going too fast at times in his breaks, but that's nit-picking. Oregon State's Brandin Cooks also performed well in the first wide receiver group.
Other notes from the QB/WR positional workouts:
Show Comments
Hide Comments
Reeves-Maybin makes up for his lack of size with terrific instincts and agility

Royce Freeman leads the top draft-eligible Ducks as our countdown of the top programs rolls...

Our countdown of the top programs for NFL prospects continues with the Hurricanes
Can Max Redfield, a former five-star recruit, put it all together for his senior season?

Our countdown of the top programs for NFL prospects continues

The 'little' brother of Panthers' Star is a 6-2, 310-pound run stuffer.