2014 NFL combine: Clowney runs 4.53-second 40
South Carolina DE Jadeveon Clowney can fly, that much we knew. He proved it Monday morning with a 40-yard dash of 4.53 seconds, easily the fastest time in the DL group.
The Sports Xchange/CBSSports.com

• 3 min read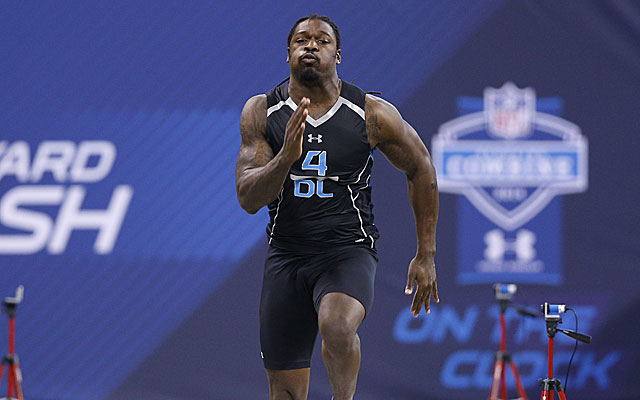 More Draft: NFL Mock Drafts | Prospect Rankings | NFL combine workout results
INDIANAPOLIS -- Question his work ethic, but South Carolina defensive end Jadeveon Clowney put to rest any lingering doubts about his straight-line speed Monday morning with a 4.47-second unofficial time in his first 40-yard dash at Lucas Oil Stadium. 
My Boy Clowney Just Ran A 4.47  #MyGod

— Eric Ebron (@Ebron85) February 24, 2014
When official times were released three hours later, the NFL recognized Clowney as the fastest defensive lineman at the event with a time of 4.53 seconds.
Manny Lawson, Isaac Hilton and Marcus Howard have the only "official" 40 times under 4.5 at the scouting combine.
The specific number wasn't overly relevant for Clowney -- his freakish natural ability is undisputed.
Still, questions about his drive and determination remain at the forefront after Clowney passed on participating in on-field position drills. Clowney later told NFL Network's Willie McGinest that he was dealing with a tight hip flexor. 
Clowney dropped eight pounds from his listed weight at South Carolina (274). He also had a 37 1/2-inch vertical leap and 10-foot, 4-inch broad jump.
His 10-yard split was 1.56 (unofficial), better than the 1.59 posted by Johnny Manziel on Sunday. In a simulcast of the two 40-yard dashes on NFL Network, Clowney was at least 2 yards faster to the finish line. Manziel's "official" 40 time was 4.68 on Sunday. Only five running backs ran better times than 4.47, which was Clowney's first "unofficial time."
Auburn defensive end Dee Ford withdrew from Monday's workouts before they started with a back issue. Ford had a ligament strain in his foot early in the 2013 season, but he said Monday he was "medically excluded" from workouts because of a precaution arising from his 2011 back surgery. He will do a complete workout March 4 at his pro day. 
Missouri defensive end Kony Ealy, a junior (6-4, 273) some view as a mid-first-round talent with upside, ran a 4.92 (1.72-second split). However, his historically significant 6.83 three-cone result puts Ealy in elite company and quite possibly the top-10 conversation. For a relative judge of what that means for tight-area burst, consider Eagles running back LeSean McCoy -- the NFL's leading rusher in 2013 -- had a 6.82 three-cone agility result at Pitt's Pro Day in March 2009.
Ford touted his ability over Clowney's over the weekend, saying the South Carolina star played like a "dog in a meat house."
Even though he was joking on-field between workouts with Clowney, Ford did not backpedal.
"We're not saying the dog can't run, we're saying that dog can't find the meat," Ford told NFL Network, a reference scouts and coaches use to players with great natural ability but limited instincts. "I want everyone to understand it wasn't a personal shot. ... We're laughing about it. I was just speaking matter-of-factly about it."
Clowney was presented the opportunity to respond on the NFL Network field-level set.
"I just let that motivate me. I still think I am the best coming out of college," Clowney said. "I feel like he was just saying something like that to just build his stock up, but it doesn't bother me. I told him 'I'm still better than you.'
"I just told him we'll just see what happens when we get to the next level," Clowney said. "It's cool, it's competition, like he said. We are just enjoying ourselves. He felt like he needed something to help himself out, to throw off that heat. I'm fine with it."
Pitt three-technique defensive tackle Aaron Donald, a short (6-feet, 304) but explosive athlete, had a 1.59 10-yard unofficially with a 4.68 "official" 40. Donald is a likely first-round pick and a potential target of the Dallas Cowboys with the 16th overall pick.
Donald's rare burst and hand speed won over the scouting community at the Senior Bowl in January. It wouldn't be surprising if Donald was a top-10 draft pick given his production and positive momentum in the ongoing pre-draft process.
Follow Jeff Reynolds on Twitter @ReynoldsJD
Show Comments
Hide Comments
Our Latest Stories
Plus, prospects at Utah, Missouri and San Diego State look to make their mark on a busy Th...

Plus, two USC prospects tackle agility drills and two small-schoolers look to make their m...

In a class loaded with defensive studs, no position group is better than the corners and s...
Mitchell Trubisky is 'solid,' Takk McKinley sits and Marlon Mack 'sizzles' during Tuesday pro...

John Lynch is among the 75 NFL scouts at UNC's pro day, while the Browns are noticeably ab...

Watson, the fourth QB picked, lands in a great spot in Andy Reid's offense