2014 NFL Combine: Five takeaways from Monday
Recapping the best, the worst and the predictable from Monday's defensive end and linebacker workouts at the 2014 NFL Scouting Combine. Hint: There's a lot to like about the edge rushing prospects in this class.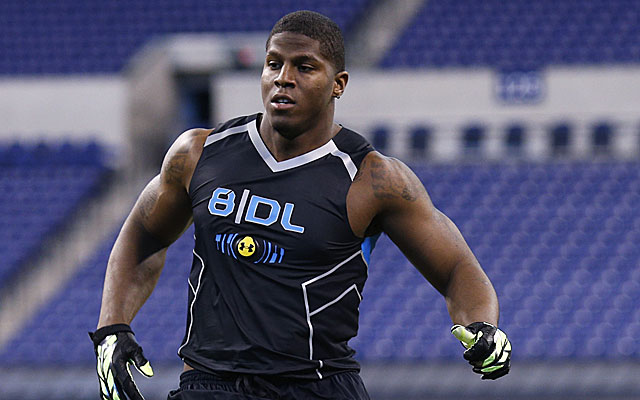 More Draft: NFL Mock Drafts | Prospect Rankings | NFL combine workout results
Almost lost among the constant conversation surrounding what defensive end Jadeveon Clowney did and didn't do at the NFL Scouting Combine Monday, were notable performances by several other defenders, including three with intriguing backgrounds -- outside linebackers Anthony Barr and Kahlil Mack and defensive tackle Aaron Donald.
They headline the five things we learned Monday.
1. Outside linebackers in a rush
Barr, an athletic pass rusher from UCLA whose many highlight plays included the blindside sack that sidelined USC's Matt Barkley, was timed on TV in 4.66 and 4.63 in 40 yards and had only 15 reps of 225 pounds in the bench press. Those are pedestrian numbers for a player NFLDraftScout.com has rated in the top 10, but they may not have a big negative effect on his draft because his athleticism and upside are a key factor.
Mack's 40-yard time was also announced at 4.66, but he showed his explosiveness with a 40-inch vertical. And, like Barr, who led the Pac-12 with 13.5 sacks last season, is considered to have great value in terms of upside.
NFLDraftScout.com has a verified 40-yard time on Barr from last spring at just below 4.50 and he had a much faster three-cone -- 6.82 seconds -- than Mack's 7.08. That is not entirely surprising or unexpected given his offensive background.
Barr was an offensive player until his last two years and is still learning his way around the other side of the line of scrimmage. Mack, who played only one year of high school football before becoming a big fish in Buffalo's small pond looks as good on game tape as he did on the 2013 stats sheets -- 19.0 tackles for loss, 10.5 sacks, five forced fumbles, three interceptions.
Because Barr is newer to defense, some scouts believe he has the higher ceiling. 
2. Pitt's decorated DT Aaron Donald turns in more elite numbers
Donald, thought to be undersized at 6-0, 285 at Pittsburgh, played big last season and is getting bigger in the post-season.
His explosive power was obvious in games, were be blew up the line of scrimmage and led the nation with average sacks per game (1.6) and tackles for loss (2.4). On Monday, he showed why. He blasted through 40 yards in 4.68, had a 32-inch vertical and benched 225 pounds 35 times.
This should validate that this mighty mite of an interior lineman -- think John Randle skill set -- could move up in the first round of the draft.
3. Jadeveon Clowney questions, bro?
Clowney, the No. 1 rated player in the draft, did enough to show why, with a 40-yard time that was announced in 4.53 second, a vertical jump of 37.5 inches, 21 reps on bench and a 10-03 broad jump.
He had promised a 40 time in the 4.4 range, but at 4.53 is among the best ever for defensive ends at the combine. Four other defensive ends have run as fast or faster this century at the combine on NFLDraftScout.com's list.
The best time this century for a defensive end at the combine came in 2002 when UAB's Bryan Thomas, at 6-4, 266, was clocked in 4.47 and was the 22nd overall pick (New York Jets).
Clowney's 10-yard split was 1.56 seconds.
Three others had a 4.53 -- Lawrence Sidbury Jr. (6-3, 226, Richmond, fourth round, 125th overall to Atlanta); and two in 2013 -- Margus Hunt (6-8, 277, SMU, second round, 53rd overall to Cincinnati), and Cornelius Washington (6-4, 265, Georgia, sixth round, 188th overall, Chicago).
Clowney said he wanted to best Jevon Kearse's mark of 4.42, but Kearse actually ran a 4.58 and was listed as an outside linebacker when he came out of Florida in 1999. The last defensive end picked No. 1 overall in the draft was North Carolina State's Mario Williams in 2006 who, at 6-7, 299, ran 4.70.
After his impressive, albeit limited performance, Clowney pretty much stayed out of the position drills, which left him open to criticism by the talkative crew at NFL Network -- at least unit he sat among them on stage -- as well as other players.
4. Auburn's Dee Ford backed up by docs, doesn't back down
Auburn defensive lineman Dee Ford was unable to work out because, reportedly, he had back problems. But his mouth worked fine.
"I'm better (than Clowney)," he claimed "Let's put it like this. People like to talk about size all the time. Size is pretty much overrated in my eyes. People are just looking at the fact that he's a physical speciman. Honestly, if you want to watch the film, he plays like a blind dog in a meat market, basically."
When given a chance to back off, he kept his mouth doing what his feet couldn't -- running:
"When I rely on my athleticism rather than bring the technical aspects, the fundamental part, watch film to become a great pass rusher, I become a blind dog in a meat market," Ford said. "When I watch Jadeveon that's what I see. He's 6-foot-6, 240 and he just plays. But at the end of the day, does that make you a great pass rusher or a better pass rusher than me? No. ... We're not saying that dog can't run. We're just saying he can't find the meat. That wasn't a personal shot at him at all. It's just fun, it's competition."
Ford, who claims he'll be a full go March 4 at his pro day on the Auburn campus, eventually claimed "That wasn't a personal shot at him, you know what I'm saying?. ... It's all good. It's fun. It's competition. I want everybody to understand it was not a personal shot at him.
"Me a Jadeveon are cool. We laughing about the situation. I think his fans are very upset right now. But we are out here having fun and we are competing.  I was just speaking matter-of-factly about the situation."
Clowney took it in stride.
"I just let that motivate me. I still think I am the best coming out of college...I feel like he was just saying something like that to just build his stock up, but it doesn't bother me.
"I told him 'I'm still better than you'
"I just told him we'll just see what happens when we get to the next level.  It's cool, it's competition, like he said. We are just enjoying ourselves. He felt like he needed something to help himself out, to throw off that heat.  I'm fine with it."
The other high-profile injury scratch was Notre Dame defensive lineman Stephon Tuitt, who might also miss his the Irish pro day with a Jones fracture in his foot. The 300-pounder isn't out of the first-round picture and could benefit greatly from the NFL schedule change that leads into the first ever May draft.
Missouri junior defensive end Kony Ealy, ranked 17th overall by NFLDraftScout.com, showed the kind of explosive, quick-twitch acceleration and change-of-direction agility to be bumped up draft boards.
His 6.83-second three-cone drill was stunning for an edge defender. For perspective, consider former Pitt running back LeSean McCoy -- the Eagles running back who led the NFL in rushing in 2013 and draws legitimate comparisons to Barry Sanders for his stop-and-go suddenness -- had a verified 6.82 in the three-cone at his pro day after not working out at the combine in 2009.
5. Michael Sam ... is who we thought he was
Sam said Monday he was disappointed in his 25 1/2-inch vertical leap (nevermind his 4.91 40). We can understand why.
In 2004, Miami (Fla.) nose tackle Vince Wilfork's vertical was 26 inches at his pro day. Wilfork, the behemoth Pro Bowl lineman for the New England Patriots, was 6-1, 329 during the pre-draft measurements (safe to say he might be up a few pounds, or 10). Last February, eventual No. 1 overall pick Eric Fisher had a 28 1/2 vertical. A reminder -- he's 6-7, 302 and plays offensive tackle.
The vertical and broad jump were not impressive for Sam, nor were they as vital as position workouts. He was tight and stiff in the hips and ankles and kept his head down and chest up through linebacker drills.
The workout proved what Sam showed at the Senior Bowl last month -- that his niche to begin his NFL career will be on special teams and as backup depth who might eventually get time in nickel pass-rushing situations.
Sam needs a great scheme fit to be drafted, which no longer looks like a guarantee. His fourth- or fifth-round grade in a deep draft is an indication he will not be a priority even on the third day.
Jeff Reynolds (@ReynoldsJD) contributed to this report
For a preview of what to watch for in Tuesday's workouts featuring a deep cornerback class, click here 
Show Comments
Hide Comments
Ross looks like the perfect replacement for Brandin Cooks in the Big Easy

The top three-technique prospect in the draft could see his name not called at all

A diluted drug test continues recent alarming off-field concerns for talented Alabama pros...
Here are players from Air Force to Wyoming who might not be drafted but could make an NFL...

Who should the Rams take with their first pick? We break down all their options

Who should the Seahawks take with their first pick? We break down all their options