2014 NFL combine: Manziel must melt Johnny Football persona
There was something different about Texas A&M quarterback Johnny Manziel when he met the media Friday. He claimed a new view as a professional, but what face will he show NFL evaluators?
by Derek Harper
The Sports Xchange/CBSSports.com

• 6 min read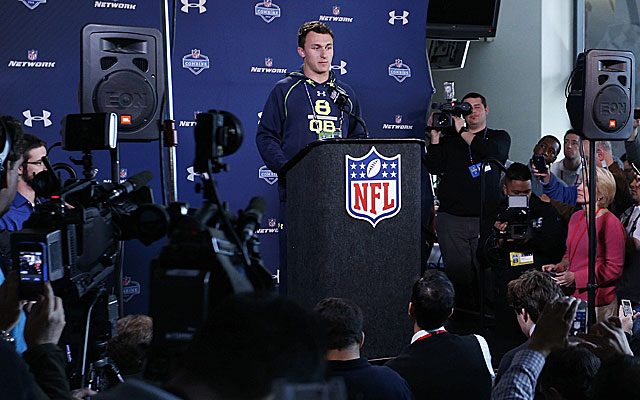 More Draft: NFL Mock Drafts | Prospect Rankings | NFL combine workout results
INDIANAPOLIS -- Under the watchful eye of his quarterbacks coach, Johnny Manziel took the podium at the NFL combine on Friday and did his best to transition from short-fused college athlete to singularly focused professional athlete.
Agents are not allowed in the media workroom at the combine, but George Whitfield was sitting in the middle of the second row among more than 100 journalists peppering Manziel with questions. Whitfield, the renowned quarterback guru who has been working with Manziel in San Diego for the past six weeks, had to be pleased with the well-rehearsed responses in the question-answer session.
"I have an opportunity now moving into a professional phase," Manziel said of his growth in the past year. "This is life now, this is a job for me, taking it very seriously and I'm really excited about the future."
Where that future will be could hinge largely on how Manziel handles himself throughout this week.
Agent Erik Burkhart convinced his client to pass on Sunday's throwing drills, whereas UCF's Blake Bortles has decided to participate. With NFLDraftScout.com analyst Dane Brugler calling it a "coin flip" between the two at this stage to be the No. 1 overall pick to the Houston Texans, Manziel is making a significant gamble to skip the drills and an opportunity to compete alongside his main competition.
Manziel said the competitor inside him wants to participate Sunday, but he's listening to his advisers and continuing to fine-tune his mechanics with Whitfield in advance of his March 27 pro day. Past No. 1 overall picks Andrew Luck and Cam Newton followed a similar strategy.
Manziel welcomes the opportunity to work out for teams individually.
"From what I've told every team, if they want to work me out privately, any throw they want to see me make at my pro day, any interview, any question they want to ask me, any throw they want to see me make at any time, I'm more than willing to do that," said Manziel.
The most polarizing prospect in this draft class, Manziel's game film generates vastly different projections from NFL teams. Those who believe his skill set is suited to success in the NFL likely don't need to see him compete toe-to-toe with Bortles and Louisville's Teddy Bridgewater. The bigger question is where Manziel is at mentally and whether he is prepared to become the face of an NFL franchise.
Is his next team getting Johnny Manziel, the 2012 Heisman Trophy winner, or Johnny Football, the trademarked wealthy party boy prone to social media rants?
"Johnny Manziel is a guy, I'm from a small town of Kerrville, Texas, 20,000 people," he said. "It gets lost in kind of the people who make me out to be a big Hollywood guy, really I'm just still a small-town kid.
"Sometimes you get caught up in certain things, but at the same time I'm continuing to learn and continuing to adapt to everything that's going on in my life. I'm not saying it's always easy, but continuing to be who I've always been is a big thing for me."
He denied reports that he saw a counselors last year for alcohol use and anger management, but acknowledged he did sit down with an "in-house guy" recommended by Aggies head coach Kevin Sumlin over the past two years. Manziel declined to get into specifics about the relationship, continually steering his answers back to his transition to preparing for the NFL.
Manziel is confident in his ability to take the next step.
He views himself as a leader on the field who his teammates trust with the ball in his hands, and a fiery competitor who will battle until the game clock reads zero.
The most important view right now, however, is held by the Houston Texans. While Manziel said Friday it would be "extremely cool" to stay in state as the top pick in the draft, he also ruffled some feathers with a perceived dare to the franchise last week when he told the Houston Chronicle that passing on him would be the worst decision the Texans have ever made.
Manziel took issue Friday with how that quote was packaged, and Texans general manager Rick Smith didn't appear bothered by the comment.
"He's a colorful, confident guy," said Smith. "You have to appreciate that."
If Smith and the Texans pass on Manziel, it will be a significant gamble with division rival Jacksonville in need of a franchise quarterback two picks later. Jaguars head coach Gus Bradley is in his second season since coming over from Seattle, where head coach Pete Carroll built a Super Bowl champion rife with bold personalities.
"You need to have confidence. It's one thing to have confidence and another to have humility," Bradley said when asked about Manziel. "Can you have confidence and humility? Why is that important? Because if you have humility, you can talk about your weaknesses and that's how you improve.
"That's what I'm excited to talk to him about in our meeting. The confidence is great and all that, but are you willing to get better and challenge yourself like Peyton Manning and all the great quarterbacks? Can he challenge himself in a way that's he open to being coached and self-evaluate the areas he needs to improve?"
Beyond his off-field persona, the biggest question about Manziel remains his height, listed at 5-11 3/4 on Friday. While short of the 6-foot mark, it's still an inch taller than Russell Wilson, the Seattle Seahawks' Super Bowl-winning quarterback.
"I feel like I play like I'm 10-feet tall," said Manziel. "A measurement to me is just a number."
He also is working hard to debunk the notion that he is more of a talented improviser who will struggle to succeed -- or stay healthy -- against NFL defenses.
"When you start comparing quarterbacks, and for us it is a comparison business when you start doing the draft and everything else, (it is) who has been successful with these measurables, what intangibles does he bring," said Arizona Cardinals head coach Bruce Arians. "With those guys, I go back to Doug Flutie and it took Doug a long time to be a very successful quarterback at that size and athletic ability.
"[Manziel] is a little bit different player than Drew Brees, who is a little taller. Russell was extremely successful this year. You are starting to see guys you can compare him to. But when you start, there are a bunch of 6-5 successful guys who are athletic. The 5-11 guys, it has to throw a question mark out there."
While Arians' team isn't in the market for one of this year's top quarterback prospects, his take on Manziel's skill set is no doubt shared by many NFL teams. And that is Manziel's main job in Indianapolis this week -- convincing the Texans, Jaguars and Cleveland Browns (owners of the No. 4 pick) that he's more Russell Wilson than a frightening combination of Doug Flutie's stature and Ryan Leaf's personality.
"I'm probably one of the most competitive people on the face of this earth, whether it's sitting here playing tic-tac-toe or rock, paper, scissors or whatever it may be, I want to win," said Manziel. "It's something that really dating back all the way to being a kid, I don't like the taste of losing, leaves a really sour taste in my mouth. I'm an extremely competitive person."
Show Comments
Hide Comments
The projected top-20 pick could fall out of the draft with teams having little time to gather...

Ross looks like the perfect replacement for Brandin Cooks in the Big Easy

The top three-technique prospect in the draft could see his name not called at all
A diluted drug test continues recent alarming off-field concerns for talented Alabama pros...

Here are players from Air Force to Wyoming who might not be drafted but could make an NFL...

Who should the Rams take with their first pick? We break down all their options