2014 NFL Draft: 10 Bold Predictions
Where will Johnny Manziel land? Which QB will be selected well ahead of expectations Thursday - and which "rising" QB still has a lot to prove? Rob Rang and Dane Brugler make 10 Bold Predictions for the 2014 NFL Draft.
by Rob Rang
The Sports Xchange/CBSSports.com

• 5 min read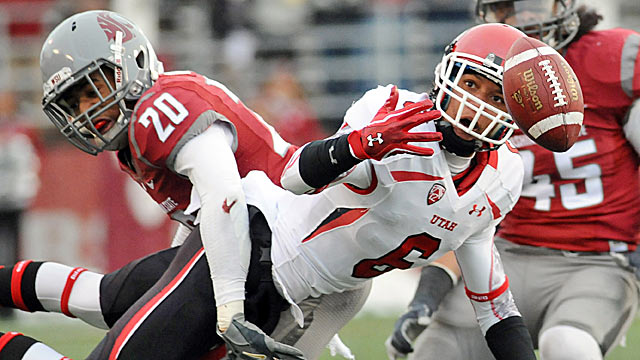 More Draft coverage: Mock Drafts | Prospect Rankings | Big Board | News
The smokescreens ahead of the official start of the 2014 NFL Draft are in full "Spy Hunter" mode. Trying to keep up with who wants to trade up, who wants to trade down and which franchise is going to game on Johnny Football can be dizzying.
NFLDraftScout.com analysts Rob Rang and Dane Brugler have been studying this draft class for 12 months and each have 5 Bold Predictions to take to the bank ... just don't bet the house.
ROB RANG
5. Four Safeties in First Round
The NFL once laughed off the spread offense as a fad. Now, as innovative coaches are flooding the field with pass-catching mismatches, defenses are forced to adjust. Put simply, as running backs drop in value, safeties are increasing. That will result in NFLDraftScout.com's top two-rated safeties, Louisville's Calvin Pryor and Alabama's Ha Ha Clinton-Dix, earning top 20 selections. That will push Northern Illinois' Jimmie Ward and Washington State's Deone Bucannon into the top 32, as well. 
4. The Rise of Derek Carr
Even with once-in-a-decade talents like Jadeveon Clowney and Greg Robinson likely to be the first picks of the draft, the quarterbacks remain the hot topic of debate. That's not surprising given the nature of the position, but the ironic thing is that the quarterback generating the most buzz in the days prior to the draft is Derek Carr, not Johnny Manziel, Blake Bortles or Teddy Bridgewater. Carr has been frequently projected to land with Arizona (No. 20 overall pick), Cincinnati (23) or Cleveland (26), but I'm told he won't make it there.
3. Philly Goes Pac-12 ... again
A year ago, the Philadelphia Eagles relied upon new head coach Chip Kelly's familiarity with the Pac-12 to nab former conferences foes with half of the club's eight selections. Expect the Eagles to continue this strategy in the first round again this year with Pac-12 wideouts Brandin Cooks (Oregon State) and Marqise Lee (Southern Cal) as potential replacements for jettisoned big-play receiver DeSean Jackson , who ironically played his collegiate ball at Cal.
2. San Francisco 49ers Trade Up
It has been a tumultuous offseason for the 49ers, and I expect the club to seize back momentum with the first round's most aggressive trade up. General manager Trent Baalke has assembled as deep a roster as there is in the NFL and with 11 picks at his disposal he has the ammunition to match the bold move San Francisco made a year ago to nab safety Eric Reid . Brothers Jim and John Harbaugh agreed to a mutually-beneficial swap for veteran wideout Anquan Boldin a year ago. Don't be surprised if the duo works together again, this time with the 49ers moving up 13 spots to complement Boldin (and Michael Crabtree ) with LSU's big play pass-catcher and returner Odell Beckham, Jr. 
1. Champs Trade Out
While rival San Francisco has a treasure-trove of picks to play with, the Seattle Seahawks enter the draft with only six due to trades for wideout Percy Harvin (third round) and quarterback Terrelle Pryor (seventh). Head coach Pete Carroll and general manager John Schneider have enjoyed extraordinary success in the middle and later rounds and in a draft as deep as this one, it is unlikely the duo is going to sit pat and watch 66 picks go by between their current second (No. 64) and fourth round (132) selections. 
The easiest way to recoup that third round pick would be to trade back from No. 32 and there should be plenty of interest. If, as predicted, the Houston Texans pass on a quarterback in the first round, they (and the Jaguars, Browns, Oakland Raiders , etc.) will be expected to take one in the second round. The Seahawks will likely be willing to accommodate anyone looking to jump ahead of them. Further, with teams holding a fifth-year option in the contracts for rookies drafted in the first round, the No. 32 overall pick is much more valuable than No. 33. 
DANE BRUGLER
5. Johnny Manziel will be a top 5 draft pick.
To who? No one knows. But many around the league believe Manziel will be off the board in the top 10 picks and I'll go one further and say it's the top five. A FOX Sports report says the Cleveland Browns won't draft him at No. 4, but is that because he will already be gone? The Jacksonville Jaguars at No. 3 is a possibility. Or a team not currently in the top five could trade up at No. 2 where the St. Louis Rams currently pick. Manziel is the wild card of the first round, but I don't think we'll have to wait long Thursday night to hear his name called.
4. Tom Savage falls out of the top 75 picks
One of the "risers" this draft season has been well-traveled quarterback Tom Savage, who put together a solid senior season at Pittsburgh in 2013. But after the NFL Scouting Combine, his name started to skyrocket up boards as a player who was even mentioned as a possible first rounder. But I think Savage winds up outside the top 75 picks on draft day, going against what most believe at this point. He is well-built with a strong arm and knows what he's doing on the white board, but is also viewed as a long-term project who needs a good amount of work.
3. The Dallas Cowboys will trade out of the No. 16 overall spot
The top-two mostly likely targets for Dallas at pick No. 16 are UCLA pass rusher Anthony Barr and Pittsburgh defensive tackle Aaron Donald. But if both are drafted in the top 15 picks, which I expect they will, then look for a trade down scenario, very similar to last year when the Cowboys traded back for center Travis Frederick . A team like the Browns looking for a quarterback could be the right trade partner, moving back to the mid-20s and selecting a defensive lineman like Boise State's Demarcus Lawrence or Missouri's Kony Ealy.
2. A record 12 wide receivers will be drafted in the first two rounds
It has been mentioned quite a few times just how deep this wide receiver class is and we'll see that on draft weekend with a record 12 wideouts drafted among the top 64 picks, which would be a NFL Draft record. Clemson's Sammy Watkins, Texas A&M's Mike Evans, LSU's Odell Beckham, Oregon State's Brandin Cooks, USC's Marqise Lee and Indiana's Cody Latimer could be first rounders, and these wideouts could be gone in the second round: Vanderbilt's Jordan Matthews, Penn State's Allen Robinson, Fresno State's Davante Adams, South Carolina's Bruce Ellington, Ole Miss' Donte Moncrief, Florida State's Kelvin Benjamin, Clemson's Martavis Bryant, Colorado's Paul Richardson and LSU's Jarvis Landry.
1. Pittsburgh DT Aaron Donald will be a top 8 pick
While the edge rushers get most of the attention for their pass rush ability, Donald is that interior disruptor and ideal three-technique. He put together a productive career with 28.5 tackles for loss as a senior and was outstanding throughout the pre-draft process with big-time performances at the Senior Bowl and NFL Scouting Combine. Oakland at No. 5, Tampa Bay at No. 7 and Minnesota at No. 8 are all possible landing spots, but look for him to be drafted in the top eight picks.
Show Comments
Hide Comments
Our Latest Stories
FCS stars Lorenzo Jerome and Javancy Jones impress, as well as Louisville TE Keith Towbrid...

The 103 early entrants into the draft marks the second-highest total ever

Expect at least five underclassmen quarterbacks to be selected before a senior in the 2017...
Gang Green goes cornerback instead with Mitch Trubisky and DeShone Kizer already off the b...

Mitch Trubisky just misses the cut in a top 10 loaded with eight defensive prospects

There are 95 early entrees for the 2017 NFL Draft