2014 NFL Draft: 126 FBS programs, 126 possible UDFAs (Part 2)
A team-by-team look at one prospect from each FBS program who probably won't be drafted, but might catch on as an undrafted free agent
More Draft coverage: Mock Drafts | Prospect Rankings | Big Board | News
Only 256 prospects will hear their name called on draft weekend and with more and more underclassmen entering the NFL early (a record 98 this year), the number of draft slots dwindles for college football seniors. However, every FBS-level football program will have at least one prospect who will sign a free agent contract or receive a tryout.
Everyone knows about the nation's top pro prospects, but below is a team-by-team look at one prospect from each FBS program who probably won't be drafted, but there is a good chance their professional dream isn't over. Based on my evaluations, and those of decision-makers around the league, these players might not hear their names called on draft weekend, but have a good chance to possibly make a NFL roster as an undrafted free agent.
Monday, Part One (A-M)
Tuesday, Part Two (N-Z)
(Programs are listed in alphabetical order)
NAVY
LB Cody Peterson (6-2, 228, 4.86)
Defenders from the Navy Academy rarely get noticed by the NFL, but Peterson is a very active linebacker with the range and production (142 tackles in 2013) that attracts attention.

NC STATE
WR Quintin Payton (6-3, 211, 4.59)
A pass catcher who passes the eye test, Payton was the starting "X" receiver for the Wolfpack and does a nice job using his deceiving speed and highpointing ability to come down with tough grabs.

NEBRASKA
OT Jeremiah Sirles (6-7, 308, 5.39)
A three year starter, Sirles saw playing time at both tackle spots and while he lacks ideal foot quickness, he's smart, tough and gives pass rushers a battle each snap.

NEVADA
WR Brandon Wimberly (6-2, 207, 4.83)
The workout numbers weren't pretty (4.83 40-yard dash, 12 reps, 29-inch vertical), but he finished third all-time in school history with 261 career catches.

NEW MEXICO
C Dillon Farrell (6-5, 303, 5.11)
A four year starter, Farrell spent a season at right tackle, but most of his college reps came at center where he was a substantial reason behind New Mexico's productive run game.

NEW MEXICO STATE
WR Austin Franklin (5-11, 189, 4.56)
A surprise junior declaration, Franklin is a solid athlete, but his lack of strength and tendency to drop too many passes might force him to catch on as an undrafted free agent.

NORTH CAROLINA
CB Jabari Price (5-11, 200, 4.45)
Although he doesn't stand out in any one area, Price has decent size for the position with enough speed and quickness to cover in man or zone coverage.

NORTH TEXAS
QB Derek Thompson (6-3, 212, 4.94)
For just the fifth time in program history, North Texas won nine games in 2013 and Thompson was a big reason for that, using his arm and legs to sustain drives and find the end zone.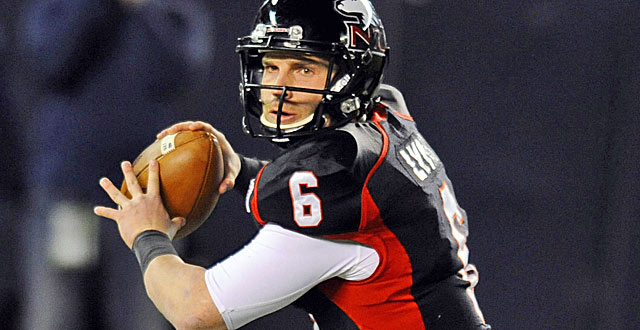 NORTHERN ILLINOIS
QB Jordan Lynch (6-0, 217, 4.76)
A Heisman finalist, Lynch was the heartbeat of the NIU offense and while his skills don't translate as a high-level passer in the NFL, he still has something to offer teams, maybe at another position.
NORTHWESTERN
DE Tyler Scott (6-4, 257, 4.91)
The team leader in tackles for loss (10.0) and sacks (6.0) last season, Scott isn't the most dynamic pass rusher, but he's smart and brings a veteran presence to the field.

NOTRE DAME
LB Dan Fox (6-3, 233, 4.70)
Fox isn't the type of player who receives many headlines, but he led Notre Dame in tackles as a senior over 10 starts, adding 5.0 tackles for loss and a pair of interceptions.

OHIO
CB Travis Carrie (6-0, 206, 4.47)
After missing all of 2012 with a shoulder injury, Carrie returned in 2013 an finished with four interceptions and showed well at his pro day with a 41-inch vertical and 4.47 40-yard dash.

OHIO STATE
QB Kenny Guiton (6-2, 204, 4.80)
A career back-up, Guiton was outstanding in limited reps when he saw the field and showed enough in a small sample size to intrigue NFL teams as a developmental passer.

OKLAHOMA
RB Brennan Clay (5-11, 202, 4.64)
The surprise rushing leader for the Sooners in 2013, Clay made the most of his playing time with 957 yards on the ground and while not dynamic, showed the versatility to do it all.

OKLAHOMA STATE
LB Caleb Lavey (6-2, 218, 4.64)
The tone-setter of the Cowboys' defense, Lavey lacks ideal NFL measureables, but he has a nose for the ball, finishing 2013 with a team-best 93 tackles, 13.0 tackles for loss and four interceptions.

OLD DOMINION
OL D.J. Morrell (6-5, 325, 5.40)
A player with snaps at both right guard and right tackle, Morrell isn't the most fluid athlete, but he's country strong with the smarts to possibly stick on a NFL roster.

OREGON
DT Wade Keliikipi (6-2, 303, 5.42)
A Pac-12 Honorable Mention honoree, Keliikipi is a wide-bodied nose tackle who doesn't have much range, but he's a run stuffer who can occupy multiple blocks.

OREGON STATE
OT Michael Philipp (6-4, 316, 5.37)
Despite dinged by several injuries, Philipp has plenty of experience at left tackle with light feet, just needs to iron out a few technical inconsistencies and stay healthy.

PENN STATE
LB Glenn Carson (6-3, 238, 4.73)
Penn State's leading tackler in 2013, Carson led the way with 90 tackles and took over Michael Mauti 's role as the heartbeat of the Nittany Lions defense.

PITTSBURGH
SS Jason Hendricks (5-11, 182, 4.83)
After poor numbers at his pro day (4.83 40-yard dash, seven reps), Hendricks will likely go undrafted, but he led Pitt in tackles the past two seasons and boasts eight career interceptions.

PURDUE
SS Rob Henry (6-2, 197, 4.56)
A college quarterback who is projected to safety, Henry is built well with NFL speed and strength, but will likely go undrafted as a very raw defensive project.

RICE
RB Charles Ross (6-0, 223, 4.58)
Ross became the first Owl to lead the league in rushing in almost two decades, finishing 2013 with 1,252 yards on the ground, which ranks fourth in school history.

RUTGERS
DE Jamil Merrell (6-4, 252, 4.91)
Merrell obviously has injury questions after a lower leg issue kept him sidelined most of 2013, but he was healthy for his pro day and worked out as a DE and also stood up for some drills.

SAN DIEGO STATE
OL Bryce Quigley (6-4, 324, 5.07)
A former tight end, Quigley moved to the offensive line two years ago and earned All-Conference honors the past two seasons as the starting left tackle.

SAN JOSE STATE
WR Ryan Jones (6-3, 291, 4.93)
An All-Conference Honorable Mention honoree, Jones has experience at center and guard and turned some heads at his pro day with impressive movement skills.

SMU
CB Kenneth Acker (6-0, 190, 4.51)
A player with the size/speed combination teams want at the position, Acker had 16 passes defended in 2013, including a team-best three interceptions.

SOUTH ALABAMA
QB Ross Metheny (6-3, 205, 4.91)
A lefty transfer from Virginia, Metheny led the Sun Belt in total offense in 2013 and was a big reason South Alabama finished better than expected with a 6-6 record.

SOUTH CAROLINA
DE Chaz Sutton (6-3, 245, 4.71)
The "other" Gamecocks' defensive end, Sutton isn't as physically gifted as Clowney, but he produced the same number of sacks last season, adding a pair of forced fumbles.

SOUTH FLORIDA
DE Ryne Giddins (6-3, 245, 4.91)
Although his production was average the past two seasons, Giddins battled a shoulder injury that required surgery and is a better player than some of his tape suggests.

SOUTHERN MISS
CB Deron Wilson (5-9, 183, 4.65)
After starting 39 straight games, Wilson missed almost all of 2013 with an ankle injury that required surgery, but he was healthy enough to work out for scouts last month.

STANFORD
C Khalil Wilkes (6-2, 294, 5.46)
A former guard, Wilkes won the starting center job as a senior and earned All-Pac 12 Second Team honors for his power in Stanford's smash mouth offense.

SYRACUSE
QB Drew Allen (6-5, 233, 4.73)
A passer with the requisite size and arm strength for the NFL, Allen transferred from Oklahoma for one season at Syracuse, but lost his starting job and needs a lot of work.

TCU
FS Elisha Olabode (5-9, 194, 4.77)
His lack of ideal size and straight-line speed stands out, as well as his overaggressive style, but he hits with intensity and has the range to cover a large area.

TEMPLE
DT Levi Brown (6-2, 310, 5.23)
Arguably the school's top prospect this year, Brown is a two-year starter at nose tackle with a quick first step and the brute strength to be a people mover in the trenches.

TENNESSEE
LB Dontavis Sapp (6-3, 234, 4.70)
Despite a lean frame, Sapp is tougher than he looks with rangy athleticism, smart angles and the pursuit speed that shows up on special teams coverage.

TEXAS
OG Trey Hopkins (6-3, 307, 5.26)
After starting at right tackle in 2011, Hopkins moved inside to left guard where his skill-set is better suited and earned All-Big 12 honors as a senior in 2013.

TEXAS A&M
RB Ben Malena (5-8, 194, 4.61)
Although he likely doesn't have the frame to hold up or speed to make NFL defenders miss, Malena might be able to carve out a niche as a core special teams player.

TEXAS STATE
DE D.J. Yendrey (6-3, 274, 4.83)
A TCU transfer, Yendrey was a player who was caught up in the on-campus drug bust in Fort Worth and has some character issues, but is an intriguing hybrid interior player.

TEXAS TECH
WR Eric Ward (5-11, 199, 4.63)
Becoming just the third player in school history with three straight years of 800+ receiving yards, Ward was productive in college, displaying athleticism but so-so hands.

TOLEDO
WR Bernard Reedy (5-8, 173, 4.58)
His persistent drops are tough to ignore, but Reedy has lightning quick feet with elusive moves to create separation and create with the ball in his hands.

TROY
FS Camren Hudson (5-10, 199, 4.57)
Hudson finished among the team leaders with 61 tackles and nine passes defended in 2013 and boosted his profile with excellent workout times at his pro day.

TULANE
RB Orleans Darkwa (5-11, 212, 4.50)
After an injury plagued junior season, Darkwa led Tulane in rushing as a senior in 2013 and brings an intriguing blend of quickness and pop as a ballcarrier.

TULSA
QB Cody Green (6-3, 251, 4.98)
After transferring from Nebraska due to lack of playing time, Green started the past two seasons as Tulsa's quarterback and produced mixed results.

UAB
RB Darrin Reaves (5-7, 209, 4.57)
A surprise junior declaration, Reaves is a smaller scatback who doesn't look like much, but he's tough, determined and adds value as a pass-catcher out of the backfield.

UCF
OT Chris Martin (6-5, 305, 5.20)
Despite a career that included several suspensions, Martin appears matured and put together a strong senior season as the starting right tackle for UCF.

UCLA
LB Keenan Graham (6-1, 242, 4.79)
Despite coming off the bench as a role player, Graham finished among the team leaders in tackles for loss (7.0) and sacks (6.0) as a senior in 2013.

UNLV
RB Tim Cornett (6-0, 209, 4.40)
The school's all-time leading rusher, Cornett rushed for 1,200+ rushing yards each of the last two seasons, combining for 22 touchdowns, displaying NFL-level speed.

USC
RB Silas Redd (5-10, 212, 4.68)
A Penn State transfer, Redd had a bright NFL future ahead of him, but knee injuries derailed is USC career and put his next level future in serious doubt.

UTAH
DT Tenny Palepoi (6-2, 298, 5.03)
A team captain with NFL bloodlines, Palepoi became a full-time starter as a senior and finished among the team leaders with 9.5 tackles for loss and 4.5 sacks

UTAH STATE
TE D.J. Tialavea (6-4, 267, 4.97)
After starting four games of 2013, Tialavea was lost for the rest of the season with an injury and while the athletic numbers aren't impressive, he has the blocking prowess for the next level.

UTEP
SS Richard Spencer (6-1, 217, 4.61)
After missing the 2012 due to a knee injury, Spencer returned this past season and rebounded well, including a solid pro day with a 35-inch vertical, 26 reps and 10-foot-8 broad jump.

UTSA
QB Eric Soza (5-11, 204, 4.80)
With his size, it's tough to get noticed, but Soza is a (very) poor man's Johnny Manziel with his creative athleticism and confidence as a passer.

VANDERBILT
LB Chase Garnham (6-2, 231, 4.62)
After starting all 13 games as a junior, Garnham was sidelined two months in 2013 with an injury, but finished strong with an excellent pro day.

VIRGINIA
C Luke Bowanko (6-6, 302, 5.29)
A three-year starter, Bowanko started at right guard in 2011 before moving to center the past two seasons, also seeing snaps at left guard in 2013.

VIRGINIA TECH
LB Jack Tyler (6-0, 231, 4.84)
A thumper in the middle of the Hokies' defense, Tyler led Virginia Tech in tackles (100) last season and also finished among the team leaders in tackles for loss (11.0) and sacks (4.5).

WAKE FOREST
FB Nikita Whitlock (5-10, 251, 4.84)
A college defensive tackle, Whitlock has an odd body type and doesn't project to any particular position, but is a natural football player and might fit best on offense as a fullback.

WASHINGTON
QB Keith Price (6-1, 204, 5.00)
Price, who broke many of Jake Locker 's school passing records, doesn't have NFL size and will get beat up, but his arm is good enough for the next level and he has steadily improved.

WASHINGTON STATE
OT Rico Forbes (6-5, 300, 4.98)
An unknown entering the 2013 season, Forbes lost his starting right tackle job as a senior, but he impressed at his workouts with a sub-5.00 40-yard dash and 31 reps on the bench.

WEST VIRGINIA
SS Darwin Cook (5-11, 194, 4.50)
A three-year starter, Cook is an active ballhawk with a team-best four interceptions in 2013 and projects as a possible special teams coverage stud.

WESTERN KENTUCKY
LB Xavius Boyd (6-2, 239, 4.85)
Although he isn't as well-known as his teammate Andrew Jackson , Boyd is higher rated by some teams after a breakout senior season, leading the Sun Belt in tackles for loss (15.5) and sacks (8.5).

WESTERN MICHIGAN
SS Johnnie Simon (6-0, 197, 4.63)
A hybrid linebacker/safety, Simon is a three-year starter with reliable production, but is still recovering from February shoulder surgery.

WISCONSIN
TE Jacob Pedersen (6-4, 238, 4.82)
Attempting to follow in the long line of tight ends Wisconsin has put into the NFL, Pedersen isn't as big or athletic as the others, but is a tough, competitive player who pushes himself each snap.

WYOMING
RB Brandon Miller (5-11, 187, 4.64)
The team's third-leading rusher, Miller averaged 4.6 yards per carry as a senior and while not overly dynamic, he proved to be a more than reliable as a runner and receiver (23 catches in 2013)
Show Comments
Hide Comments
The projected top-20 pick could fall out of the draft with teams having little time to gather...

Ross looks like the perfect replacement for Brandin Cooks in the Big Easy

The top three-technique prospect in the draft could see his name not called at all
A diluted drug test continues recent alarming off-field concerns for talented Alabama pros...

Here are players from Air Force to Wyoming who might not be drafted but could make an NFL...

Who should the Rams take with their first pick? We break down all their options